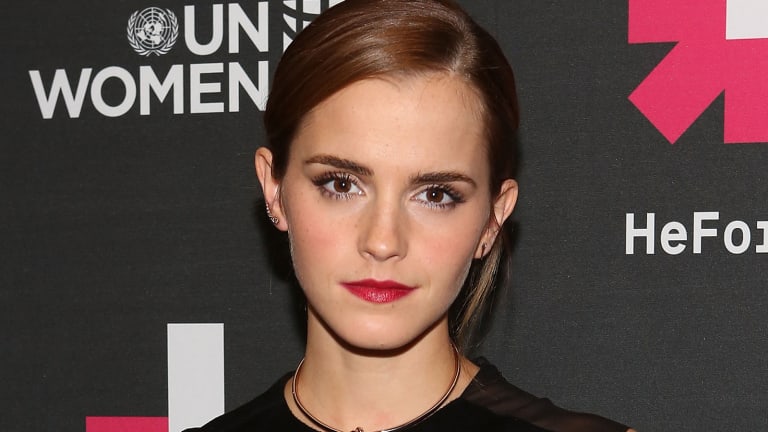 Emma Watson's Latest HeForShe Initiative Is Well-Meaning, But Misses the Point
Gender quotas treat the symptoms rather than the real causes of sexism in the workplace.
UN Women recently released its inaugural 2016 HeForShe Parity Report. For context, UN Women launched HeForShe with an address by actress Emma Watson as an initiative "to engage men and boys as agents of change for the achievement of gender equality and women's rights" in September 2014. "HeForShe has one bold goal: achieve gender equality by 2030." The HeForShe IMPACT 10X10X10 pilot initiative was unveiled just a few months later to "accelerate progress toward this target."

As a part of its gender equality goal, the 10X10X10 initiative seeks to achieve workforce gender parity, which is achieved when each gender represents between 40 and 60 percent of workers within a given role or group. According to the report, "men comprise 60 percent of the formal labor force and more than 95 percent of the CEOs of the world's largest corporations." IMPACT 10x10x10 seeks to change this by inviting "business leaders to drive toward a gender-equal corporate landscape through the tangible implementation of bold commitments that advance and empower women."
In order to achieve its goals, HeForShe enlisted ten of the world's largest companies, called IMPACT Champions, "to accelerate progress toward parity in their workforce." Each Champion made baseline pledges to adopt Women's Empowerment Principles as well as launch and lead HeForShe within their respective companies. Additionally, each 10X10X10 company set personalized goals toward gender parity. For instance, AccorHotels pledged to "double the share of women in country COO positions by 2017 and get to 30 percent of women on the executive committee by 2018." In order to set a baseline against which progress can be measured, each Champion made an additional pledge of transparency: agreeing to report female representation in overall employment, senior leadership, new hires, and board representation.The report includes a number of fascinating statistics. Who knew that female board representation was as low as 2 percent in Japan and as high as 34 percent in Norway? For the United Nations' personnel itself, the ratios were close to parity. Women represented 43.4 percent of workers overall, 45.8 percent of new hires, and 31.9 percent of senior leadership. Among the ten IMPACT champions, women represented 39.7 percent of workers overall, 26.7 percent of senior management, 39.9 percent of new hires, and 28.6 percent of board members. Unsurprisingly, global averages in all categories were significantly lower.
As fascinating as the 10X10X10 report is, it seems to be confusing the issues of gender equality and gender parity—and there are important distinctions between the two.
As I wrote last year on this very subject, while gender representation certainly deserves our attention, there is nothing inherently wrong with the fact that the number of women is not equal to the number of men in a particular role, field, company, or industry. Is anyone worried that the overwhelming majority of teachers are women, or that there are very few women in construction work? The real concern is whether there are systemic reasons for why women aren't advancing in fields where they want to work. Sure, creating quotas for women's participation in those fields may have the residual effect of reducing sexism and making the workplace more generally hospitable to women's interests. But insisting upon the equal distribution of men and women in a given field just for the purpose of perfectly reflecting society at large seems to miss the point. Unfortunately, eradicating sexism in the workplace is not that simple.
First of all, sexism is not the only possible reason that the ratio of men to women in any particular field or corporate position might be lopsided. Interests and worldview also play a part. Particularly when it comes to high-ranking positions in the world's largest companies, recent research suggests that women view such positions as "equally attainable as men do but less desirable." In which case, it is certainly possible that, even in the absence of sexism, the ratio of women to men in a particular field or company will not be one-to-one.
Second of all, to the extent that disproportionate gender ratios are evidence of sexism, such ratios are products of sexism more than causes. Altering female representation in the corporate world may alleviate one symptom of sexism, but falls short of remedying the underlying disease. Just as sexism persists on college campuses—women have outnumbered men at U.S. universities since 1979—and in towns where women make up half or more of the population, it can persist in companies with equal numbers of men and women. A company whose male employees refuse to respect their female colleagues has a sexism problem—even if those female colleagues make up half the company.  
As I've said before, the real goal of gender equality ought to be for both men and women to have the freedom to make use of their talents and abilities without hitting arbitrarily constructed walls and regardless of prevailing gender ratios. And if that's the goal, whether or not a particular field is male-dominated is not actually the issue; the vital question is why.
This is not to say that there are not good reasons for companies to pursue parity. Having senior women to provide perspective and champion issues that may not otherwise be addressed can have real implications for company culture, and the bottom line. As the report indicates, research suggests there is a correlation between high female representation and financial performance among companies. But the truth is that full gender parity is neither necessary nor sufficient for gender equality. In which case, if it is sexism we're aiming to dismantle, gender parity is, in my opinion, somewhat of a red herring.
Photo Credit: Getty Images