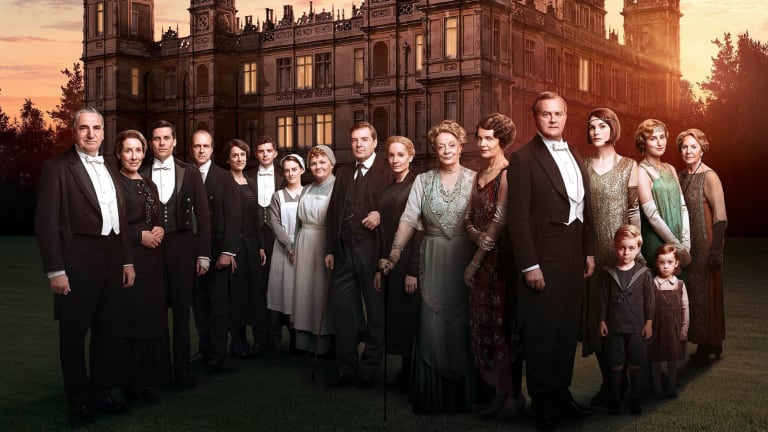 Why I'm Excited for Downton Abbey's Last Season
A look back at what makes the series so special as we prepare for the final run
[Editor's Note: The article below contains spoilers for those who have not seen Downton Abbey seasons one through five.]
Part guilty pleasure, part historical fiction. A period drama complete with a stellar cast and a delightful script dripping with intelligent conversation and classy sarcasm. What other series could bring people with such different interests and backgrounds together as Downton Abbey has? With the sixth and final season upon us—the first episode airs this Sunday, January 3, on PBS—I can't wait to see where else the show takes us.
On the surface it seems to be your typical period drama. But Downton is much more than beautiful costumes or gorgeous settings. There's something here for history nerds, fashionistas, anglophiles, literati, and even those with medical interests. Twenty-first century viewers can identify with turn-of-the-century England as the latter scrambles to keep up with changes in society: economy, war, homosexuality, new technology, and medical developments.
Each of these topics is explored in Downton, woven in to the lives of both the nobility upstairs and the workers downstairs. Each character is well-rounded and multidimensional; their own fears, insecurities, and wounds are the very things that often keep them from acquiring the happiness they desire.
Yet through the commentary on social class and changing times, Downton is, at its heart, about family. Amid modern-day narratives of unstable relationships and lack of commitment, Downton gives modern audiences a glimpse of what devoted relationships look like. I think this is a big part of why the British show has reached unprecedented popularity. It speaks to our hearts in a way that most modern TV shows fail to.
Downton's interwoven story lines have a way of awakening a universal desire for family, unity, and authentic love. From the start of the series, viewers learn that the Crawley family is not at all picture-perfect: sibling rivalries, obstinate nobles, provoking in-laws, and rebellious daughters make up the elegant household. Despite the obstacles that the characters face, they put family before personal gain and strive to maintain unity at all costs.
We see this early on when we learn that Lord and Lady Grantham had a marriage of convenience. Fortunately, the two fell (and remained) in love shortly after their wedding, resulting in a solid and fruitful marriage, a partnership that grew into deep love. Lord and Lady Grantham do all they can to ensure their three daughters' happiness and well-being, even when the young women prove to be a handful.
The Crawley sisters may not always be the best of friends, but when hard times strike, they learn to lend each other sisterly support, especially in the midst of World War I when all were called to selflessness for both their country and their loved ones. And yet Mary and Edith exemplify the challenges of family. Lady Mary, a perfect beauty who at first seems cold and calculating, also has the burden of everyone being preoccupied with her inheritance and marriage prospects. Still, one can't help but sympathize with Edith—the Plain Jane middle child stuck between two noticeable sisters. Her lack of identity dictated her moodiness, and the belittling snubs from Mary are enough to make viewers want Edith to have the last laugh. According to interviews with the cast, season six certainly gives some indication that Edith might get her happy ending—and that her and Mary's rivalry is far from over, especially as both women are coming into their own as career women of the twentieth century.
Then there's the Dowager Countess of Grantham, brilliantly played by Maggie Smith, who rules the roost (and the hearts of viewers) as she delivers her infamous saucy one-liners. Despite her wise-cracks, Granny Violet does all in her power to protect the family and ensure stability. You'll often find her taking one of her family members aside to quietly instill wisdom—indeed, she is the relationship guru of the family, calling others to reconciliation or encouraging them to be smart and follow their hearts. She may put up her nose at certain moments—like when others don't see things her way—but she faithfully defends her brood when the occasion arises. "You'll find that we Crawleys stick together," she says.
Of course the Crawleys aren't the only household members in tow—the downstairs crew is a family in its own right. While some of the servants compete and scheme their way to the top, others find love and loyalty. The staff at Downton Abbey are just as tight-knit and loyal as those upstairs—and about to be even more so, with another downstairs wedding on the horizon, between Mrs. Hughes and Mr. Carson. And despite their positions as employee and employer, Lady Mary's best friend would be her lady's maid, Anna. Both women are unconditionally there for one another, whether it's Anna hiding Lady Mary's discrepancies or Lady Mary defending and protecting Anna from all the bad luck that seems to follow her.
At the end of the day, we learn that we can't get through on our own. Downton Abbey reminds us that we social animals are made to stick together. That despite hardships, love conquers all. Perhaps my favorite message of Downton is an underlying one of respect. Call it British sensibility, call it antiquated politeness, or call it a reminder of the age-old axiom to "love thy neighbor"—whether your neighbor is your coworker, your significant other, or your meddling grandmother. In our day of reality TV and competition shows, that's one overwhelming message I will savor this last season.
Photo Credit: PBS