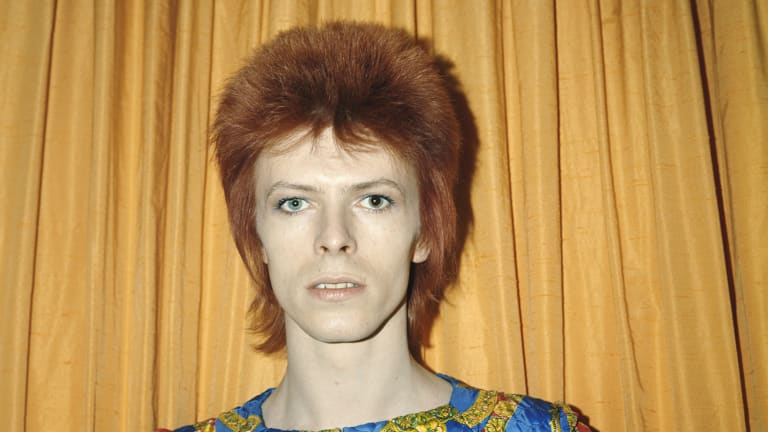 David Bowie Just Showed the World Why We Need to Live Like We're Dying
The passing of this great legend can teach us something important about happiness.
The world was shocked with the news of musician David Bowie's death on Sunday and even more shocked to learn that he had been battling cancer for 18 months. Now that his secret struggle has been revealed, however, we can look back on Bowie's recent accomplishments—an album, a music video, a New York show—with an even deeper sense of wonder at what it means to, quite literally, live like you're dying.
Bowie went from being a relatively unknown recording artist named David Jones to a space-alien alter ego named "Ziggy Stardust" in 1972, to a dapper departure as the soul-influenced Thin White Duke, and eventually released 27 studio albums in total under a variety of personas across myriad musical genres. Bowie is widely hailed as a master of reinvention and an unparalleled showman.
Full disclosure: I can't claim any respectable level of David Bowie fandom here. I've never purchased any of his albums nor seen him in concert. I can't list more than a handful of his singles. I am a David Bowie fan only by accidental osmosis—his catchy beats and thought-provoking lyrics permeated enough bars, cars, and waiting rooms throughout my life that Bowie feels like a familiar friend. "We can beat them forever and ever / We can be heroes, just for one day"—who doesn't love that lyric?
When I heard of his passing, though, juxtaposed with the list of his very recent artistic offerings, I was struck by what a display of pure passion it seemed to be. We've all thought through the question of what we'd do if we found out we had just a year to live, and for many of us, the news might even derail our life. Not so for Bowie.
The day prior to Bowie's death, Arthur C. Brooks published an article in the New York Times titled "To Be Happier, Start Thinking More About Your Death" in which he notes the disparity between the satisfaction that we derive from meaningful activities and the amount of time that we choose to devote to those behaviors. While it would seem logical that people would choose to spend as much time as possible doing the things that bring them the most joy, study after study indicate that we mostly just watch TV and then feel bad about it. Instead, Brooks urges, we should be asking ourselves, "Am I making the right use of my scarce and precious life?"
It's a question that Bowie seems to have been forced to wrestle with, and was able to answer with apparent ease. While we certainly can't know every facet of his life over the year and a half that he lived with cancer, we do know that he dove even deeper into his art. He didn't quit his job like many of us would do upon such a diagnosis. He kept doing what he'd been doing for fifty years.
In September 2014, likely shortly after he was diagnosed with cancer, Bowie announced that he planned to release a new compilation album. Nothing Has Changed was released that November and contained a brand new song, "Sue (Or in a Season of Crime)." In July 2015 he reissued "Let's Dance" as a yellow vinyl in conjunction with the "David Bowie is" exhibition in Melbourne, Australia. In October 2015 it was announced that Bowie had written the theme song for the forthcoming television show The Last Panthers, a song titled "Blackstar" that includes the lyrics "Look up here / I'm in heaven" and was released as a single earlier this month. The director of the show called Bowie's work on the song "precise, engaged and curious." Blackstar the album was released just two days before his death.
Best-selling author (Eat, Pray, Love) and David Bowie fan, Elizabeth Gilbert, took to Facebook to herald the late musician:
"Can you imagine, to be making art like this (fearless art that both comforts and challenges) right up to the moment of your death? How do you do that? How do you BE that? To work with your death so imaginatively, in order to perfectly time out the last beats of your life? What a magnificent creature of creation, right to the end. From the beginning, this was a man who showed us how to do life differently than anyone had ever done it before, and now look how he has done death."
It feels like a new litmus test of vocational passion. If you found out you had untreatable cancer, would you pull a Bowie? Would you dive deeper into your work, take on new projects, experiment with new mediums and engage your work with precision and curiosity, right up until the end? Or would you panic, give your boss the middle finger, kick a hole in your TV, and pursue a life that would be unrecognizable?
It's rare, to be sure, for anyone to have a career that they'd want to actively pursue with their most precious and fleeting days. And I guess it's only fitting that one of the rarest musicians, artists, and humans in general would demonstrate what that can look like. But even if our day jobs aren't the things we would do until our dying breath, I think we can all ask ourselves if we're truly living as well as we could be.
For his final act, Bowie reinvented himself one last time. The passionate musician who made a muse out of death and an artistic celebration out of dying. The hero who blazed his own trail every step of the way, perplexing us and amusing us and inspiring us, all the way to the end. In his lyrics and now in his grand exit he serenades us: We can be heroes, just for one day.
Image Credit: Getty Images