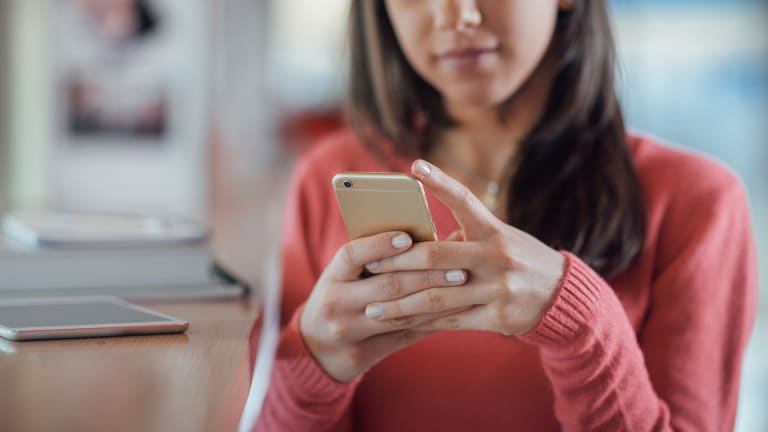 This New App Sounds Like a Total Nightmare For Vulnerable Girls
We don't understand why Nicki Minaj just backed an app that lets people dish out anonymous criticism.
Nicki Minaj recently invested an undisclosed amount of money into a new app called Blindspot, which is receiving widespread criticism for being just a new and improved tool for doling out anonymous criticism. The app encourages users to send texts and images to their friends without having to reveal their own identity. While the app's creators contend that the purpose of the app is to provide "a safe environment for people to chat freely without worrying about being judged," anyone that has ever lived through high school can predict that some of those freely sent messages will be hurtful and inflammatory. Anonymity and the Internet have been doing this dance for a while now.
Why Minaj would choose to invest in an app that is likely to result in the marginalization of young girls, who are twice as likely to be the victims of cyber bullying than boys, is a mystery. Minaj herself clearly has no problem calling out her peers when she has something critical to say, as evidenced by her recent (very public) feud with Miley Cyrus.
Furthermore, Minaj has been vocal about the impossible standards that girls are held to, pointing out that, "when you're a girl, you have to be everything. You have to be dope at what you do but you have to be super sweet and you have to be sexy and you have to be this, you have to be that, and you have to be nice," she says. "It's like, 'I can't be all those things at once. I'm a human being.'"
Ironically, it's that very message that enables young girls to stand up for themselves when they find themselves on the receiving end of the type of attacks that Blindspot is purported to facilitate.
Seventeen-year-old Lynelle Cantwell, a high school senior in Newfoundland Canada, recently found herself in exactly that situation when a classmate posted an online poll to determine the ugliest girl in the class. Cantwell, who ended up landing at the #4 spot on the list, fought back with a post of her own in which she declared, "I may not look okay on the outside.. But I'm funny, nice, kind, down to earth, not judgmental, accepting, helpful, and I'm super easy to talk to. That's the same for every other girl on that list that you all put down." It's as if she's taking a page from Minaj's own playbook, owning the fact that she may not be able to "be all things at once," but still exuding confidence and strength for her characteristics that matter most.
We wish that every girl who gets put down—on the Internet or in person—has the guts and grace to speak up for themselves like Cantwell. Unfortunately for many, put-downs can be so crippling that responses like these aren't the norm—which is part of what makes it so inspiring. In the meantime we hope that the public will start to see companies like Blindspot for what they are—apps that allow the worst products of online anonymity to flourish and that often hurt vulnerable young women. And we hope that better technologies—ones more prone to uplifting girls and women than putting them down—will one day be more lucrative investments for celebrities like Nicki Minaj to participate in. Because if there's something more rewarding than general financial gain, it's financial gain that coincides with the goal of doing good in the world.   
Photo Credit: Adobe Stock