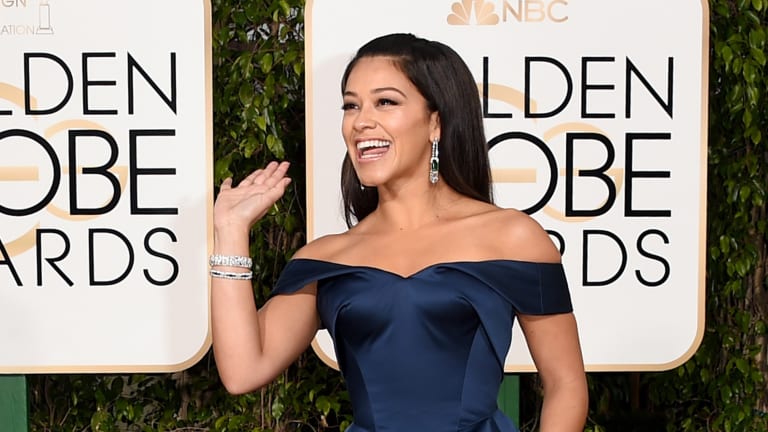 The Best Dresses from Last Night's Golden Globes
Hollywood's finest—both veterans and newbies—proved that fashion can make a statement.
It's awards season, folks, and that means lots of talented people getting heralded for their roles making the year's best films and shows. And, of course, it also means lots of glamorous style for us to ogle over.
The usual contenders impressed in stately gowns worthy of the beautiful and intelligent women wearing them. Kate Winslet stunned in a radiant blue gown; Lady Gaga gave us Old Hollywood fierceness in a striking velvet Versace. But some of our favorite dresses of the evening were those worn by the breakout stars of the year.
Without further ado, we present our winners for best dressed.
Gina Rodriguez //
Jane the Virgin's Gina Rodriguez looks exactly how every little girl dreams of looking on the red carpet—like a princess. Zac Posen succeeded once again in celebrating not only the feminine form but also the feminine spirit. The sheen of the royal blue fabric, the elegant off-the-shoulders neckline, and the full skirt say feminine yet powerful. Still, our favorite part of this red carpet getup is Rodriguez's radiating smile.
Amber Heard //
Amber Heard's unexpected red carpet look has us wistfully dreaming of open fields and enchanted forests. Heard's feminine Gucci gown in soft pink is a far cry from her va-va-voom red carpet looks of the past. And are those pink flowers? We are officially naming this the most romantic look of the 2016 Golden Globes.
Alicia Vikander //
We are always fans of unique awards show gowns. Alicia Vikander's simple A-line Louis Vuitton gown lacks glitz and glam but has all the elegance expected of a red carpet look. The pleated skirt is anything but typical, and the ruffle detail around the neckline and shoulders manages to conjure up girlie dreaminess and womanly sophistication all at once.
Kate Winslet //
Royal blue was the unofficial color of the red carpet, but Kate Winslet managed to stand out in her classic Ralph Lauren gown of mixed fabrics. The sleek silhouette flatters Winslet's figure and harks back to the red carpet days of old. Winslet won Best Supporting Actress for her role in Steve Jobs, and we couldn't picture a more classic dress to accept the award in.
Lady Gaga //
This isn't the Lady Gaga we are used to seeing, but hey, we aren't complaining! Gaga is reminiscent of Elizabeth Taylor as she wows in this classic black velvet Versace number. The dress is meat-free, but we detect some of that old-school Gaga flair in the Victorian hip padding. The silhouette of the dress is beyond classic, as is Gaga's retro-inspired hair and makeup. Undoubtedly, Gaga is stunning in her new look, but we are most excited to see this talented woman evolve once again.
Jennifer Lopez //
If anyone can pull off a difficult look, it's Jennifer Lopez. This stunning Giambattista Valli gown is more of a couture look for the Globes, and it certainly makes a statement in more ways than one. There's a lot going on in this red carpet look—a cape, pleating, and Grecian draping—but Lopez owned it with the confidence she is so famous for.
Taraji P. Henson //
Taraji P. Henson, winner of Best Actress in a Drama TV Series for her role in Empire, went for a simple white strapless gown this Golden Globes, allowing her natural beauty and expressive personality to shine brightest. Her look was not without surprises, however, and included a regal train of flowing white fabric that blew in the wind with every step she took.
Jane Wu //
Actress and martial artist Jane Wu made a dazzling red carpet debut in a glittering metallic gown of detailed sequin paneling. The classically flattering silhouette of modern materials made for an iconic look that we are still swooning over. Clearly, Wu is a red carpet stunner to look out for.
Helen Mirren //
Dame Helen Mirren proves that awards show looks get better with age. Her simple, form-fitting black gown flatters her figure while highlighting the best part of her ensemble—the stately diamonds. The sheer fabric of the shoulders adds just the right amount of feminine fun. We love this look because it represents the timeless classiness of the Golden Globes and the women who grace the red carpet.
Slider Photo Credit: Getty Images