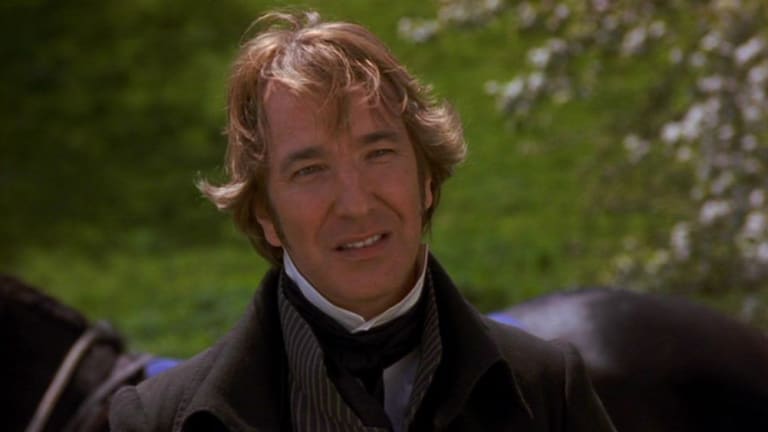 RIP, Alan Rickman—Your Characters Taught Me So Much About Life
From Colonel Brandon to Professor Snape, Alan Rickman's varied characters told some masterful stories.
[Editor's Note: Spoiler alert! If you've never seen these movies, be warned, the author references major plot points and the endings.]
"It's a human need to be told stories...we need to tell stories to each other about who we are, why we are, where we come from, and what might be possible...A film, a piece of theater, a piece of music, or a book can make a difference. It can change the world." —Alan Rickman (1946–2016)
The world lost another cultural icon today with the death of actor Alan Rickman. A statement from his family revealed that the cause of his death, at age 69, was cancer. Rickman's storied career spanned both stage and screen, and while I never had the privilege of seeing him perform live, his film performances have touched me deeply, and I mourn the future roles that we have lost with his death.
Rickman's acting roles were prolific and varied, ranging from pop-culture hits such as Die Hard and Galaxy Quest to his Tony-nominated performance as the Vicount dal Valmont in the Royal Shakespeare Company's Broadway production of Liaisons Dangereuses in 1987. And the ones that have stuck with me, whose stories have in their own way changed my world, will forever be with me.
Sense and Sensibility
My first encounter with the genius of Alan Rickman was in Ang Lee's 1995 adaptation of Sense and Sensibility, starring Emma Thompson and Kate Winslet. I was 13 at the time and, I must admit, I did not appreciate Rickman at all. Having not read the book, I was devastated to learn that Winslet's character Marianne got jilted by the charming Willoughby, and I could not for the life of me reconcile myself to the fact that she ended up with that old guy with the weirdly deep voice.
Fast forward 15 years and a seeming lifetime of dating mishaps, and I finally got it. Watching Rickman's portrayal of Colonel Brandon as an "adult" was a revelation. All of a sudden, Willoughby's charm and energy seemed shallow and suspect. But Colonel Brandon—now that is who we should all aspire to find. In Rickman's hands, Colonel Brandon is not the consolation prize—he is the jackpot. He is patient, loyal, and deeply kind. He is a man, not a boy. I am not exaggerating when I say that this moment changed my outlook on who I wanted to date and eventually spend the rest of my life with. While my fiancé Dan doesn't have quite the same hypnotic voice as Rickman, he is most certainly patient, loyal, and deeply kind. So thank you Alan Rickman (and of course Jane Austen) for changing my romantic world. I am in your debt.
Love Actually
There are many things, both good and bad, to say about this movie, but one cannot deny the heartbreaking performances by Alan Rickman and Emma Thompson as a husband and wife that have to grapple with Rickman's infidelity. On the surface, Rickman's character is a loving family man, but when his assistant at work begins making unsolicited sexual advances, Rickman is too weak to reject her. What makes his performance devastating is that I never doubt that he loves his wife and his children and the life they have; nevertheless, he ends up making a terrible mistake. Because of this, Rickman's portrayal is extremely unsettling, as it is a reminder of how easy it can be to derail a marriage. But the movie does appear to end with the husband and wife working toward resolving their marriage.
The Harry Potter Movies
The role that will cement Alan Rickman's legacy with a new generation was that of Severus Snape in the movie adaptations of J.K. Rowling's Harry Potter novels. Rickman's performance grew more nuanced and intricate with each movie as his character's backstory and inner conflict became integral to the plot. As Snape, Rickman initially provided audiences with the perfect foil to Harry's innocence and optimism, perfectly nailing the "evil professor" role.
As time went on, Rickman's portrayal of Snape became a poignant reminder of how grief can twist a person. Years of bullying and the loss of the woman he loves (Harry's mother Lily) do not excuse his tyrannical attitude and years as a Death Eater, but their revelation gives Snape depth as a character, and allowed Rickman to create a performance that explored the limits of the human spirit. In the end, Rickman's portrayal of Snape reminded me that heroes can be found in the most unlikely of places, and that bravery and selflessness should always be celebrated, even in the face of past misdeeds. People are the sum total of all their actions and cannot be viewed simply in black and white, good or evil. As humans, we deserve more than that.
Rest in peace, Alan Rickman. Thank you for being such a wonderful storyteller. 
Photo Credit: Columbia Pictures