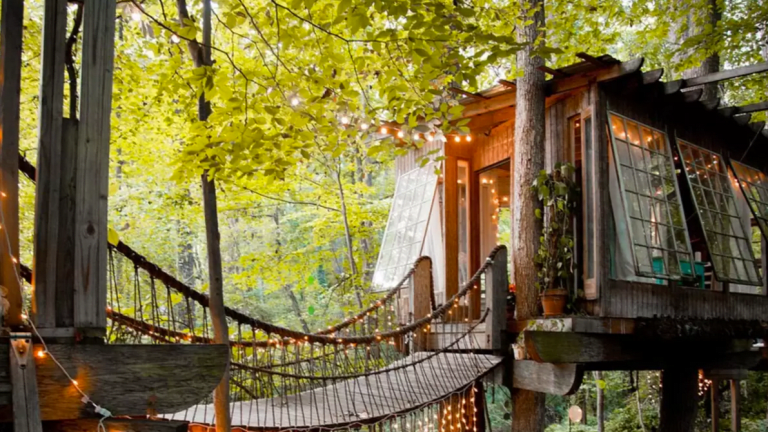 10 of the Cutest Airbnb Retreats in the U.S.
Ever wanted to stay in a tree house? Now's your chance.
As the dust finally settles from the post-holiday hustle, some of us may be pining for a mini winter getaway. Thanks to a growing market of collaborative consumption, also known as a "sharing economy," sites such as Airbnb have made traveling on a budget an affordable and easy reality.
No budget or time for an international jaunt? No worries. We've rounded up ten options that prove you can cure your wanderlust closer to home.
From blissfully cozy cabins in upstate New York to artfully decorated tree houses in the heart of Atlanta, we've compiled a list of choice Airbnb locations throughout the U.S. to inspire your search for the perfect mid-winter retreat. These one-of-a-kind locales are worthy enough to split the cost with friends or splurge on a one-night stay if your budget permits. Even if travel isn't on your itinerary, these are some pretty cool spots just to look at from afar.
For the Luxe Camper
Luxury Yurt / Austin, TX / $195 per night
For those seeking a unique yet comfortable "glamping" experience, this luxury yurt in the quiet countryside of Elgin is the perfect weekend away. It is situated on a private property surrounded by rolling hills and organic farms. Guests have access to a communal outdoor kitchen, a communal vintage barn, a corral fire pit, and a communal modern bathhouse.
For the Cozy Nature Lover
Farmhouse Retreat / Freehold, NY / $250 per night
This 1860s farmhouse is situated on a quiet country road in the footholds of the Catskill Mountains. Lovingly restored and furnished by home design company Jersey Ice Cream Co., it has served as a shooting space for well-known lifestyle brands such as Anthropologie and H&M Home.
For the Rustic Local-phile
Brownstone Sanctuary / Brooklyn, NY / $200 per night
This tastefully decorated apartment in Fort Greene is the perfect home base for those seeking a glimpse of life as a Brooklyn local. Better suited for couples or a small group of girlfriends, this charming space is steps away from coffeehouses and bistros yet quiet enough for sleeping in and cozying up with a book.
For the Outdoor Eco-Explorer
Desert Homestead / Joshua Tree, CA / $125 per night
This one-room homestead in picturesque Joshua Tree is the perfect haven for a good night's sleep after a day of exploring the High Desert. The vintage refrigerator, farmer's sink, and antique wood-burning stove are among the many pieces of furniture you'll wish you could take home.
For the Fancy Free Spirit
Airstream by the Sea / Malibu, CA / $400 per night
This refurbished vintage Airstream sits upon a bluff in the Malibu mountains and features unrivaled views of the Channel Islands and Catalina. It boasts total seclusion but is also close enough to Malibu's culinary offerings and best surfs for a quintessentially Californian getaway.
For the History and Culture Buff
Southwest Cabin / San Cristobal, NM / $99 per night
This historical cabin is situated on an organic goji berry farm near Taos, New Mexico. Fun fact: Aldous Huxley, author of Brave New World, and author D. H. Lawrence previously lived and wrote in this well-appointed space measuring five hundred square feet. It is ideal for individuals seeking down time for reflection and quietude in the Sangre de Cristo Mountains.
For the Offbeat Bohemian
Bamboo Tree House / Big Island, HI / $200 per night
This tropical tree house featuring wall-to-wall windows soars fifteen feet above ground in the lush Fern Forest. The lovely owner Kristie and her mother built the structure by hand. Complete with a wrapping lanai and a hanging bed below, this "tiny house" is perfect for nature-lovers who don't mind falling asleep to a symphony of toads and crickets from the surrounding tree canopies.
For the Classic Romantic
Wine Country Cabin / Templeton, CA / $175 per night
Within walking distance of several Paso Robles wineries, this wonderfully situated cabin is perfect for a couple seeking a quiet weekend in wine country or a girls' weekend full of laughs over bottles of vino. Bask in the golden sun out on the patio, or simply gaze out the cabin windows, both of which overlook world-class vineyards.
For the Old-Fashioned Dreamer
Victorian House in the Woods / West Cornwall, CT / $115 per night
This historical Victorian (circa 1870) is nestled in the woods alongside a creek in the quaint town of West Cornwall, Connecticut. The original flooring and molding details add plenty of charm to this three-story house. It's ideal for two couples seeking a leisurely weekend by the Housatonic River.
For the Whimsical Wanderer
Secluded Tree House / Atlanta, GA / $350 per night
This artfully decorated treehouse is a dreamy sanctuary located in the heart of intown Atlanta. Each room is connected by rope bridges (complete with fairy lights!) and features enviable vintage furnishings, including 80-year-old antique windows and a twelve-candle chandelier. Talk about a storybook come to life.
Photo Credit: Airbnb