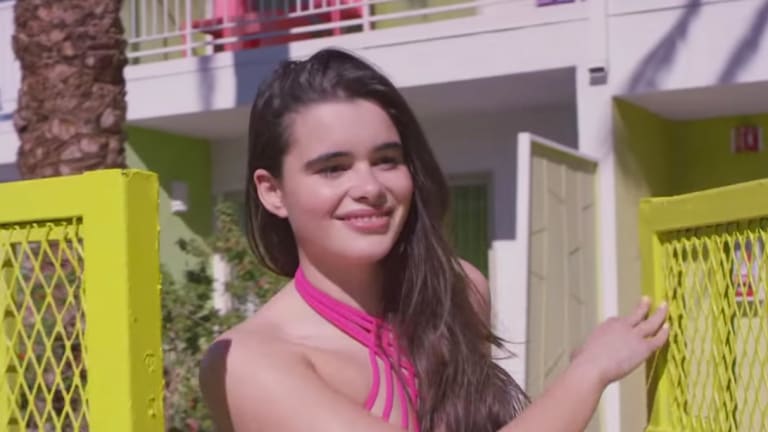 This Photoshop-Free Swimsuit Campaign Is a Step in the Right Direction, But It's Hardly Revolutionary
Let's campaign for diverse, untouched models in all clothing, not just swimsuits.
American Eagle's lingerie sub-brand Aerie has released the latest installment of its anti-airbrushing campaign, #AerieReal. The campaign, which started in the spring of 2014, is an initiative to showcase real women without airbrushing or retouching the women modeling their clothes.
In an additional move praised by many, the company has chosen the beautiful, curvy model Barbie Ferreira as the newest face of the campaign. In a recently released video advertisement, Ferreira is featured lounging in a hot pink bikini and discussing body image. "Not being retouched in the images is something that is very important to me, people knowing that that's what I look like, without anyone's perception of what my body needs to look like," Ferreira says. Aerie's decision to feature Ferreira, particularly without retouching, is significant. Too often clothing, swimwear in particular, seems to be not only modeled by but designed for a very particular size and shape of woman.
Though a far cry from your typical swimwear ad, Aerie's campaign is not the first of its kind. In fact, it is just one in a growing movement among clothing companies and magazines featuring a broader range of "real" women. Dove's Campaign for Real Beauty is arguably the most well-known, but there are many others. In 2015, Lane Bryant's Cacique Intimates collection made waves with its tongue-in-cheek tagline "I'm No Angel" (take that, Victoria's Secret!), and Target launched "Target Loves Every Body," in which a wide array of ladies modeled its latest swimwear collection. Last year, Sports Illustrated featured a "plus-size" model, Ashley Graham, in its annual swim issue for the first time in history (although it was in an ad, not among the magazine's planned photo shoots).
It is genuinely exciting to see clothing companies catering to a broader variety of women. Particularly when it comes to buying swimwear, I think most women feel as though they have to choose among pieces that were not designed nor intended for them. And yet, as heartening as it is to see a growing acceptance of real women in fashion and advertising, it is somewhat frustrating to see that—yet again—being confident is equated to being mostly naked. From the now-iconic shot of ladies in white bra-and-panty sets in Dove's Real Beauty campaign to Target's poolside bikini shots, near-nudity is not only a consistent part of but seemingly also the cornerstone of the body-confident message.
Contrary to what these campaigns may suggest, confidence is not measured in the amount of clothing one is willing to appear in publicly, and I think it does a disservice to women, particularly young women, to suggest as much. Regardless of what size you are, you aren't any less confident if you choose to wear something different than a bikini. Yes, I realize that it makes a more dramatic advertising point to put women in bikinis, but I found ModCloth's example from last year to be a far more refreshing—and non-objectifying—example of celebrating body diversity. If you're uncomfortable in a bikini, there are many other flattering options to choose from, and it wouldn't make you any less confident to choose them. I think it's important for girls to know that.
We know the aphorism "perfect is the enemy of good," and, yes, I agree that we ought to praise progress where we find it. But the thing is that in reality, any revolutionary component of Aerie's campaign is limited. How revolutionary is it if we only highlight women's different sizes in ads that show a lot of skin—e.g. lingerie or swimsuit ads? I think more authentic proof that a company has truly come to accept and cater to a broader variety of body types would be to include the full range of shapes and sizes in its regular ads for its regular clothing. Other than Lane Bryant and Melissa McCarthy's awesome line, which specifically cater to "plus-size" women, ModCloth is the only clothing company I can find that incorporates a broad range of women in its mainstream ads. I hope that Aerie's next #AerieReal campaign makes strides in that direction, too.
Photo Credit: Aerie