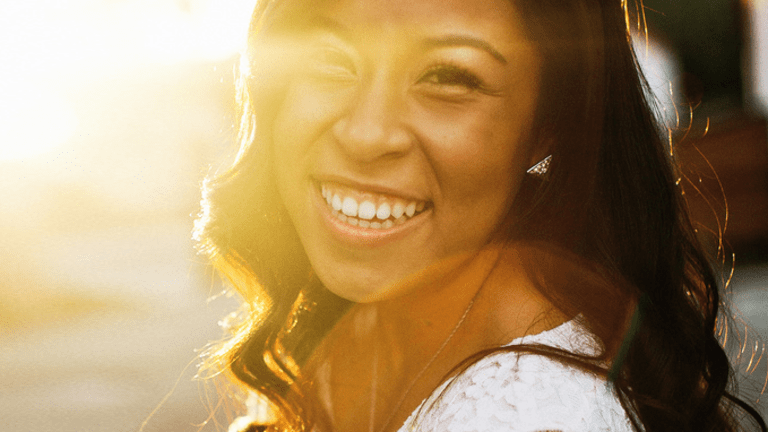 5 Things Every Millennial Woman Wants (and How to Get Them)
Trust me, it's not a new TV.
Your twenties are a crazy time. For the first time, you're experiencing life on your own terms. The future feels both imminent and completely unknown all at once. It's easy to get swept away and feel sort of like life is just happening to you.
Having uprooted my life numerous times since college, including two cross-country moves, I've come face-to-face with a myriad of paths my life could take—all of which have served me well, primarily because having so many options has forced me to think about what it is I really want.
Do I really want to "lean in," in the words of Facebook COO Sheryl Sandberg, to my career first and focus on family second? Does the endless pursuit of the sexy female ideal the media shoves on me really satisfy me? Do I want to spend my next $400 on an Apple watch to get more connected or on a weekend rental to get away and unplug?
Like many millennial women, the things that I truly desire might not be all the things that I am told I should desire. Yes, I want to be a #Girlboss, but I want to have balance in my life as well. I want to see the world, but I want to have roots as well. I want to build a career but also build connections that go deeper than Skype sessions.
It's so easy to get lost in the narrative of the ideal woman and forget that we all have wants that are much more personal. What makes us truly happy is not the latest handbag or electronic. I think that when it comes to surviving the twenties decade, what really brings peace of mind is quite different than we might think.
01. Neighbors
I want people I can trust in my life—maybe someone to pick up my mail while I'm away for the holidays or someone with a backup key to the apartment in the event I lose my own. I want people nearby who are ready and able to help me and vice versa—like the time an elderly, handicapped gentleman fell in the hallway of my apartment complex and needed a hand getting back up.
In fact, many women are tired of feeling alone and tired of not knowing the names of the couple next door. In their book "What Women Really Want: How American Women Are Quietly Erasing Political, Racial, Class, and Religious Lines to Change the Way We Live," Celinda Lake, Kellyanne Conway, and Catherine Whitney find that one in four women name "loneliness or isolation" as the primary downside to the single life. We've all been single, new to town, or starting a new job at some point in our twenties. All of these things can make a person feel, well, lonely.
When I spoke to one of my single friends, Audrey, about this, she said that community is something she craves: "I guess, for me, it's conversation and a feeling of closeness." Audrey found that having close friends nearby helped fill that longing.
Meeting new people, especially as a single woman living alone, takes fearlessness, but it can be done! Look for opportunities to meet neighbors in settings where there is some familiar connection.
This holiday season, throw an ugly sweater party for the other renters in your apartment complex, attend area mixers thrown by alumni associations you're affiliated with, or invite a friend to mingle with you at the Christmas pageants advertised on your church email list.
Make a point to become a regular at a local spot where the beer is good and the half-price nachos can't be beat. Before you know it, you'll be on a first-name basis with your next-door neighbors.
02. A Fulfilling Job
Millennial women want to be excited to go into work every day. We want to know that our talents are being utilized and stretched while also bringing home a steady paycheck to secure a future for ourselves and the family we wish to start one day.
According to an Intelligence Report poll, 64 percent of millennials surveyed say it's a priority for them to make the world a "better place."
We are not as satisfied with simply bringing home the bacon; we want to change the world. Forbes contributor Karl Moore says, "Money is important, and [millennial women] do enjoy making it; however, they long to be part of something bigger than themselves." Moore goes on to explain:
"The workplace doesn't define them to the degree that it did for too many Boomers. Millennials want to lead a balanced life. They want to be happy at home and happy on the job — money is somewhat secondary."
If you are one who wants to find fulfillment both at work and at home, give yourself the freedom and time to figure out what excites you, and go about pursuing a job in that industry. A good friend of mine parlayed a lifelong love of professional hockey into a full-time job writing for the NHL by immersing herself in the hockey Twittersphere and getting into games for free as a hobby blogger.
Grab every opportunity—whether a launch party, conference, or internship—to meet with those working in the field you want to master. Ask coworkers and former supervisors to serve as references for you, and invite them to write LinkedIn reviews of your time working together. But be sure to return the favor if someone goes out of his or her way to comment on your qualifications and talents.
03. Adopted Family
Family is often one of the few places we can go to truly be ourselves and be loved despite our vulnerabilities and failures. Millennial women crave a sense of family, and too often we don't take the time to cultivate this with extended family and nonrelative friends who are nearby.
Audrey told me about the things she misses most living independently and far away from home:
"The two years I spent as an expat, I really missed the warm kitchen, my mom bustling around, fussing over food, the smell in the air, and the atmosphere knowing my family would visit. . . . We typically had long chats at the table."
But just because you don't have family nearby doesn't mean that you can afford to pass up the opportunity to create that kind of supportive relationship.
College acquaintances who relocated to Washington, D.C., around the same time I did have become some of my most cherished friends; they include me in their annual Friendsgiving festivities and make me feel like Julia Child with the way they rave about my sweet-potato casserole every year.
If you're new to an area, reach out to extended family, long-lost Facebook acquaintances or relatives, old college friends, and area churches similar to the ones you grew up in. Some of the best opportunities to serve others and meet new people come through finding history, rekindling old friendships, and forging new ones in environments where the beliefs and practices aren't entirely foreign to you.
04. A Good Doctor
Balance is the "it word" among women in their twenties and thirties. We know that caring for our bodies means a lot more than looking slim in our trendy pair of skinny jeans.
Working a full-time desk job is quite the change from college, where I played two varsity sports and did intramurals—sometimes working out for up to three or four hours a day. Not having the encouragement and accountability of an entire team or the luxury of devoting hours a day to my health is difficult. Therefore, any tricks to help motivate me to maintain my health and wellness go a long way these days. Whether taking the stairs instead of the elevator, going for the sparkling LaCroix instead of the Coke, or recruiting a military neighbor to run with, little measures to stay healthy go a long way.
"A year ago I could barely get out of bed and do my job, and I couldn't even think about working out," my friend Krista told me. "Fast-forward a year later; thanks to some infusions, being gluten-free, and some motivation . . . I'm back to early-morning workouts and a fab diet."
Go ahead and invest in health and wellness during this time. Our families, parents, and kick-ass careers need us at our best. Learn to advocate for yourself at the doctor. Learn about your fertility and how your body naturally works, and do your due diligence before filling a prescription.
See a skin care specialist, or invest in products that are effective but less expensive than prescription treatments. Recruit a friend or neighbor to jog with you. Look for seasonal deals to local gyms. Now is the time to really get your health on track so that you can maintain good habits for years to come.
05. A Mentor
Living life without someone to look up to personally and professionally is like driving without Google Maps (Can you imagine?!). Millennial women might know generally where we want to go, but we want to be connected with others who have traveled the same roads before us and who will take us under their wings.
Sandberg, author of Lean In, says that finding a mentor is the "equivalent of waiting for Prince Charming." But a mentor is so much more than someone to help you climb the corporate jungle gym. Mentors aren't fairy godmothers who magically make dreams come true; rather, they help cultivate and refine a person's raw talent.
One of my journalism mentors has a style to his work like none other I know. His writing is lighthearted but evocative, and he has provided valuable feedback that won't necessarily help me land the next best journalism job, but it empowers my writing.
One of my best friends, Nikki, is a young-adult-fiction writer, and some of her continued success and encouragement comes from a New York Times bestselling author she reached out to asking for feedback on her manuscripts.
Having a mentor or someone you look up to is important. They help light the way and encourage us when the road gets bumpy.
Some call millennials the "IKEA" generation—a group consistently opting for the more affordable, portable options; unable to commit to something major; preferring the easy way. But that couldn't be further from the truth. By starting within, with what really grounds us and fosters our growth, we're just lighting the way. Contrary to popular belief, we don't want things quick and easy. We know what we really want and will figure out how to have it all.
Photo Credit: Jonathan Yacoub Photography