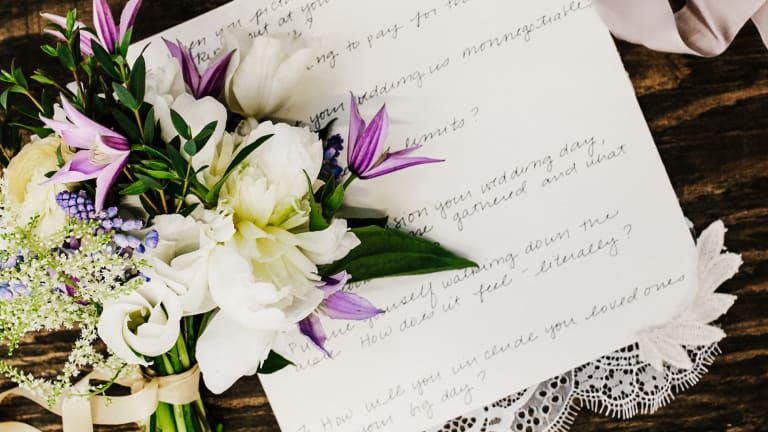 Ask These Questions Now to Make Your Wedding Planning Easier Later
Make sure that your wedding planning feels more like a breeze than buffeting winds.
We'll admit it: We love weddings, and of course we love to ooh and aah over the bride's fabulous dress. Few brands make us swoon season after season like BHLDN. We'll be sharing their advice for brides here on Verily, and you can check out their goods at BHLDN.com.
Did you know that a whopping 33 percent of marriage proposals happen between Thanksgiving and New Year's Day? With engagement season in full swing, we've rounded up a list of the most important questions for a bride to ask herself before diving into wedding planning. These questions not only make decision-making easier, but they will also ensure a cohesive vision for your big day: an expression of your and your partner's authentic selves.
01. When you picture yourself at the altar looking out at your loved ones, who is smiling back at you?
Now is the time to create a hypothetical guest list. This will help realistically answer questions such as, "A big wedding or an intimate one?" Depending on how big each family is and how important it is to have friends or coworkers there, party size can vary drastically. It's easy to underestimate how many people you are close to. The numbers rack up faster than you'd think.
If a small wedding is important to you—whether for intimacy or your budget's sake—consider strongly limiting the amount of friends you invite, and stick to immediate family members. Sorry, second cousin Vinny.
02. How are you going to pay for this?
Let's face it, a wedding can be a huge investment. The national average is up to a staggering $26,444! And gone are the days when it was expected that the bride's parents would foot the bill. Now it's common for both families (or just the couple) to contribute to the wedding fund. Talking about money is never fun or pleasant, but it's a crucial conversation to have before you start planning. Establish what each family plans to contribute, and create a budget. Websites such as Wedding Wire offer great payment tracking tools to help keep you within budget.
03. What about your wedding is non-negotiable?
Here's where you sit down with your fiancé (perhaps with a glass of bubbly) and communicate what elements are most important to you. This will determine how you will allocate wedding funds. Maybe you're totally fine with a standard catering menu, but you want a photographer who will capture your day in images fit for a magazine editorial. Your honey might be a music aficionado who wants to splurge on a killer band for the reception. Have an open dialogue so that you are on the same page. As is the case with, well, life, good communication is key. Wedding planning is no exception.
04. Are any dates off limits?
Is your sister getting married in September? Is your BFF having a baby in June? These are details to take stock of in order to limit drama and ensure that everyone you want at your wedding will be able to attend.
Dates that fall on holiday weekends can be both a blessing and a curse. The upside? Folks traveling from out of town won't have to take a day off work to make it to your wedding. The downside? People might decline because they have other plans.
Other date-related facts to note: June and September happen to be the two most popular months of the year to get married and often come with higher venue rates due to higher demand. Looking to keep costs down? Go with a low-season date between January to March. Friday and Sunday weddings are also becoming popular due to the significantly lower costs associated with getting married on a day other than Saturday.
05. When you envision your wedding day, where is everyone gathered, and what does it look like?
There's no resource better than Pinterest for figuring out the answer to this question. Wedding blogs and magazines also provide incredible inspiration and lists of local venues at a variety of price points. While the amount of options can be overwhelming, picturing whether you want to get hitched in the middle of a forest, a beautiful reception hall, or your parents' backyard will help dictate all the other elements of your wedding, from decor to color palette. You want the event to be a reflection of who you and your fiancé are as a couple. Be sure to keep budget top of mind during this stage. It's easy to get swept away with inspiration and lose sight of those deal-breakers you and your fiancé have agreed to.
06. Picture yourself walking down the aisle. How does it feel—literally?
There are fewer wedding planning tasks more fun than saying yes to your wedding dress. But it's important to have a firm vision of your bridal style before you head out shopping. Ask yourself what is most important: fashion, function, or comfort? All three? This can help you determine what to invest in: unique jewelry to make a simple gown pop, comfy shoes that will have you dancing on cloud nine, or a skirt to wear over a little white dress that you can remove after the ceremony, rocking a surprise (and more boogie-on-the-dance-floor-friendly) second look for the reception.
Keep your location in mind. The gown you choose should be appropriate for the venue. For outdoor nuptials, keep your dress light and airy—think lace and tulle. For black tie, go for gusto in something glam or sophisticated—think crystal beading or rich satin. But, no matter what, the most important thing of all is to stay true to yourself. Your bridal style should be an extension of who you are in your everyday life. At the end of the day, you'll want to feel like you—albeit the wedding-day version.
07. How will you include your loved ones on the big day?
After you announce your engagement, your friends and close family members may wonder if they will be asked to be in the wedding. Or they may ask you how they can help. There are many opportunities to incorporate those close to you in your big day. And they'll be happy to use their talents and strengths to help you through the planning and prepping process—from the flowers and music down to your hair and the programs.
It's also a gracious way to show how much you appreciate the roles they've played in your life leading up to this moment—whether it be asking a friend to read for the ceremony or having your green-thumbed aunt craft arrangements for your shower. If you decide to have a wedding party, there are lots of memorable ways to ask your squad to stand by your side: from cute and clever cards to personalized gift boxes complete with color swatches for picking the right bridesmaid dress.
Remember that asking someone to be part of your wedding can be a big social and financial commitment. Anything you can do to help curtail costs and show your gratitude will be appreciated.
Prepping for your big day will involve thousands of little details and moving parts. But it doesn't have to be overwhelming, as long as you take time to think through what is really important to you and the love of your life. Use these questions as an initial guide, and the rest will fall into place.