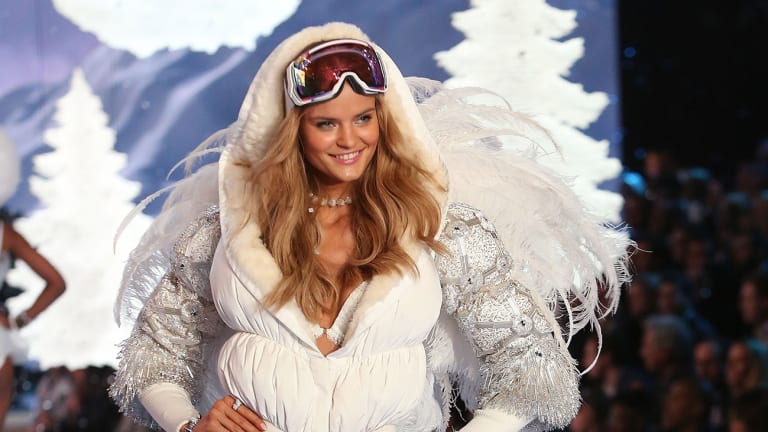 The Real Reason I Don't Watch the Victoria's Secret Fashion Show
I'd need to be hit over the head to voluntarily tune in.
The twentieth annual Victoria's Secret Fashion Show aired Tuesday, Dec. 8, on CBS and for the twentieth time, my beau and I did not watch it. I suppose that's not entirely true. I watched a few minutes of the show in my freshman year of college with some friends, who made a ritual of watching it each year. I had never heard of it before, and it did not take me long to discover that it wasn't something I was particularly interested in watching.
Because I do not live under a rock and because of the show's tremendous popularity, I cannot be entirely shielded from it. Over the years, my roommates and friends have dutifully tuned in to watch the "angels" strut their stuff in VS's world-famous lingerie. If I had to guess, I'd say fully 90 percent of my friends make a point of watching it. As a result, each year, my Facebook news feed and Instagram are filled with photos of the night's best looks. As Julie Bogan of Refinery29 says, "It almost feels like a required-viewing girl-power moment."
So it should come as no surprise that I have, on numerous occasions, been asked why I always make a point of being occupied elsewhere. Possibly because they perceive my distaste for the show as a judgment of their enjoyment of it (or more likely because I roll my eyes every time I am reminded that it's coming up—I'm sorry, I can't help it), many of my acquaintances have taken it upon themselves to defend the show and explain its merits. I've been instructed that the angels are simply celebrating their bodies, and that ought to be encouraged. "It's a fashion show. You can enjoy it without it being sexual," my friends have assured me. "It's possible to appreciate a model's beauty without objectifying her." "Feeling sexy is a good thing," they tell me. And all of that may be true.
But the truth is that my reason for skipping the show, and for preferring that my fiancé not watch it either, has nothing to do with any disapproval for lingerie, Victoria's Secret, or tall, beautiful women who love their bodies. And I don't think that everyone who watches it spends the night lusting after every model they see on stage.
That said, regardless of whether it is possible to watch the show without lusting after its models, and regardless of why the VS angels are participating, the fact is that the gorgeous ladies on the runway are wearing clothing specifically designed to arouse and seduce. How do I know that? Well, aside from having two working eyes, because Victoria's Secret tells us as much in its ads and on its website. Right now, the Victoria's Secret site includes ads such as, "Hot Looks. Cold Nights. Seduction Starts (and Ends) Here." The ad for Christmas lingerie reads, "And to all a hot night. Very Merry. Very Sexy." The pieces showcased in this year's fashion show are available online, and half are from the Very Sexy Collection, "Rated R(acy)." So while watching the show doesn't have to be a sexual experience, it certainly wouldn't be unreasonable for it to be. In fact, it would only mean that the products featured work as intended.
My point here is that, like most (all?) lingerie, the pieces worn in the Victoria's Secret Fashion Show are designed to turn up the heat in the bedroom, or at the very least, to make someone feel and look sexy. And while that's a fine thing, being seduced by a Victoria's Secret model is not how my fiancé and I would like to spend an evening. Ergo, we will avoid watching them walk around in clothing that, according to the company itself, is designed to seduce. And in my mind, that is not prudish or judgmental, it's just practical.
So unless something about the show, my priorities, or my love life drastically changes, I probably won't ever get around to watching the Victoria's Secret Fashion show. And I'm OK with that.
Photo Credit: Getty