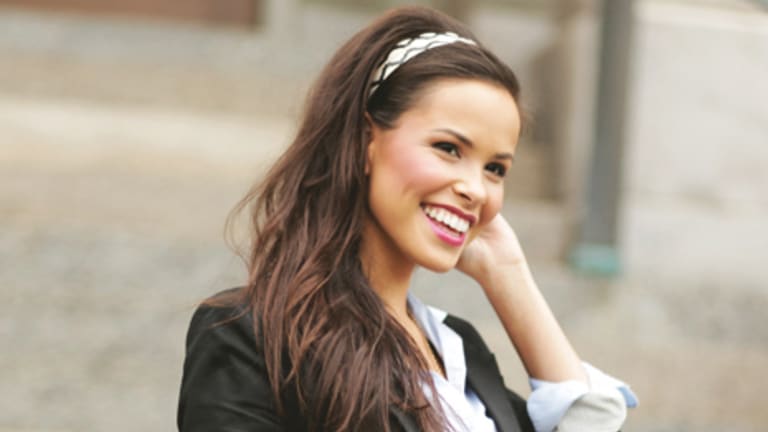 Tips on How to Be More Confident at Work That Even Audrey Hepburn Needed to Hear
Move over, wage gap. There's another crisis in town.
There's been a lot of talk recently about unequal pay and the hardships that women face due to glass ceilings in our careers. But there has been just as much talk about what women can do to increase their odds of getting a promotion and a raise, from negotiating early to things as simple as being more confident in the workplace.
Confidence—or, rather, the lack thereof—in the workplace (and in life in general) is an especially big issue that women need to address. Even beloved actress Audrey Hepburn once said, "I lack self-confidence. I don't know whether I shall ever get it. Perhaps it is better to be unsure of yourself, as I am. But it is very tiring." The compassionate, successful, and elegant Hepburn experienced confidence crisis. If that isn't a little disheartening, I don't know what is.
But she's certainly not alone. Like Hepburn, many women are affected by feelings of inadequacy. A KPMG Women's Leadership Study found that while confidence is an important ingredient in leadership, less than half of the participants (49 percent) identified themselves as confident. In fact, a host of research studies has found that there's a marked confidence gap between men and women.
Fortunately, you can learn how to be confident. We just have to stop conforming to the same patterns—such as the ones I'll discuss here—of not giving ourselves enough credit.
01. You sell yourself short.
I've written about impostor syndrome before. It's that feeling that occasionally creeps up and whispers, "You're not good enough," or, "You're just lucky this worked out for you." Impostor syndrome undermines your confidence by encouraging you to attribute your success to external factors instead of your own hard work.
Last year, Katty Kay, anchor of BBC World News America, and Claire Shipman, reporter for ABC News, authored The Confidence Code: The Science and Art of Self-Assurance—What Women Should Know. In a related piece for The Atlantic, the authors cite the work of psychologist Dr. Brenda Major, who found that women consistently underestimated their ability and performance on tests when compared to their actual performance. Men, on the other hand, routinely overestimated their abilities. Kay and Shipman wrote about their own struggles. Despite Kay's top-notch education (she studied at Oxford and speaks fluent French and Italian), she didn't think she was qualified to compete for coveted journalism jobs. Shipman says that she would often tell people she was "just lucky" when they asked about her success as a reporter. Despite their proven track records, both Kay and Shipman didn't give merit to their own talents and hard work.
So, how do we avoid selling ourselves short? It can be helpful to look at your life through the eyes of your best friend. What would she list as your strengths, talents, and positive qualities? This can serve as a reminder that you have much to be confident about, and you have every right to embrace your strengths and positive qualities.
We do this for others. Let's be kind by doing this for ourselves, too.
02. You hold yourself back from new opportunities.
A lack of self-confidence can prevent you from seeking out new and better opportunities. The KPMG Women's Leadership Study found that 73 percent of women did not feel confident seeking a job that was beyond their experience. Contrast this with Hewlett Packard's finding that male employees applied for jobs when they believed that they met only 60 percent of the position's criteria. Females working at HP only applied for jobs that they believed they were 100 percent qualified for.
The Atlantic notes, "At HP, and in study after study, the data confirm what we instinctively know. Underqualified and underprepared men don't think twice about leaning in. Overqualified and overprepared, too many women still hold back. Women feel confident only when they are perfect. Or practically perfect."
One of my professors in college stressed that we should apply for positions even if we didn't meet every single qualification for the role. After graduating with my master's, I started applying for jobs listing a spectra of ideal qualifications. I would repeatedly remind myself of her advice whenever I found myself debating whether or not to apply for a particular job because I didn't meet all the criteria.
Because of my professor's advice, I had the confidence to apply and interview for jobs that I might never have applied for because I felt underqualified. That confidence helped me land me dream job: working as a therapist in a group practice.
Not having the confidence to speak up and seek new opportunities can leave us feeling stuck. What's the solution? Kay and Shipman say that their research boils down to this: "Women need to stop thinking so much, and just act." Don't overanalyze. Just go for it. Relinquish the quest for perfection, and you'll have the freedom to try new things and expand your horizons.
03. You tend to blame yourself.
Another downside to lacking confidence is that it can trap you in a cycle of blame. Cornell psychologist Dr. David Dunning found that men tend to blame external factors when something goes wrong. A female employee in the same situation, however, will likely look to herself. She might say, "I'm not cut out for this work. I should have known I couldn't do it." Attributing negative events to your internal qualities delivers a big blow to your self-confidence. If you're not careful, you'll find yourself trapped in a cycle where you blame yourself for what you label as "failures" and talk yourself out of trying new things.
Take a page from the average male's playbook: Don't immediately blame yourself for any shortcomings. Instead, try to look at the situation objectively. Identify possible external factors (ask for a friend or coworker's help if you are having trouble). This will help you cultivate external attribution, which is a sign of healthy resilience. This doesn't mean that we should be blind to our weaknesses. It only means that we should be fair to ourselves in how we attribute them to situations that don't go as planned.
While the confidence gap between men and women is an unfortunate reality, there are so many easy ways to boost our confidence. Kay and Shipman put together a helpful confidence assessment that you can take for free on their website. See where you fall. Then create an action plan to boost your own confidence, whether at home, school, or wherever you need conviction in your abilities and efforts. With confidence, you'll embrace new opportunities and celebrate your unique strengths and talents. Trust us, you have them. You only need to believe in them for yourself.
Photo Credit: Sara Kiesling