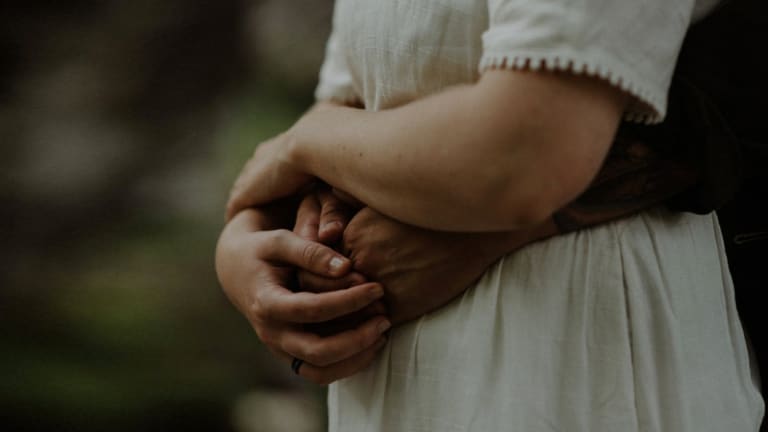 6 Steps You Can Take to Stay Connected to Your Spouse During the Holidays
Make some true and lasting memories with your spouse this year.
"Sex! Lots of sex!" they heartily laughed. I blushed. My parents and their friends, with more than seventy years of marriage experience between them, gave me only this advice.
"No, seriously," I pleaded. "It is so hard to stay connected to my husband during the holidays. We run everywhere, with so many obligations, and then end up falling asleep on the couch at 10 p.m. How do we remain a team during this time of year?"
"Yes, right: sex!" one gentleman shouted louder. "Under the tree if it is Christmas," his wife replied.
OK. Sex. Got it. As Kate Zickel already wrote, sex is a key component to a happy, lasting marriage. They are clearly on to something.
But what if sex isn't all that easy to squeeze in during the holiday season? (Plus, sex under the Christmas tree sounds like a recipe for pine needles in scary places and broken glass ornaments.) What if, as for me, there has to be an emotional connection before a physical one can occur? My husband and I can't be emotionally connected if we rarely see each other during the entire month of December.
The holiday season, on the other side of the wrapping paper and eggnog, is all about the ones we love. It is about spending time with family. We know this; every good Christmas movie is a variation of this well-loved theme.
It turns out, though, we don't necessarily embrace the message. We tend to neglect giving our partner our attention during this time of year because we know that when the tinsel is put away, they will still be on the couch next to us. Instead, we put our minutes into lists, crafts, cookies, shopping, and parties.
Yes, our spouses will still be there January 1. But will our memories of the season be with our partners or around them?
There are some things we can do to stay connected with our spouses this holiday season (besides sex):
01. Do not shop together.
There will be exceptions to this rule, but gift shopping is often undeservedly romanticized. We envision laughing together in the aisles of Pottery Barn, jovially deciding together which plate pattern the mother-in-law will love the most. But it rarely happens like that. Instead, there are crowds and jostling bags and disagreements and stress—so much stress. Unless you are one of those rare couples for whom shopping is bonding, don't force yourselves to do this together. My husband and I use an app to create a shared list of people with our gift ideas. Then, as I actually do love shopping, I will use the list to buy what we agreed to. We wrap the gifts together so that we are both part of the process, but we don't have to try to find a babysitter to head to a crowded holiday mall together.
02. Choose experiences, not consumption.
Research has proven that experiences bring more happiness to people, not things: "Experiential purchases are so much better than material purchases." Listen to the research. Instead of worrying about the perfect gift, try to experience something new together. Schedule a night to go to The Nutcracker, drive around with hot cocoa and look at Christmas lights, or find a local parade and spend the morning enjoying it together.
03. Skip the party (sometimes).
The parties are amazing this time of year! There are many activities and opportunities for fellowship. It is so fun, and it is so overwhelming. While I would love to be at every event, I've realized that sometimes the best gift I can give to my relationship is to skip the party (and it turns out the party does go on without me). Instead, I can spend the entire time talking to my best friend. Feel free to send a kind and appropriate regret to a party invitation in order to have your own quiet party with your partner.
04. Don't overschedule the calendar.
Feel free to skip the party, but also guard free time and date time from the outset. If your calendar looks like ours, there ends up being something written on every single day, sometimes three things a day. I know that no matter how color-coded and organized I am, it affects my time with my husband first. Every December, things sneak up until suddenly there is no white space. Get out your eraser and create white space in your life. Create time for cocktail hours or whatever other whim you want to follow. Don't over plan your month and allow for spontaneity.
05. Share old traditions, but make new ones.
Because the holidays are, ultimately, about family, we each come to a relationship with years of traditions. Be honest about these with your spouse, but know when old family traditions aren't a fit for your new family. Embrace which of your partner's traditions that do work, and then create new traditions of your own. As Zach Brittle shared:
"Rituals also help ensure that your relationship is unique. Many people confuse ritual with routine. Routines are the patterns you fall into as part of the natural flow of your life. Rituals are how you infuse your routine with creativity."
Work together to find a holiday tradition that is uniquely and creatively yours with your partner.
06. Lower your expectations.
We need to ensure during the holiday season that we remember what love is. Love is NOT the scene from the jewelry commercial where the man gives us a jeweled bracelet underneath the mistletoe. Love is NOT your partner being able to read your mind. Love is NOT your spouse proving that he or she is perfect. Love IS about being a team, covering each other's imperfections, and holding hands while ice skating and laughing.
When January hits, when the frenetic pace of the holidays has ended, I want to look across the table at my husband, and I want to see someone I shared the memories with. I want to hold hands while we remember moments we created together. I don't want to be catching up an old friend on what I did while he was out.
So, this holiday season I wish us all meaningful connections with our spouses, the ones who should mean the most to us.
Oh, and may you have lots of sex under the Christmas tree, of course.
Photo Credit: The Kitcheners