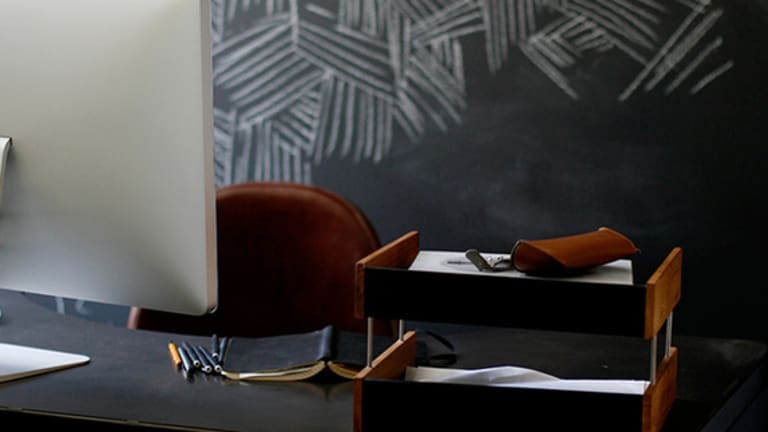 What a Year of Living the Freelance Dream Taught Me About Working for Myself
There's so much more to self-employment than staying in your pajamas all day.
For the entire first year of freelancing, it wasn't unusual for my husband to come home from work to find me in my pajamas or sweatpants, not showered, hyped up from drinking coffee all day, and typing away at my computer, frustrated by all that I hadn't accomplished.
This wasn't quite what I expected when I chose to pursue self-employment after marrying and moving to Cincinnati. Before this, I worked a typical 8-to-5 job. I found myself frustrated by being tied to a desk Monday through Friday and squeezing my extracurricular life into the fringe hours of my day. I envisioned going freelance as a silver bullet for the work–life balance dilemma.
I'm here to tell you, self-employment is not a magical solution to the frustrations that come with a traditional job. Over the past eighteen months, the challenges I've faced as a freelancer have impacted my approach to work and life. From wardrobe concerns to learning to set boundaries on my time, I've learned quite a lot outside the office.
01. Dressing down doesn't inspire my best work.
"Do you work in your pajamas?" This might be the question I receive most often when people discover that I work from home. As I alluded to above, I too often take the lazy route and stay in my pajamas or sweatpants until the afternoon. While this was a fun perk of self-employment at the beginning, I quickly realized how important it is for me to dress for success, even if no one will see me that day (apart from my husband).
Professionalism matters even if I'm working at the kitchen table by myself. When I style my hair, apply makeup, and put on clothes, I find that I take myself, my clients, and my work more seriously. This realization has spurred me to create a capsule wardrobe and get a new haircut and makeup routine that works for my life phase. A perk of this discovery is that I've refined my personal style in the process, and I now consistently feel prepared to meet the day ahead.
02. My weaknesses cannot be ignored.
When I worked for the state government, I had coworkers I could bounce things off of or who helped me out when I was operating in an area of weakness. As someone who is self-employed, I don't have the resources that come with a traditional job.
I joke that there are two things I'm horrible at doing: filling out government forms and accounting. Both activities are now a regular part of my life. I don't have an accounting department that automatically deducts my taxes and health care costs nor do I have an HR representative to help me answer confusing questions.
We all operate out of a unique set of strengths and weakness. I'm quickly learning, however, that I need to work all the more at understanding my weaknesses and finding resources or professional assistance to help. When I started freelancing, I tried to manage my invoices and billing on my own. I failed to keep track of whether clients had paid me, and I made errors when making invoices. I eventually decided to invest in invoicing software. It has eased the burden of money management and helped me to focus on using my strengths effectively.
03. Setting boundaries is vital to a well-ordered, content life.
One reason I love working freelance is the personal and professional freedom it comes with. Babysitting my friend's kids? Sure! Another writing assignment? You bet. Mid-morning coffee break with a friend? Why not! A long weekend trip? Name the place.
But too much of a good thing can be a bad thing. You can bet I've realized that I need to set boundaries and acknowledge that I can't cook a three-course dinner, make a trip to the library and the craft store, clean my bathrooms, watch my friend's kids, write a magazine article, draft a press release, and catch up on my bookkeeping in a single day.
Learning to manage my time and my priorities better has highlighted my fear of my work and my life not being "enough." Brene Brown, who researches vulnerability, shame, courage, and worthiness, writes: "Daring to set boundaries is about having the courage to love ourselves, even when we risk disappointing others. We can't base our own worthiness on others' approval. Only when we believe, deep down, that we are enough can we say, 'Enough!'"
The practice of setting boundaries between my professional and personal life has shown me that my worth is not grounded in my work or what my clients and friends think of me, but in who I am as a person. As a general rule, I no longer babysit for my friends unless it's an urgent or unique situation. I'm learning how to balance serving others and being helpful while honoring my work, professional commitments, and goals for my business.
04. Having role models and cheerleaders is necessary to thrive.
Regardless of the work you're doing, having people to support and encourage you is vital. This is true in any job, but I think it's especially true in freelance work because you're often alone. It is easy for self-doubt to set in.
Earlier this year, I participated in a young professionals panel at my alma mater. One student asked us who the biggest influence on our work was. I immediately thought of my husband because of his unwavering support in my freelance endeavors. While he hasn't helped me write a press release or draft a social media plan, he constantly encourages me and challenges me to set and pursue new goals.
I've also realized the importance of finding professionals who can serve as role models and inspiration. Over the past few months, I have identified people, a few years ahead of me, who have careers that I admire. Although I don't usually have the opportunity to meet these people in person because of geographic limitations, I follow their career growth online, reach out to ask questions, and let them know that I appreciate their work.
05. Taking time to rest is key to avoiding burnout.
Because I work from home, I'm always at the office. I struggle to not look at email in the evenings and on the weekends. I feel pressure to always be hustling because my income is correlated with only my effort, not the fact that I show up at an office for eight hours a day.
Work is always there. So establishing set times and space for it is key to maintaining a healthy work–life balance. But resting is a countercultural act. Jon Acuff, author of the New York Times bestseller Start, explains it this way: "Sometimes we think hustle is an excuse to become a workaholic, but it's not. Rest is actually a really important part of hustle. The hard part is that in a culture that praises busyness, rest is an act of bravery."
Sundays have become my day to rest and refuel for the week ahead. I don't answer emails or outline articles. Instead, I focus my energy on participating in the life of my church, spending time with loved ones, and pursuing hobbies that inspire creativity, such as cooking and reading. I've learned the hard way that without rest, I burn out and grow frustrated by the work I love.
06. I need to be flexible and prepared for the risks involved.
I don't have health care through my job. My career prospects are ever-changing. I have to establish a steady stream of income on my own. But the rewards of autonomy and freedom that come with self-employment make the risks worth it.
My husband and I have a plan in place for if my freelance revenue streams dry up. We're strong believers in emergency funds, and we live below our means. Because of that, we aren't enjoying all the luxuries that are often associated with a 'Dual Income, No Kids' couple. We have a great quality of life because I work from home, but there are sacrifices to be made.
I'm trimming our grocery budget. We limit eating out. Our clothing allowance is slim. And I'm learning how to put a pause on my vision for decorating our house until we have the budget for it. I also track my expenses for my business (mileage, software, etc.) and save for bigger items, such as a new computer. I'm learning that I can't just go spend the money that's in my business bank account. I need a plan for where each dollar will go, whether that's taxes, expenses, savings, or income. My husband and I have decided that those sacrifices are worth the opportunity to pursue nontraditional employment and develop a career that works for the lifestyle we want.
Over the past eighteen months of working for myself, I've learned that a willingness to adapt to what's outside my control and define success on my own terms is key to finding contentment in self-employment. There's much more to it than staying in my pajamas all day and going to the grocery store at 11 a.m. on a Tuesday instead of during the after-work rush. Self-employment has helped me craft a life that encourages me not only to grow professionally but holistically as well.
Photo Credit: Belathee