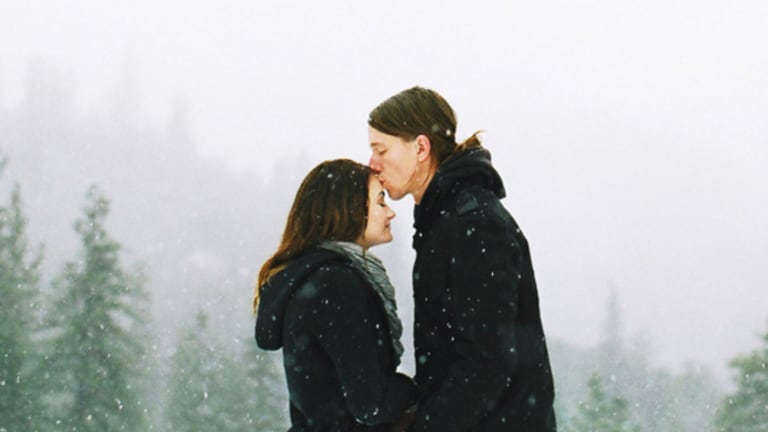 Why I'm Glad My Boyfriend Didn't Propose Over Christmas
It can be good not to give in to the hype.
"Santa baby, forgot to mention one little thing . . . a ring./I don't mean on the phone." So goes the ever-popular classic Christmas tune.
Ah, yes, Christmas comes but once a year, and every year some overly ambitious twentysomething girl plans in her mind the picture-perfect Christmas proposal on her boyfriend's behalf. In 2010, that girl was me. Somewhere between Thanksgiving and Hanukkah, I started to believe that, along with the tinsel and the twinkle lights, Christmas would bring me a different kind of sparkly joy.
In the back of my head, I knew this was not the best idea in the world, that these are exactly the types of plans that are bound to end in tears and disappointment.
To be fair, my expectation for a Christmas proposal wasn't totally unfounded. According to Weddingwire, 43 percent of couples get engaged over the holidays. So, yeah, all those Facebook announcements are indicative of a larger trend. Much like the not-so-subliminal messages jewelry companies put out this time of year that the diamond ring is the only acceptable gift, a ring before spring and, more specifically, a Christmas proposal can feel like the thing to do for all those couples headed toward marriage. Then of course there was the fact that Brian had made it clear over the course of several months that he was serious about our relationship and that his devotion to me was semi- (if not completely) permanent.
It didn't help that my family also expected a ring under the mistletoe and holly. Brian and I had only been dating about eight months, but my family wasn't wasting any time dropping hints about what they thought was an imminent proposal. "I think he's going to ask you," my younger brother Alex predicted. When I told my mom I'd decided to stay in D.C. for Christmas (for the first time without my family), I was a little nervous. I thought she'd be upset and beg me to come back to Seattle like I did every year. Instead, she said it sounded like a great idea, and even though I couldn't see it, I felt her winking over the phone.
At first I laughed off the idea of a Christmas engagement, but with a little encouragement from family and friends, I spent much of our first Christmas season together thinking about what a Christmas proposal would look like. I started imagining all the romantic little (and big) places that he might bend the knee. I spent the Christmas season making sure my hair was curled for every date and my makeup was flawlessly applied, just in case.
While my mind was busy planning the perfect setting, it turns out that Brian was doing some planning of his own but not in the way I had anticipated. Brian later told me that planning the surprise of our engagement was, for him, the first step in articulating his vows to me. "In preparing to propose, I was forced to assess my offer and ask myself whether I thought I was good enough for you and what I was asking you to promise in return," he said to me. "I was really examining my heart and character for that entire Christmas season."
Christmas came and went, as did New Year's, all without a proposal. With all the buildup of the holiday season and the not-so-subtle suggestions from my family, I admit I was disappointed. And as we crept more and more into the beginning of 2011, I began to wonder if Brian and I wanted the same things in our relationship. But when I took the time to evaluate my feelings, I realized that Brian and I did, in fact, want the same thing—and it wasn't a Christmas proposal. I had convinced myself that the twinkle lights and tiny jewelry boxes were more important than the lifetime connection was building. The brief disappointment allowed me to check my attitude and realize that all I really wanted was to be his wife. Suddenly, planning the perfect proposal didn't seem so important. At the end of the day, all that exterior pressure turned out to be just that, with no bearing on my relationship at all.
Come February, life became so busy that Brian and I hadn't had much time to see one another. When Brian asked me if I wanted to have a birthday dinner after I got back from a big trip to Berlin, I was just relieved he still remembered my name! When he finally pulled the little box out of his coat and said he knew he wanted to be with me for the rest of his life, I was so surprised I actually asked if he was serious. After a beautifully worded speech, Brian asked if I would marry him, and I couldn't wait to say yes.
The truth is, Brian's nowhere-near-Christmas proposal didn't feel lackluster at all. All that pressure for a Christmas engagement only added up to an unfortunate distraction from my own preparing to say yes to the man I loved. While my "yes" was deeply heartfelt, I know the romance had nothing to do with the setting and my well-coiffed hair. Rather it had everything to do with a heart prepared to love a man through everything, even the unexpected.
When I finally asked about the timing of his proposal, Brian explained that waiting until after Christmas was, in his mind, a sign of devotion. "The idea of essentially challenging my heart to mean this commitment—especially over Christmas when the importance of relationships is heightened—was, as it turned out, also a very healthy delay in your expectations," he told me. You see, by waiting for the right timing, Brian and I both had the time we needed to consider this next phase in our lives and what the proposal and the diamond ring really meant.
I got a little lost in the hype of the holidays and in some ways allowed it to overshadow the depth of our relationship. My marriage deserved so much more than a forced holiday proposal with little to no time to savor the special moment on its own merit. Yes, the proposal matters, but that's exactly why I'm so glad my boyfriend chose not to propose over Christmas.
My proposal may have taken a little longer than my family or I expected, but honestly I wouldn't have it any other way. Just like everything else, in the words of the ever-wise Lucy Moderatz from the holiday classic While You Were Sleeping, "Life doesn't always turn out the way you plan." It usually turns out better.
Photo Credit: Taylor McCutchan