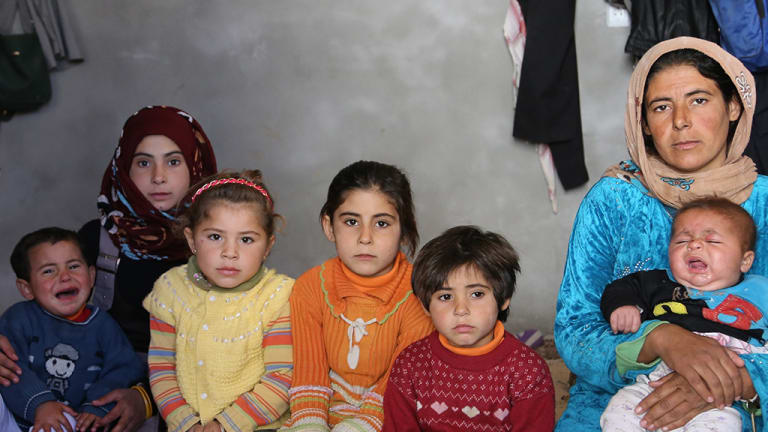 While We Debate ISIS, the Fate of Refugee Women and Children Hangs in the Balance
The fate of tens of thousands of refugee women and their families hangs in the balance.
When Zahra Ateaa speaks, the men in her group fall silent. Her deep voice grows husky as she describes the day her family left their home near Mosul in 2014, as refugees escaping the Islamic State.
Ateaa describes the day in snapshots—her ruined house, her fleeing family, running as ISIS terrorists shot at them. And then it happened: A stray bullet hit her 1-year-old son, Yacob. He was so little, just beginning to walk, she says. He died.
"It was really hard and painful when I lost my house—but I lost my son, the most valuable thing in my life," she said. Ateaa cradled her daughter, a toddler in a red sweater, as she spoke. "We don't know where we're going," she said. "We just want to be safe and settled."
In the past year, thousands of women like Ateaa have made the perilous journey as refugees from crisis zones in pursuit of stability in Europe. About 60 percent of the 950,000 refugees this year are male, but by the United Nation's most recent count, women account for 16 percent and children for 24 percent, making them a sizable minority.
I encountered many women and their children displaced by the Islamic State and the conflict in Syria while reporting on religious persecution and the Islamic State from Kurdistan, Iraq, in 2014 and later writing about the refugee crisis from Austria, Hungary, Serbia, and Croatia this past October. I spoke to these refugee women through a translator, asking them to explain what they had seen, experienced, and felt. Their stories were universally heartbreaking. While in Iraq, most of the women I interviewed saw their future as hopeless, but on the Balkan route into Europe, they spoke optimistically of new futures for themselves and their families.
Many politicians and those who oppose the immigration of these refugees claim that the majority of the fleeing population is young males—more specifically, the ideal type to represent possible terrorists looking to infiltrate other societies. While the Paris attacks tragically demonstrated that national security concerns about uncontrolled migration may be valid, such generalizations don't tell the whole story. To clump all refugees in one group is to confuse innocents with the very terrorists they fear and flee.
Photography of the crisis also fails to capture the situation in its nuanced entirety; its optics vary based on the moment a shutter snaps, I learned, watching refugees cross the border in Hungary, Serbia, and Croatia throughout October 2015. Buses and trains pulled up at the border, thousands crossing daily. Healthy, lone men spring out, racing ahead. But the largest population of newcomers are actually the women and children. Toward the end of the procession, the elderly straggle along.
Photos taken at any of these stages show completely different realities. They also miss the other big part of this story: the family members dead, missing, captured, left behind, or nervously awaiting a reunification that may never happen. Global conflict—particularly in Syria, Iraq, and Afghanistan—has left women and their families without any good options. Home isn't safe and may never be, but conditions in refugee camps are abysmal, and the route to Europe is also fraught with danger.
Aber Owis, a 22-year-old Syrian, sat on the ground in Tovarnik, Croatia, one breezy October afternoon, nursing her baby and discussing her decision to leave behind her mother. "It was really hard saying goodbye," she said, "but my mom didn't want to leave her country." She and her mother spent the day crying, and then she left for good.
Owis felt like she had no other choice. The Islamic State had forced her to cover herself entirely in all black. "I was not used to that, so it was really uncomfortable," she said. "We were obliged to do a lot of things we didn't want. . . . When we saw them, their faces were scary. They have the power, and that's what's most frightening."
Like Owis, many women in Iraq and Syria have seen their lives radically change for the worse since the Islamic State took over. The terrorist organization, denounced as too extreme even by al-Qaeda, declared the establishment of a caliphate in June 2014, moving quickly and violently to capture large swathes of Iraq and Syria. Subscribing to a medieval version of Islam, the Islamic State has imposed a draconian form of sharia law in the territories it controls, which includes practices such as sex slavery, stoning, and crucifixion. Their pursuit of power has made any semblance of a normal, peaceful life nearly impossible for citizens.
Owis witnessed some of its violence firsthand. Last year, the Islamic State planted a car bomb down the road from her house, Owis said, and several children died. The strength of the explosion even damaged the balcony of her home. "We saw death with our own eyes," she said, adding that "the hardest thing for a woman is fear for our kids."
Stories of family members left behind abound. Sidra Mahjoub traveled to Europe without her parents and her sister, who remain in Aleppo. An aspiring pharmacist, Mahjoub had just begun her collegiate studies, but war made it impossible for her to continue. Her parents couldn't afford to send the whole family, but they managed to pull enough together so that their eldest daughter could join her uncle on the journey.
Mahjoub has mixed feelings. She looks forward to continuing her education but misses her 15-year-old sister, whom she hopes to bring to Europe, too. "She's really good," she told me, struggling to describe her adequately. "She's calm and peaceful—she's like an angel on earth."
Some families have managed to stay together, seeking safety at a nearby refugee camp. But conditions are often abysmal, as I saw firsthand in Kurdistan, Iraq, in September 2014. The United Nations has registered more than 4.3 million refugees from Syria, many of them living in camps in Iraq, Jordan, Egypt, Lebanon, and Turkey. As the Christian humanitarian organization World Vision has noted, the upheaval has affected more people than the 2004 Indian Ocean tsunami, Hurricane Katrina, and the 2010 Haiti earthquake combined.
At the United Nations' Kawergosk Refugee Camp, just a fifteen-minute drive from Erbil, capital of the Kurdistan Region of Iraq, around 12,000 Syrian refugees lived in flimsy tents during my visit. During the winter, tents get bitterly cold, they told me. But at a nearby refugee camp, a fire that began in one tent spread with astonishing rapidity, killing a woman and her children. Refugees at Kawergosk lived in fear of both the cold and the flame.
More anguishing was the uncertainty. Life goes on—people who met in the camps got married, a tiny economy sprung up, and a few musicians even started popular bands in the camps. But everyone waits with no idea how long they can endure or how long they'll have to endure. Normal life is gone, maybe forever. Many women told me they felt anonymous in the sea of dispossessed people, seen only as a statistic. "We are losing our personalities," they repeated.
And not everyone can fit in the refugee camps. I drove past families squatting under bridges and met Christian and Yazidi refugees living in unfinished buildings with no running water. Flies swarmed, inured to shooing.
Samar Hana, a 34-year-old Christian woman living in a half-built concrete structure in Ankawa, Iraq, told me that her 4-month-old baby had developed respiratory problems in the squalor, and her older son was also ailing. "This place is like a grave," she said.
The Mediterranean and Balkan route to Europe, however, presents its own daunting risks. Affluent countries such as Germany offer prodigal benefits for refugees, also in some instances suspending the normal rules for asylum-seekers. But out of well-founded security concerns, many countries on the route west have imposed limits and barriers on migration. As a result, Europe's newcomers rely heavily on criminally connected human smugglers to traffick them through the Mediterranean and Balkan route.
"By inviting [people] in but closing all of the tracks, we are basically building a business model for traffickers," said Christof Zellenberg, the Vienna-based chair of the Europa Institute.
Zellenberg, a frequent volunteer, said he's heard that many smugglers hedge their risk by deliberately buying cheap motorized boats for refugees' crossing; they don't want expensive, high-quality boats lost to the authorities or the caprices of the sea.
Islam Baker, a 20-year-old Syrian woman, described making the sea crossing with her three young children as "the worst thing."
At 5 a.m. ten days earlier, Baker, thirty-four other adults, and ten kids crowded onto a raft that was just 9 meters by 2 meters. Rain drizzled down, the water choppy, waves growing larger, she said. For four hours, she clutched her children and looked for the shore.
Baker and her family made it safely, but many have not. Between January 2015 and my October trip, the International Organization for Migration reported at least 2,887 dead or missing on the Mediterranean route. Nor are the dangers over once refugees reach land. Reports abound of smugglers raping and assaulting Europe's newcomers. And in August, seventy-one migrants suffocated to death, packed into a meat truck. Smugglers abandoned the truck and the bodies not far from the Hungarian border.
The plight of women from war-torn Middle Eastern nations has become even more desperate since then. November's massacre in Paris made Europe pause, considering how its open-doors policies had contributed to growing security risks. And in the United States, slaughter in San Bernardino prompted even more emphatic calls for limitations on refugees. Americans discovered with dismay that a legal female immigrant, not a male refugee, had led the attack.
Europe and the United States have not yet found a feasible policy to address both legitimate security concerns and a dire humanitarian crisis. What's certain is that the fate of tens of thousands of refugee women and their families hangs in the balance.
Jillian Kay Melchior writes for National Review as a fellow for the Franklin Center, the Independent Women's Forum, and the Steamboat Institute. She reported from Austria, Hungary, Serbia, and Croatia in October 2015 and from Kurdistan, Iraq, in September 2014.
Photo Credit: Getty Images