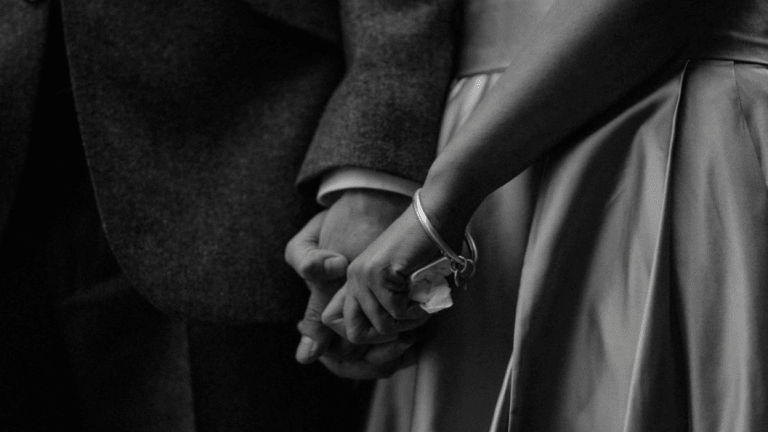 4 Things Pre-Marriage Counseling Taught Me That Every Couple Should Consider Before They Commit
Lay a strong foundation as soon as possible.
When you know, you know. And with Zach, I knew. Just eleven months into dating, I knew this was the man I wanted to marry. Zach felt the same about me. But instead of putting a ring on it then and there, we decided to seek out a pastor for pre-engagement counseling. You read it right, pre-engagement.
It might sound intense or premature at first, but I am here to tell you that it has been an awesome experience. Sure, the deal isn't sealed until you say "I do," but engagement is a huge decision, too. I don't want to get engaged and then deal with our baggage. When Zach proposes marriage to me, I want my "Yes!" to be with eyes wide open, and pre-engagement counseling has really helped us move in that direction.
What has been so great about pre-marriage preparation? It's a structured way for us to explore the most important ideas that will be the foundation of our marriage. We have a session once every two weeks for about an hour and a half, during which we're working through the book Preparing for Marriage by Dennis Rainey with our pastor through homework assignments and discussing together. Of course, pre-marriage counseling can take many forms, but no matter where you might go to get pre-marriage counseling, there are certain things I think any couple should consider before truly committing. Whether you work through them pre-marriage or pre-engagement, like us, is up to you.
01. Personal History
Even if you have been dating for years, it's not safe to assume that you have both done a thorough examination of what kind of history, experience, and emotional baggage you're each bringing into your marriage. A good personal inventory includes everything, such as your health, professional life, friendships, how you've handled finances, past dating relationships, and your faith journey.
Thoughtful questions from a trusted counselor or mediator can help bring to light any history that might play a bigger role in your relationship than you may think. Questions such as, "What have been your biggest disappointments in life?" and, "What have been your greatest triumphs in life?" turned out to be big questions for Zach and me. This inventory took me three hours to complete with a lot of tears, but it was all worth it. It brought up things I didn't realize about myself. Having a better understanding of who we are individually and then sharing that with each other in the counseling session was hugely beneficial for us.
02. Family
This part of counseling really homes in on how much family has shaped you. Whether you are currently close with your family or not, you spent years under its design, being immersed in how your parents communicate with each other, your extended family, and you. These things will definitely impact a future marriage because you will both become part of each other's respective families.
As part of our pre-marriage preparation, both Zach and I underwent a comprehensive evaluation about our families. We answered questions about what our family was like growing up and what our family dynamics are like presently. We discussed our relationships with parents, siblings, and extended family to get a better idea of how these relationships have shaped us. We also examined roles our parents played in the household. And big, scary things too: Trauma. Addiction. Divorce.
In my case, having experienced my mom's two divorces, I discovered that I have more anxiety about marriage than Zach, whose parents were high-school sweethearts and are still married. If the thought of this deep dive into your family history makes you squirm a little, that's perfectly normal. Our families are such an intimate part of who we are that we're protective of that part of ourselves, and it can be hard to discuss the hurts and dive into how it might influence our future family.
03. Expectations
Zach and I don't live together and don't plan to until we are married, so discussions about our expectations have been really important. Having unspoken and unmet expectations can be a huge source of frustration in marriage. For example, if Zach expected me to do all the cooking every night, he would likely feel disappointed when that didn't happen, and I would feel resentful for him expecting it. Talking through the little things, as well as bigger ones, such as how many children we wish to have and how we plan to discipline, were all part of this expectation discussion. We also discussed how we will react if expectations are not met—a preemptive look at conflict resolution.
As part of this exercise, we've talked about chores, grocery shopping, bill paying, vacation time, pets, children (and, of course, sex), how often we will entertain in our home, how often we'd like to have date nights, even down to who will make the bed in the morning. (Seriously!) It's easy now to try to assign each other tasks and duties, and of course that doesn't guarantee or cement them. But I'm actually really happy that we have a chance to talk these things out before we begin living together.
04. Money Matters
Few people enjoy talking about money, and Zach certainly did not look forward to this conversation. But money, how we think about it and what we do with it, plays a big part in marital happiness. In our pre-engagement sessions we were posed with great questions when talking about finances. Here are a few of the important questions to cover in a conversation about money:
Who will be the primary financial provider in the family?
How will you decide on major purchases?
Who will pay the bills, balance the checkbook, and keep track of expenses?
What is your philosophy of giving (charitable donations to your church or other organizations), and how will you make decisions about giving?
What is your conviction about debt and the use of credit cards?
These were just a handful of the financial questions we were asked to think about. We also discussed how we want to handle our finances as a couple and individually (joint or separate bank accounts). It's a lot to think about, but the goal was to get on the same page.
Do Zach and I have everything perfectly sorted out? Nope. In fact, the question of who will be making the bed is definitely still up in the air. But pre-engagement counseling has helped us feel more secure in our decision to marry by realistically looking at what we are about to commit to and choosing it with full knowledge of one another. The best part is, the pre-engagement preparation hasn't stopped in our pastor's office—it has also prompted discussions outside of counseling and has given us the tools we need to create a great marriage before and after we say "I do."
Photo Credit: The Kitcheners