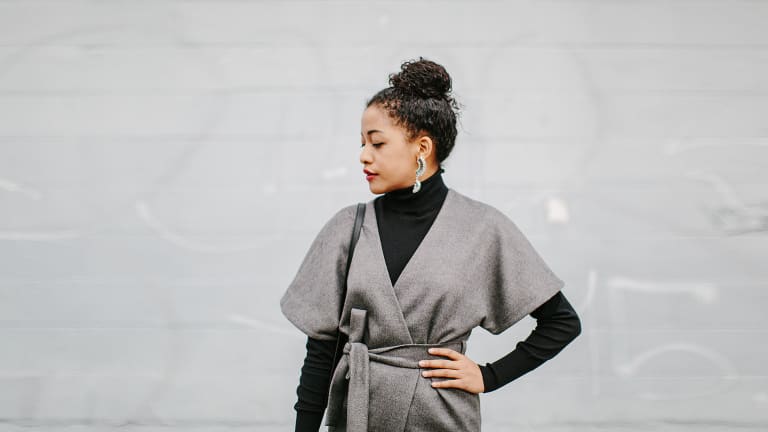 4 Creative Layering Ideas to Inspire Your Workwear This Winter
Get out of your office style rut with these layering ideas.
Five days a week of office attire can get boring pretty quickly. If you're suffering from the corporate clothing blahs, look to the winter weather as an opportunity to get creative with layering. An added bonus: Layers allow you to control your temperature (the bane of office life!). To fuel your inspiration, we've come up with some of our favorite layering combos.
Belt + Oversize Cardigan //
Have a favorite oversize cardigan that you wear on the weekends? Well, it's time to introduce your cozy cardigan to the workplace. The key is to dress up your cardigan by belting it at the small of your waist, creating a flattering dresslike silhouette. To avoid an overly casual look, make sure to keep your color scheme monochromatic, or purposefully match your pieces. A belt with simple, modern details like this solid buckle will also help keep your look professional and pulled-together.
Button-Up Oxford + Business Dress //
Most of us have these two items in our closets. But have you considered pairing them? This adorable layering combo gives you double the warmth plus extra style points. Let your oxford collar and cuffs poke out from underneath your chic dress for a quirky Zooey Deschanel–approved outfit. Top it all off with a statement necklace underneath the oxford collar: Pinterest-worthy and boardroom-ready.
Turtleneck + Dress //
The classic black turtleneck: Whether we like it or not, turtlenecks are back. And we've gotta admit, they've never looked better. Take a classic wrap dress (or any low-key dress, for that matter), and layer the turtleneck underneath. What you'll find in the mirror is the reflection of a fashion-forward woman who's ready to dominate her work day. Très chic, non?
Button-Up Oxford + Sweater //
We couldn't forget this classic combo. Your white cable-knit sweater will be doing overtime this winter with so many versatile oxfords that can go underneath. Because white is such a neutral color, be sure to have fun with printed and patterned oxfords. Couple with nice slacks and fun but formal flats, and you'll have just the right amount of professional charm.