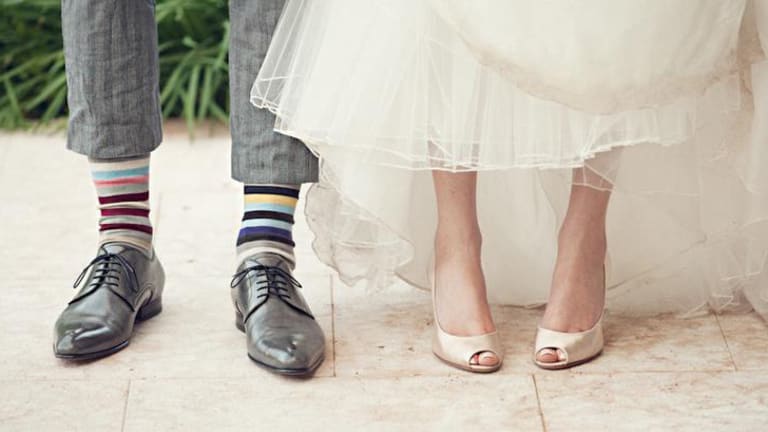 5 Things Newlyweds Wish They Knew Before They Got Married
What happens after the 'happily ever after'?
Have you ever noticed that most of your favorite rom-coms end with the couple, after an hour and a half of cinematic adversity, finally getting together? You've Got Mail, My Best Friend's Wedding, Hitch . . . the list could go on forever. We see the happily, but where's the ever after? Does it work out? What's everyday life like for them? I can't really fault Hollywood for opting out of the ordinary-ness of day-to-day life (filing for joint taxes might not be blockbuster material), but we miss the opportunity to see examples of what it's like to build a life together.
For engaged couples in real life, it can be hard to see beyond the wedding day, too. I can't tell you how many friends have lamented during the stress of wedding planning that they can't wait for the big event to "just be over." And couples I've worked with as a therapist are often so focused on the wedding that they forget to consider what life will be like after they are married.
While there's nothing wrong with planning the wedding of your dreams, letting your relationship take a backseat during the wedding planning season could lead to a more difficult transition once the honeymoon is over. Many couples I've worked with at my counseling practice come to therapy to work on issues that were present even before their marriage. Taking the time to prepare for life after "I do" will empower you, as a couple, to start your new chapter of life together with a strong foundation.
Curious to learn from those who've been there, done that, I took an informal poll of married couples and got some insight from fellow therapist Jessie Tappel, who works with married couples and couples preparing for marriage, about what they wish they'd known before they said their vows.
01. Marriage will be hard sometimes.
We hear this all the time. Still, do we really believe that our marriage will be hard? Amidst the wedding preparation and engagement parties, preparing for life after the honeymoon can fall through the cracks. Tappel explains that engagement is a time for preparing for marriage, and part of that is anticipating some rough spots. "Many times, after the wedding and when the day to day of marriage begins, it can be a little bit of a bumpy road," she says.
Tappel works with many married couples who are working through a difficult time in their marriage, so she knows how essential marriage prep is. "Many of the firsts together in marriage will be about forming the habits and practicing the skills that go along with the conversations you had during the engagement," she says. "Topics such as money management, household responsibilities, and division of work and family time can be a few of the areas that need additional attention." It's not fair to you or your spouse to expect that things will go perfectly from the very start. Expect the occasional bump in the road. "Remember, most transitions in life take adjustment," Tappel emphasizes.
02. Your expectations won't always line up.
Many of the women I interviewed stressed the importance of not making assumptions about the way things (such as chores) will be handled in your relationship. Jennie, who has been married for four years, says that being open about expectations was crucial in her and her husband's first year of marriage. "Right away, you will realize that you and your spouse have different ways of doing things around the house," Jennie shares. "Comically enough, one of our first major arguments as a married couple was about whether or not to put the toilet lid down while flushing. It seriously took us several months to reach a solution."
Tappel says, "Most newlyweds will have expectations for themselves and their partners as to just what this time [of transition] will be like." What's more, those expectations might not line up. The solution for Jennie was communicating her expectations to her husband. "We have found that our expectations greatly affect how we react to certain situations," she says. "And if we share our expectations beforehand with one another, it can avoid a future argument."
Jennie gave me a great example of what this looks like in practice. If she's out running errands in the evenings, she says it's helpful if she communicates to her husband that she'd like the kids to be ready for bed when she returns rather than just assuming it will be that way. Little adjustments like this can make a world of difference and avoid any turmoil caused by miscommunication. Tappel says, "Communication takes practice, and wading through difficulties can help form positive communication habits."
03. A happy marriage requires adaptability.
Contrary to popular assumption, married life actually isn't a blissful plateau of happily ever after. There are a lot of wonderful things (such as having a baby) and not-so-wonderful things (such as losing a job) to which you must adjust. Just ask any sleep-deprived new mom, and she will tell you that having a baby adds a very complex layer to a relationship. Your attention is no longer exclusively focused on your spouse because, well, let's face it, a baby whose diaper needs to be changed takes precedence over a conversation with your spouse about his day. Kathleen, a mom of two who has been married for three years, shares: "I wish I had realized how much a kid intensifies the hard parts of marriage. I had kind of imagined that the excitement of a baby would make marriage even more joyous, but the stress really amplified the little things."
More than anything, adaptability will be a marker for success in your marriage. There's no way you can predict exactly how your life will change, so be flexible, and come up with creative ways to maintain rituals and have quality time. Tappel suggests that you and your man talk about what is important to you and your relationship and make a plan ahead of time to keep those things safeguarded. "Make regular commitments to spend time together amidst the craziness of life to do the things you love," she says. "Actively nurturing your love and not being passive about your relationship is crucial in the beginning of marriage."
04. Conflict can be relationship building.
If you find yourself disagreeing, be it over mismatched expectations or a difference in decorating tastes, don't panic. Rather than taking this as a sign that your relationship is doomed from the start, see it as an opportunity for you and your spouse to build lifelong relationship-strengthening skills. Tappel explains, "A relationship without conflict is impossible, and conflict is not all bad!" What's more important in a healthy relationship, she says, is resolving the conflict healthily. For example, when you and your spouse have different opinions about what constitutes a clean kitchen, seeking common ground will strengthen your relationship more than treating it like a contest where you or your spouse win the argument.
Financial health is a point of contention that often requires compromise. You might assume that you and your spouse will regularly use credit cards, whereas he might prefer never to use a credit card. Or you and your spouse might find it hard not to criticize each other for frivolous purchases. Jennie shared how she and her husband faced a similar situation. When confronted with their differing opinions on how to spend their money day to day, they heeded some good advice and decided to set aside a certain amount of money for each of them to spend however they liked. "So, if my husband wanted to spend that all on iTunes music, I couldn't criticize; that was his choice," Jennie explains. "If I wanted to spend mine on overpriced nail polish, that was my choice. We both found that to be really helpful." Compromising shows that you each value the other's needs and opinions, and that's a key part of a strong relationship.
05. Your husband needs respect and appreciation.
Another key element to successfully weathering conflict is the ability to discern whether a particular issue warrants attention. Jennie describes how, for her, that meant choosing to see the good intentions behind her husband's actions even if she would have preferred things a different way. "When my spouse dried and put away dishes, I had to learn not to criticize him for putting bowls in the wrong cupboard but rather thank him for being helpful," she says.
Kelsey has similar advice; she says, "I wish I had known how important showing respect for my husband is for our relationship." According to research by Shaunti Feldhahn, Kelsey is spot on. In her book, For Women Only, Feldhahn reports that out of four hundred men surveyed, 74 percent indicated that if they had to choose between feeling inadequate and disrespected by everyone or alone and unloved, they would choose feeling alone and unloved. Kelsey says she makes an effort not to criticize her husband whenever possible. "If he's telling a story to some of our friends, and he gets one of the details wrong, it's so much more significant that I not point out his mistake in front of others than it is whether the story took place on Monday or Tuesday," she says. Both Jennie and Kelsey try to resist criticizing and instead appreciate their husbands' good intentions.
While you can't plan in advance for every hurdle that you and your spouse will face, anticipating life beyond your wedding day will help you and your spouse-to-be build the all-important foundation for a strong and lasting relationship. If you're having trouble getting started, consider pre-marriage counseling. Both Tappel and I have seen engaged couples accomplish amazing things in their counseling sessions. Go ahead, take a break from the wedding planning to talk to your partner about the long life that awaits you after the wedding.
Photo Credit: Xavier Navarro