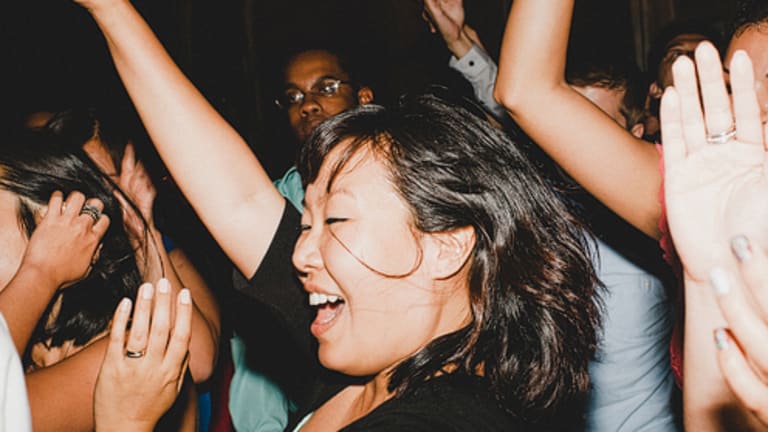 New Year's Eve Celebrations Every Woman Needs to Try at Least Once
Don't know how to celebrate New Year's Eve this year? This bucket list of unique ideas can help.
I love New Year's for all that it symbolizes: fresh starts, new beginnings, and gratitude for the year that has passed. But, much like Valentine's Day, December 31 can create a world of anxiety as we contend with pressures to have that perfect Instagram-worthy night.
This year, forget the pressure and expectations. There are so many ways to ring in the New Year, and whatever you choose is perfectly acceptable. I've had the full range of New Year's Eve celebrations over the years, and they've each been fun in their own way, even if they didn't make it to my newsfeed. Add these ideas to your NYE bucket list, and let the celebration begin!
Serve Dinner at a Homeless Shelter
Start the New Year off with the spirit of service, and consider helping out at your local homeless shelter or nursing home. The holidays can be especially lonely for people who don't have a home of their own or family and friends to celebrate with. Volunteer to serve and eat dinner with them. You'll form relationships with your community and neighbors that you may never have known you have. I guarantee it will be a New Year's Eve that touches your heart and theirs alike.
Run a Midnight Race
Ring in 2016 with a run. There are 5Ks, 10Ks, and more all over the globe on December 31. These races usually have some sort of theme so that you can dress in costume or drink beer at the finish line (or both!). You don't need to be an expert runner to hit the pavement. It's all about having a good time and enjoying one last workout of the year. And those endorphins will keep you and your friends energized well past midnight.
Book a Fancy Dinner Date
Make reservations with your beau for that trendy new restaurant you've both been dying to try. A lot of restaurants will offer prix fixe meals for New Year's Eve, and some spots allow you to BYOB. Don't forget to steal a kiss when the clock strikes midnight—bonus points if you pop outside to do so under the stars and fireworks. Date nights are part of a healthy relationship, and your boyfriend will love this special celebration just as much as you.
Dance with Your Girlfriends
Every woman needs a NYE girls' night out at least once. As a single twentysomething, I know this is a huge perk to being unmarried, and I love the chance to celebrate with my fellow single ladies. Invite your girlfriends to your place while you listen to some jams, eat a few snacks, and get ready together before you go out. Then head to a bar with a DJ where you can dance the night away.
Hit Up the Diner
Who said you need to attend a swanky event to wear your favorite party dress? Throw on your festive attire, gather your friends, and head to the local 24-hour diner instead. It's often the late-night (or early-morning) stop after a night on the town, but there's no reason you can't head to the diner first instead. You'll save a bit of money, devour delicious pancakes, and still have the fun of dressing up.
RSVP to the Family Party
Join your parents, siblings, and long-lost cousins at this year's family get-together. Bring a deck of cards and your favorite party games, such as Apples to Apples and Catchphrase, for an evening full of laughter and good ol' competition. My family and I are rarely in the same place nowadays, so I'll happily trade a night with friends for some crazy family time. Family members will feel extra-special knowing that you chose their party when you could be out and about.
Go to the Spa
After a long and busy year, nothing sounds better to me right now than a massage, facial, or trip to the sauna. (Actually, I'll take all three.) It can feel selfish to pamper yourself, but there is nothing wrong with closing out the year with a little self-care. I know I always feel more at peace and in tune with myself when I've made the effort to fully disconnect and relax. So this New Year's, treat yo' self to a blissful day at the spa. Be sure to scour Groupon, LivingSocial, and Gilt City for discounts before you go.
Stay In
Pizza delivered straight to your door, a bottle of wine, and your favorite yoga pants—what could be better? Spending the night on the couch while you watch the ball drop on TV is nothing to be ashamed of. Some of my favorite New Year's Eve memories come from cozy evenings in my warm apartment with friends. I've found that this is also one of the best ways to bond with friends because you can have quality conversations about the year past and the year ahead in the quiet of your own home.
Take a Cooking Class
If one of your New Year's resolutions is to eat out less often, then why not have fun with it? Take a cooking class, and expand your repertoire beyond Kraft Macaroni & Cheese. Stores such as Whole Foods, Sur La Table, and Williams Sonoma offer culinary classes, ranging from technique to cooking to baking. Bring a buddy along, or take the opportunity to get to know the other foodies around you. You may just make a new friend. Plus, you get to eat whatever you make.
Get Out of Town
Escape the pressure to be out altogether, and rent a cabin with your friends in the country instead. Pack plenty of snacks, games, and blankets, and road-trip out there together. If you have enough space, ask each friend to invite someone new. My friend group did this recently, and we all walked away with more friends and more quality relationships. Spend the long weekend cozied up, leaving your stress and to-do list at home. Just don't forget the bubbly!
Sleep!
The first year I moved to New York City, I spent New Year's Eve in bed with the flu and was asleep by 9 p.m. I was seriously afraid that night would dictate the trajectory of my social life for the rest of the year. But guess what? It didn't. In fact, when I saw my roommates the next morning, they said their night was a total bust. Ladies, whether you are sick or not, it is totally acceptable to skip the countdown and head to bed. New Year's comes every year, after all.
Photo Credit: Manchik Photography