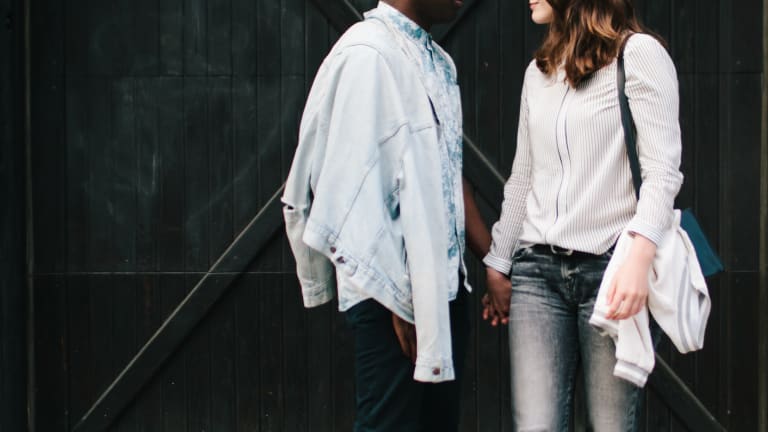 4 Resolutions to Help You Transform Your Dating Life This Year
Stuck in a dating rut? These New Year's resolutions can help.
Each New Year is a chance for all of us to start fresh. We can resolve to pursue our goals and make good on long-forgotten promises (I still have "read for fifteen minutes every day" scrawled across a chalkboard in my room from last year). For those of you who hope to get married someday, January is a great time to dust off those dating resolutions in order to make the next year one of intentional and thoughtful relationship practices.
If you're anything like me, taking stock of your love life typically means telling yourself to go on more dates. But this is far easier said than done, which brings us to another common dating game plan: go online.
Trouble is, dating well requires a lot more than a bigger pond and more fish. Dating and pursuing the goal of marriage intentionally means unlearning a few bad habits and setting goals for yourself that are healthy.
To give you a little inspiration, I reached out to some of my friends who are actively dating to find out what their resolutions are for the New Year. For these women, revamping their dating lives doesn't mean doubling down on dates or amping up their online profiles. For Megan, Jessie, Erica, and Kara, dating well means a little introspection and a few more good habits. Here's what they (and you!) might find beneficial in the year ahead.
01. Trust Myself More; Listen to Self-Doubt Less
Navigating between the first date and the second can be a confusing and, for some, anxiety-producing affair. Is he interested? Am I interested? Should I accept an invitation for a second date if I'm not interested? These questions can often leave us turning to friends for guidance more and trusting our instincts less.
For Megan, 2016 means having confidence in herself and letting her own judgment be her guide. "Besides seeking wise counsel, I'm going to trust myself more and listen to others less," Megan explains. She says that self-doubt often causes her to turn to relationship "experts" for advice. But even the wisest counsel should be taken with a grain of salt because only you know the full context of the situation and the full scope of your feelings. Let your intellect and heart be your guides. If you are being intentional about dating, you can be confident that you will make prudent decisions.
02. Focus on Healthy Relationships Here and Now
It might seem a little contradictory, but sometimes the best way to focus on moving toward marriage is to not focus too much on marriage itself. In fact, focusing on your current friendships and relationships can be the best way to prepare you to date well and have a healthy marriage in the future.
For Jessie, less focus on dating and more focus on family and friends has helped her stay positive. "In the past I have made resolutions such as, 'I will go on X number of dates, go out of my comfort zone, and be bold in my approach to dating.' So far, I have felt largely unfulfilled and unsatisfied," Jessie says. "In looking toward a future relationship with a spouse, I wanted to develop and enrich the current relationships I have: friends, family, coworkers, roommates, etc. I wanted to focus on the ways I can give of myself to those who currently surround me. This has helped reframe and refocus the pesky difficulties I have had in dating."
If "going on more dates" and "going online" isn't reinvigorating you, try striking those goals from your list, and refocus your attention on friendships and your family. Believe it or not, being a good friend, a good sister, and a good daughter will better prepare you to be a loving and well-balanced girlfriend and wife when the time comes.
03. Be Aware of Bad Dating Patterns
I bet 2015 has taught you a thing or two about the kinds of dating traps you tend to fall into. Maybe it's the unavailable man, or maybe you rush in to things too quickly. Whatever your poison, it's time you keep a sharp eye out so that you don't repeat those same mistakes.
Erica's dating resolution for the New Year is to put into practice all the good things she learned in 2015. "My resolution in 2016 is to avoid falling into my old dating patterns and to continue seeking growth," Erica says. If you find yourself stuck in some destructive dating patterns, use 2016 as a time to correct them. For some of us, this may mean going on less dates, but we will be happier and healthier as a result.
04. Flirt More!
Speaking of bad dating patterns, have you ever found yourself pulling away from the men you are most interested in rather than allowing yourself to ease in to conversation and flirt a little?
If this is you, then my friend and the cofounder of Verily, Kara, can relate. "When I'm out socializing with friends or at parties, I always find myself at ease and bantering with guys I'm not at all attracted to but then completely avoiding eye contact and hiding in the corner when I like someone. Talk about counterproductive!"
"This might sound silly, but I realize that I'm always finding reasons why I don't think a guy would be interested in me—before I've even introduced myself," Kara explains. "Rather than making the decision for others, I'm going to try to be myself and let him decide if he's interested or not." This is a common nervous tic that many women suffer from when faced with socializing with an interesting guy. We cross our arms, we clam up, and we often go as far as deliberately making ourselves unavailable to conversation by flirting with other guys. It's a thing, trust me—I have been there, too.
This year, make a point to uncross your arms, smile at men you find attractive, laugh at their jokes, and let your guard down a little. You will be pleasantly surprised at the effect this has on your male counterpart, and it will make the task of meeting men a little more fun. "In 2016 I'm resolved to be bold and flirt with the guys I'm interested in," Kara says. "At worst I'll learn how to take rejection gracefully, and at best . . . well, who knows what could happen."
Here's to dating better and (hopefully) finding love in 2016.
Photo Credit: Jennifer Trahan