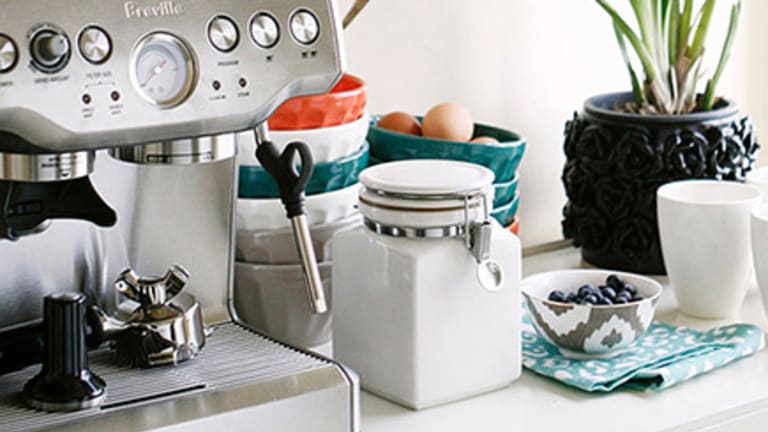 I Applied Marie Kondo's Theories of Tidying to My Kitchen, and Here's What I Discovered
I was skeptical at first, but I couldn't argue with the results.
Around this time last year, I read a New York Times article about Marie Kondo's bestseller, The Life-Changing Magic of Tidying Up. As someone who is decidedly a non-minimalist, Kondo's method for purging struck a chord with me. Her approach seems almost too simple: Organize your home by item instead of by room. Touch each item individually, and ask yourself if the item sparks joy. Then designate a spot for everything.
Kondo makes strong claims about the results of her method:
"By paring down to the volume that you can properly handle, you revitalize your relationship with your belongings. Just because you dispose of something does not mean you give up past experiences or your identity. Through the process of selecting only those things that inspire joy, you can identify precisely what you love and what you need."
As my husband and I made plans to move this fall, I decided to read the book and execute the "KonMari" method of organizing.
When I looked at my kitchen, I knew KonMari-ing this spot would come with challenges because of the important role that food plays in my life, family, and community. The ingredients in the pantry, utensils in drawers, appliances and dishes in cabinets, and the kitsch on my countertops have a story behind them, a reason I bought them or a connection with a person I value.
Handling each item in my kitchen and asking myself if it sparked joy, I uncovered deeper aspects of myself and my approach to food, cooking, and my kitchen that I hadn't known before. Here's what I learned.
01. I make purchases out of boredom.
Do you know how many varieties of tea I had in my pantry? At least fifteen. While there is nothing wrong with owning that much tea, I realized there was a problem when I rarely even considered drinking 90 percent of those varieties. I had more teas than I needed but only two or three that I really enjoyed.
I answered no when I asked myself whether all this tea sparked joy. So I decided to purge the tea from my pantry. As I sorted through my teas, I realized my tendency to buy food because I'm frustrated by the lack of creativity in my kitchen and home.
Many of the teas in my extensive collection were also purchased because I found myself standing in the grocery store, bored with my collection at home and reaching for a tea that I hoped would add some novelty to the mix. Typically, as soon as I arrived home, I'd make myself a cup and decide that it wasn't very good. I'd end up reaching for old favorites. Sorting through my teas and handling each one individually, I realized this pattern and decided to carefully curate a collection of teas that I love and that suit my tastes and needs.
Kondo explains it this way: ". . . I am against both letting things pile up and dumping things indiscriminately. It is only when we face the things we own one by one and experience the emotions they evoke that we can truly appreciate our relationship with them."
Since sorting through my teas, I've considered when, why, and how I like to enjoy tea. I don't make spur-of-the-moment purchases in the store anymore. I've also realized the value in buying a few varieties that are more expensive that I consistently enjoy versus multiple inexpensive varieties that might satisfy me every now and then but ultimately leave me wanting more.
This lesson has trickled over into other areas of my kitchen, too. I no longer make a quick trip to Target to buy mini muffin tins because there's a recipe I want to make with them. Nor do I buy the latest fad ingredient (coconut oil, anyone?) simply because I'm bored with butter and olive oil. I'm learning to carefully consider every new item and ascertain my reasons for the purchase to decide if it is truly needed or if it will merely add clutter and perpetuate a cycle of discontent.
02. Organization matters.
Kondo's advice for organization is simple. "When you are choosing what to keep, ask your heart; when you are choosing where to store something, ask your house."
As I handled every item in my kitchen, I realized that there were a few items I never used at my apartment and some ingredients I forgot about because they were stuffed in the backs of cabinets or buried under other ingredients.
Kondo explains that clutter isn't solely caused by excess but also when items aren't returned to the place they belong. She notes that "storage should reduce the effort needed to put things away, not the effort needed to get them out."
When organizing my kitchen, I took Kondo's advice and asked where everything should go while considering how to reduce the effort of putting things away. I started by identifying the dishes, pots, pans, and appliances I use most often, such as my Dutch oven, white dishes and bowls, coffee supplies, my nonstick pan, and my electric kettle. The appliances, pots, and pans were placed in easy-to-access locations so that getting them out and putting them away would be a breeze. Meanwhile, I nestled items I don't use regularly toward the backs of the cabinets.
I placed my dishes in the cabinet nearest the dishwasher so that I could easily put them away while unloading. And I placed my coffee and tea, coffee dripper, and mugs in the cabinet above where I plug in my electric kettle.
Although these are seemingly little details, this organization method encourages the best sort of efficiency, one that works for me and my family instead of for an organization blogger I randomly found on Pinterest. I no longer grow discouraged at the thought of cooking because I typically meet a tidy kitchen where the tools I use are easily accessible and can be easily stored.
03. My true passion and style were clarified as I understood 'what sparks joy' for me.
Kondo's instructions when it comes to keeping items are clear: Touch each item individually, and ask yourself if it sparks joy.
Touching each item in my kitchen, I tried to discern my visceral response to every piece in my kitchen and make decisions accordingly. I was skeptical of the process at first. But I couldn't argue with the results. I didn't keep items just because I liked them or found them beautiful or occasionally useful.
I donated a beautiful casserole dish because the moment I touched it, I felt burdened by facing the fact that I never used it and was only keeping it because it was a wedding gift.
I thrifted China dishes to Goodwill because even though they were beautiful, and I could foresee using them when hosting bridal and baby showers for others, I personally didn't like the pattern and found myself frustrated by storing them.
I donated a coffeemaker that didn't make coffee the way I liked but that I kept "just in case" I might need it when I hosted big parties. I decided that my beloved French presses could handle the job when we have guests until we've saved up for a coffeepot that I wanted.
Touching my multiple cookie sheets, measuring cups, casserole dishes, and pots and pans (items that minimalists say you should only have one of each), I felt that "spark of joy" Kondo described. I realized that I love these items because they enable me to cook in large quantities efficiently, whether I'm hosting a party, taking meals to friends, or stocking my freezer with meals.
As I unwrapped my Dutch oven from a moving box, I felt a surge of joy because it has been a key tool in helping me discover my cooking style since I received it as a wedding gift eighteen months ago. For Christmas, I even asked for a second Dutch oven because it has become a main feature of my cooking style. It's not unusual for me to find myself wishing for another one because the one I own is already in use.
I applied this technique to the food in my kitchen, too. I learned that there are ingredients in my kitchen that I feel I should enjoy and cook with, such as quinoa, that do not spark joy because they're difficult to prepare, or we don't enjoy eating them.
I also realized there are a few everyday ingredients I love to always have on hand. Salad greens, avocados, apples, sweet potatoes, brown rice, black beans, oatmeal, homemade bread, eggs, and English muffins are some of our favorite staples. I also learned that I enjoy having a few luxurious ingredients on hand to elevate daily staples to delectable morsels. My current fixations include half an avocado mashed on an English muffin with a drizzle of black truffle–infused olive oil, greens tossed with champagne vinegar and topped with raw blue cheese, and roasted sweet potatoes tossed with olive oil and smoked paprika.
As I KonMari-ed my kitchen, I learned more about myself and my approach to food and the kitchen, and these lessons will ground me as I continue to evolve as an amateur chef and homemaker.
Kondo writes, "At their core, the things we really like do not change over time. Putting your house in order is a great way to discover what they are."
Through putting my kitchen in order, I gained a new appreciation not only for the things I love but also why I love them. This has reignited my love of cooking and inspired me to explore my kitchen more. If you're feeling lackluster in your cooking or other area in your life, try KonMari-ing that area. Who knows what you'll discover about your food and yourself.