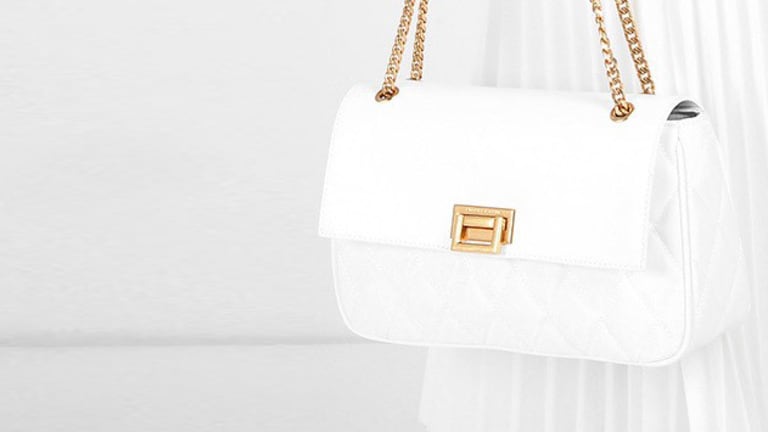 7 Ways to Instantly Add Ladylike Elements to Your Outfit
What would Jackie O. wear this winter?
The art of dressing like a lady is not a thing of the past—in fact, ladylike dressing is very much an element of the modern woman. In all of us, there is the potential for sophistication, mystery, and professionalism. The way we dress can enhance these characteristics, flattering both our bodies and unique personalities.
But fear not, ladylike dressing does not require a head-to-toe outfit of carefully tailored skirts and blouses; it's all in the accessories, colors, and finer details. Incorporating these ladylike elements is super-easy—perfect for the classy woman of the twenty-first century.
01. Hints of Red // Lipstick & Nails
Red exudes confidence and femininity, the perfect combination for making the ultimate ladylike ensemble. Try wearing hints of red in your outfit and makeup to feel extra on point. Whether it's on your smile or the tips of your fingers, wear your red fearlessly.
02. Luxurious Texture // Fur & Leather
Nothing says regality like a faux-fur scarf draped over your shoulders. A little furry texture added to your outfit will bring out the softness of your features by framing your face while also giving you a spark of Hollywood glamor circa the 1940s.
Sleek leather gloves have a way of making feminine hands look even more graceful while also giving you an intriguing mysteriousness. Pretty and warm, leather cutout gloves will have you feeling like a retro starlet.
03. Statement Necklace // Diamonds
Bold necklaces are made for powerful and feminine women—who else could rock such glamorous jewels? The statement necklace decorates the elegant line of your collarbone while adding an extra sparkle to your ensemble. Never doubt your ability to pull off this heavy metal; statement necklaces are universally flattering.
04. Cat Eye // Eyeliner
The cat eye highlights one of our best features—our eyes. Full of vintage charm and modern edge, makeup doesn't get much more ladylike than a swish of classic black liner. A bold cat eye is perfect for any occasion; it is both professional and fun for the modern woman who knows how to balance work and play.
05. Pumps // Ankle Strap
Heels are a sure way to bring the ladylike factor. They immediately dress up any outfit while elongating the lines of your legs. A moderate heel height will keep your feet comfortable and appropriate for any occasion. If heels aren't your thing, opt for ballet flats.
06. Chanel-Inspired Accessories // Quilted Purse
Nothing says ladylike like the styles of the woman who reinvented women's clothing—Coco Chanel. Chanel's fashions revolutionized how we dress. Her famous quilted purse is just one item that is the epitome of ladylike accessories. You can skip the hefty price tag for a real Chanel—her influence can be found in items everywhere, and quilted bags are no exception (nothing wrong with the real deal if you can afford it, though!).
07. Cinched Waist // Peplum
One of the loveliest curves of the feminine form is at the waist. Highlighting your waist with a cinched jacket or peplum immediately flatters your figure by giving you hourglass proportionality (even if you aren't an hourglass shape). Throwing on a fancy jacket is the easiest way to add structure to your outfit while dressing it up at the same time.