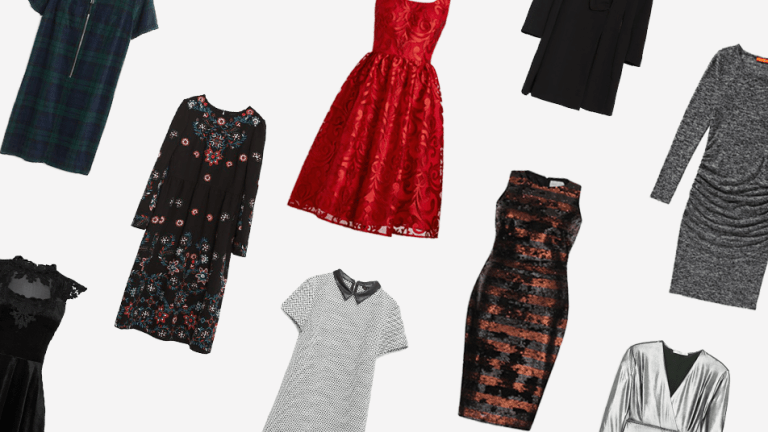 Which Party Dress Style Are You? This Guide Will Help You Decide
Glamorous, tomboy, or girlie, there's a party style for everyone.
With Christmas parties, snow balls, winter galas, and New Year's Eve extravaganzas, now through the New Year is officially party-dress season. We love a chance to get a little dressed up, and if you're looking for some inspiration, we've found a dress for every style.
The Girlie Girl //
Florals, satin, lace, sequins, flouncy skirts—the only thing lacking is sugar and spice. If dressing up for parties means busting out your tulle skirts and bright floral prints, you're probably a girlie girl. If ModCloth sends your heart a-racing, you're definitely a girlie girl. These pretty party dresses display some of this season's loveliest trends: embroidery and jacquard. If you're wanting to feel like a princess this holiday season, look no further.
The Old Hollywood Starlet //
If you dream of attending a party like the one in Audrey Hepburn's Sabrina, then you have a flair for elegantly vintage fashions. Swooping necklines, sleek sleeves, taffeta and satin fabrics in black and white—you're definitely ready for your on-screen debut.
The City Slicker //
The chic party girl from the city is all about trying new and bold fashions. She might be seen on New Year's Eve hailing a cab in a sequined jumpsuit or perhaps gracefully reaching for her martini in a bell-sleeved gown. Unafraid of standing out in a crowd, the city slicker will stun all night long. If this describes you, then rock on, sister.
The Bohemian //
Free-spirited with a taste for extravagance, The Bohemian borrows style from history. Your relaxed, creative style is feminine with floral designs yet regal with intricate embellishments and luxurious fabrics. Floral jewel-toned embroidery on top of a darker base fabric is a great nighttime look for the bohemian party girl.
The Tomboy //
If the term "party dress" makes you cringe—have no fear, party dresses are made for you, too. Just much less dressy. If you're the type to hang out in the kitchen during a party having a quality conversation and drinking a beer, you need a dress to reflect your laid-back persona. Think loose shift dresses, sweater dresses, and dresses with polished masculine elements.