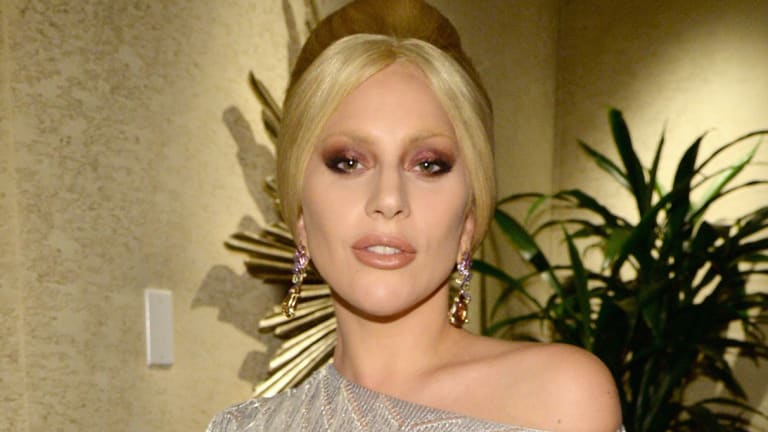 Lady Gaga Moments That Won Me Over and Proved She Deserves Billboard's Woman of the Year
This year has been her best yet.
This week Lady Gaga will be recognized as Billboard's 2015 "Woman of the Year" at its annual Women in Music Awards. I, for one, will be tuning in to the Lifetime channel on December 18 if for no other reason than to catch a performance from Gaga herself.
I might not have said this five years ago when she was wearing meat dresses and flat-out scaring me in her music videos. Don't get me wrong, her catchy songs were impossible not to like, but the ridiculous imagery and persona she attached to it weirded me out. Gaga's live performance of "Paparazzi" where she appeared to start bleeding on stage, for instance, was so disturbing that it nearly gave me a panic attack (you're welcome for my not linking to it). But in the past two years, the performances I've caught of Gaga have impressed me in a way I could have never imagined. Not only have I enjoyed her as a person, but I've also seen her talent shine.
I think it's brilliant to highlight Lady Gaga as Woman of the Year in 2015. Because while the frill and shock factor may have helped her gain a lot of attention in past years, this year is when her sheer talent as a singer and performer stands out the most. Allow me to share a few of my favorite highlights.
'I Wish'—Grammy Awards Stevie Wonder Tribute
The Grammy-organized tribute to Stevie Wonder in early 2015 was impressive all around—featuring as it did performances from Beyoncé, Ed Sheeran, Pharrell Williams, Ariana Grande, and more. But among the best performances was that of Lady Gaga covering Wonder's popular hit song "I Wish." In it, Gaga shows her breadth in ability and artistry, capturing the essence of the original and her impressive talent at the same time.
The Sound of Music Medley—Oscars 2015
Does The Sound of Music sound a little old-fashioned and hokey to you? Maybe that's why the Academy invited Lady Gaga to perform the musical medley on the fiftieth anniversary of Julie Andrews' classic. "This will get the young people interested," I could almost hear a production exec saying. Well, it did more than that. Gaga's stellar performance including snippets from "My Favorite Things" and "Climb Ev'ry Mountain" surprised everyone in the room (resulting in a standing ovation and a hug from Julie Andrews herself) and across the nation. It turns out that Gaga trained for months to achieve the Andrews-inspired voice to do the songs justice, and it's fair to say she captured that and more.
'Cheek to Cheek' with Tony Bennett—PBS Great Performances
OK, so we now know that Gaga can master the genres of pop as in her hit songs, funky R&B in her Stevie Wonder cover, and classic Broadway-like sound in her Sound of Music medley . . . that's a lot of breadth already. But lest we think those are the extent of her talents, Gaga released an album with Tony Bennett called Cheek to Cheek in which she checks the box for jazz and torch-singing genres as well. I loved the PBS broadcast of the duo on Great Performances, which featured such songs as "Anything Goes," "I Can't Give You Anything But Love," and "It Don't Mean a Thing (If It Ain't Got That Swing)." Here's a clip above of the chipper "Cheek to Cheek," but if you want to treat yourself, you'll watch the whole thing.
'If I Ever Lose My Faith in You'—The Kennedy Center Honors
All right, now she's just showing off. Well, not really. More like she's having a blast while treating us all to still more entertaining cover songs. When the Kennedy Center Honors gave recognition to Sting, Gaga was invited to perform his hit "If I Ever Lose My Faith in You," which—you guessed it—she hit out of the park.
'Every Time We Say Goodbye'—The Tonight Show Starring Jimmy Fallon
And just one more for good measure—here's Gaga singing for Jimmy Fallon another song from Cheek to Cheek but as a solo.
On a personal note, I have to say that these performances, which showcased the range of Gaga's talent and entertainment value, also happened to take place in the year that my musically minded daughter turned 3. She personally can't get enough of Gaga's Sound of Music medley or Stevie Wonder cover. Ever since I decided to share them with her, she hasn't stopped requesting them on repeat. "Lady Gaga!" she'll exclaim in her innocent voice. It cracks me up because she has no knowledge of the "wilder" Gaga of years past (which, at the singer's own admission, are behind her); nevertheless, it never fails to shock others who can't believe I'd expose my sweet daughter to Lady Gaga. After you've watched these latest videos, you might understand why my daughter and I enjoy them so much. Because if there's a universal thing that children and adults alike can enjoy on the same level, it's a good tune.
Photo Credit: Getty