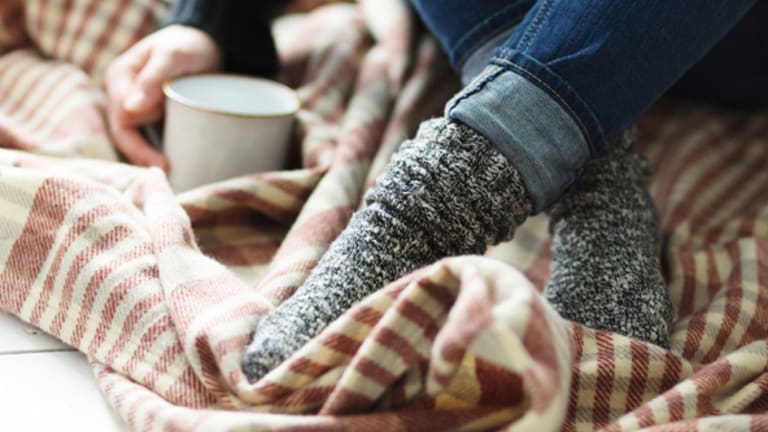 Gifts We're Giving Ourselves This Christmas (That Don't Cost a Dime)
The editors share what their hearts truly desire this year.
By now we are all frantically ordering the last of our gifts, praying that they all make it in time for Christmas. As we begin to carefully wrap each one, let's take a moment to ask ourselves what gift would bring us the most joy this year.
As we puzzle and puzzle 'til our puzzler is sore, it's likely we will discover something that we hadn't before. Chances are, the perfect gift won't be something that comes from a store. Perhaps our present to ourselves will mean a little bit more. (OK, I'm done poaching from How the Grinch Stole Christmas!)
The truth is, while our friends and family can bring us peace, joy, and love with presents, friendship, and caring, our receptivity to joy rests in our own hands. But when we find ourselves so stuffed full of things and burdened by busy schedules, it can be difficult to make room for the true gifts of the holiday season.
So, what gift would you give yourself to be able to receive that joy more fully? To get your puzzler puzzling, the Verily editors took some time to think about what would truly be a gift in our lives this year—here's what we came up with.
The Gift of Creativity
"Since I became a wife, editor, and mother, I've let my hobbies fall by the wayside to focus on my family, our jobs, and 'settling down' (cliché as that sounds, we'll have moved across the Atlantic and the U.S. three times in three years)," explains Krizia, Verily's lifestyle editor. "I haven't been kind to my creative self, and I've seen how it has caused other areas of my life to lose their luster."
Having a creative outlet is a great way to unwind, process your thoughts and feelings, and enjoy life. You don't have to be a well-trained artist or even share your creative products with anyone. It's about doing something that inspires you.
"This holiday, I plan to give myself the gift of creativity by writing recreationally and brushing up on my French," Krizia says. "I'm going to get myself a brand-spanking-new journal and set aside just ten minutes to write about whatever I want each day. I'll also find a good French workbook, listen to French music while I keep care of our home, and reread my favorite French books. Bonjour, self-compassion!"
The Gift of Rest
"I've come to a point where the need for quiet 'me time' in the morning is undeniably related to the quality of my entire day," says Mary Rose, Verily's culture editor. "So that requires I resist the urge to go to bed late and then sleep in until the kids wake me up. I will try to give myself the gift of sleep and early-morning 'me time.' This is a huge learning curve for me, but I'm taking the plunge."
Getting enough sleep is not about laziness. Too many of us are walking through life too tired to give 100 percent. We owe it to others to be well-rested and firing on all cylinders. But getting to bed early is not all about others either. Early to bed means early to rise, and this means more time for yourself in the morning. An early start opens the doors to exercise, prayer and meditation, a good breakfast, and a sense of peace about your day.
"If I can discipline myself to start getting ready for bed around 9:30 p.m., my evening inconvenience could become a valuable gift in making my next day the best it can be," Mary Rose explains.
The Gift of Leisure Time
"I'd like to give myself the gift of leisure time," says Kara, Verily's cofounder and editor in chief. "Even when I purposely schedule my weekends to be 'leisurely,' I somehow end up doing all sorts of planning for the week or just killing time surfing the Internet."
Between the start-up circuit and social circles, life can be busy for Kara. But I know she is not the only one who pokes her head up for air wondering where her leisure time has gone. How often do we burn both ends of the candle during the workweek, saying yes to every social event, working late and showing up early, and then using our weekends to run errands and catch up on chores?
"I think the key for me is going to be turning off my devices, letting myself sleep in, and refusing some social outings," Kara suggests. "Who ever thought I would be craving the opportunity to be a little, well, bored!"
Perhaps the perfect gift to yourself is allowing yourself to slow down. Can you give yourself one day a week, or maybe one weekend a month, to put away your to-do lists and turn off your phones? Just think of the joy this might bring you, your family, and your friends.
The Gift of a Proactive Attitude
"I want to take life by the horns this year because I'll only be young once, and I've watched way too many movies on Friday nights," says Lilly, Verily's associate style editor. "I'm new to New York City and fresh out of college, so I really need to put forth the effort into making friends and exploring the city."
So many of us are like Lilly in some way. How easy it is for us to just stay where it's nice and comfortable. The truth is, many of us need a little push out the door each day to face challenges and pursue our dreams. But the best person to motivate us is ourselves. When we take a proactive attitude about the narratives of our lives, we live life intentionally rather than reluctantly or even fearfully. When we push ourselves to take on the world, we succeed and feel great about it, too.
"Logistically, I will be proactive in going to social events and meeting new people," Lilly says. "I also want to sign up for a fitness class—such as cycling or kickboxing. Lastly, I want to pick up a class or two for fashion design or clothing construction." What is your plan of action? What areas of your life could use a proactive makeover?
The Gift of Health
Sure, sometimes the cards are not always in your favor when it comes to your health, but you can choose to commit to care for your body as best you can and to live a healthy lifestyle.
I'm one of the many who struggle with an autoimmune disease, but I have been lucky enough to discover a few things that help keep me healthy. Things such as diet, exercise, and sleep can mean the difference between nearly debilitating pain and a healthy active lifestyle. No-brainer, right? Wrong. Living a healthy lifestyle takes commitment, and I have yet to give myself the gift of a 100 percent commitment to heath.
My gift to myself is the commitment to eat well. Wasting away on paleo coconut milkshakes is no longer an option. Armed with my new paleo diet cookbooks and a future husband who likes the idea of cooking dates, I will nourish my body with food that requires teeth. This will mean meal prep and grocery shopping, but I am ready for the challenge and looking forward to a long love affair with healthful and delicious foods.
Photo Credit: Sara Kiesling