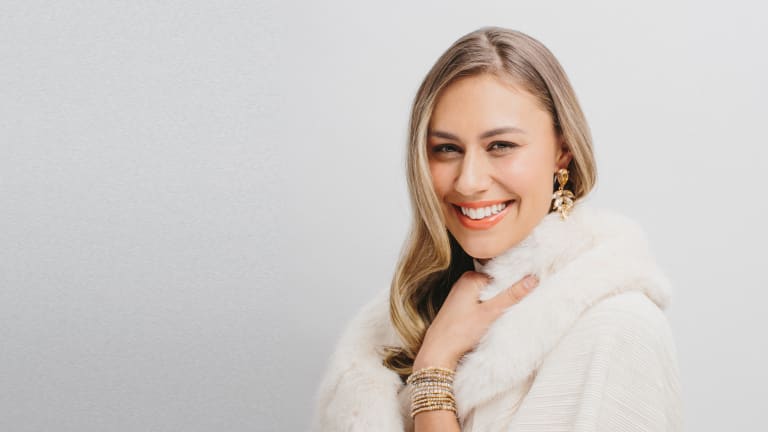 Channel Grace Kelly's Natural Beauty with These Hair and Makeup Tips
Find out how this beauty icon managed to look so regal yet so natural.
When it comes to glamorous yet simple beauty, Grace Kelly is the ultimate muse. The Princess of Monaco's legacy of iconic beauty is still one to strive for. But how did she manage to look so regal yet so natural?
We asked makeup and hair artist Jas Lee from Jump Management to help us break down the beauty elements that make Grace Kelly, well, Grace Kelly.
01. Strong Natural Brow
While Grace is no Cara Delevingne, she does have some strong brows. Lee filled in our model Katherine's eyebrows with a taupe brow powder for a little more emphasis. She didn't create an intense or rigid shape but rather filled in Katherine's natural brow shape with a brush to create a Grace Kelly look that's bold yet realistic.
02. Soft Eyeliner
Lee noted that Kelly never went too dark with her eye makeup. Rather, Kelly chose soft smoky brown tones to make her eyes pop. Lee generously applied brown kohl pencil liner directly on the top of Katherine's lash line to create the illusion of thicker lashes. She then smudged it softly with a smudging brush to create a dreamy smoky look.
03. Warm Eye Shadow
To complement the subtle eyeliner, Lee used a brown shadow all over Katherine's eyelids, stopping below the brow bone. Rather than using false lashes, Lee applied a couple coats of regular mascara to enhance Katherine's lashing while keeping the natural look.
04. Peach Blush
Ever notice how Kelly seems to glow right off the screen? Lee recreated this luminescence with a soft, peachy blush applied to the apples of Katherine's cheeks. She then blended the blush outward along her cheekbones.
05. Bright Lips
As Lee applied this bright lipstick to Katherine's lips, we began to really see the Grace Kelly transformation. Rather than using a classic red, Lee chose an orange hue as a softer and more modern option. "It's playful yet delicate, the epitome of Grace Kelly," Lee explained.
06. Soft Barrel Curls
To really modernize this Kelly-inspired look, Lee chose to do classic barrel rolls all curled in the same direction and then brushed out. This look has all the class of 1940s glamour with all the versatility for today's modern woman.
Now go get your Grace Kelly on!