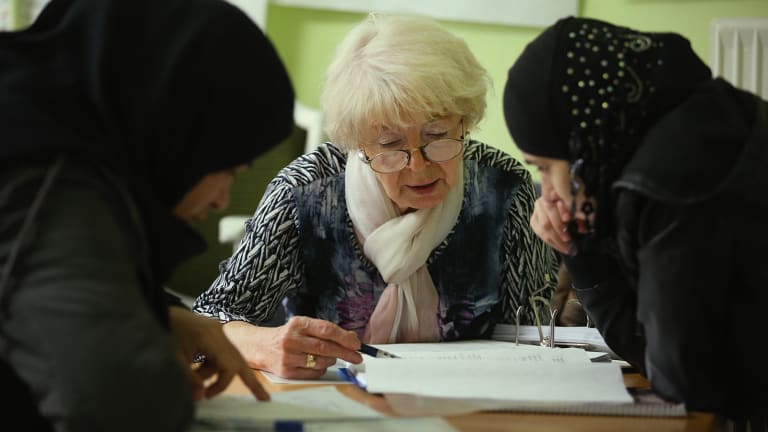 Germany's Plan to Help Refugees Is the Definition of Compassion
We hope this catches on.
Germany has recently announced a plan to recruit 8,500 teachers to teach German to a growing number of refugee children, most of whom have entered the country with their families after fleeing war-torn countries in Africa and the Middle East. More than eight thousand special classes have been set up to help the children catch up with their German peers, and the country hopes to increase the total number of teachers offering the language classes to 20,000 by summer.
The European Union has seen a fivefold increase in the number of incoming refugees in 2015 versus the prior year, with the number of displaced individuals entering Germany alone topping one million.
So, what to do to accommodate the 196,000 children who will be entering the country's education system this year? While there's still plenty of high-level talk about the risk–reward ratio of opening borders to refugees—with Germany's own foreign minister noting that the country needs to regain control of its borders—the country is extending hospitality in one of the most meaningful and practical ways possible: with language.
By making a proactive investment in teaching its language to refugee children, the German education system is rebutting the common idea and practice that refugees are "the other." They're not simply saying, "If you're going to live here, you need to learn our language"; they're saying, "We want to teach you our language so that this can feel like home to you and so that we can communicate as equals."
One retired language teacher who came out of her retirement in Sweden to teach Swedish to refugees notes that "the whole idea of integration, mutual respect, and understanding requires a language in which to communicate." When people are segregated by language, other dividing lines are often drawn as well.
Dr. Otto Deutsch, a retired minister who has been teaching German to migrant children since 2009, sees tremendous value in making it possible for refugees to "be able to communicate beyond their own group, to move about independently, go shopping, get information, visit doctors, read, watch TV, you name it. Be part of it and not excluded! And all the more if they are going to stay indefinitely."
As the rest of the world grapples to understand and respond to the European migrant crisis of 2015, Germany seems to be on the front lines of practical compassion. The decision to invest in the education of immigrant children is not a particularly flashy one—it's not an airport welcome by the prime minister or an oversize Publishers Clearing House check, but it's one that equips a young generation to communicate, to learn, and to grow up feeling like they belong. And for that: Danke, Germany.
Photo Credit: Getty Images