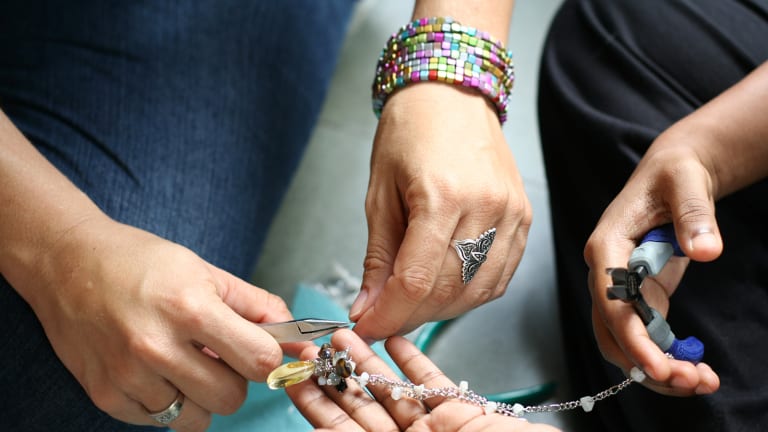 The Gorgeous Gift Idea That Empowers Survivors of Trafficking
Kill two birds with one stone this Christmas with a gift that gives back.

As we come up on the end of the year, two things are for certain: You will be bombarded with ideas for giving gifts (guilty!), and you will be asked to donate money to good causes. So, why not kill two birds with one stone and give a thoughtful gift that also gives back?
There are tons of social good brands out there, but one of our favorites is PURPOSE Jewelry. First, the pieces are gorgeous—see what our editors have picked out for their own stockings below. But even more so, we love that PURPOSE is helping trafficking survivors by giving them an opportunity for stable, ongoing employment.
It's no secret that human trafficking is a huge problem in the world today—the United Nations Office on Drugs and Crime estimates that nearly 2.4 million people are being trafficked at any one moment today, and that 80 percent are being exploited as sexual slaves. Enter: International Sanctuary. Started in 2007, iSanctuary works with aftercare homes of rescued girls in India and Orange County, California, to help meet their many needs, providing them the dignity and hope that has long been absent in their lives.
Most of the women in iSanctuary come to an aftercare home as teenagers through rescues conducted by NGOs and the local police. iSanctuary founder Stephanie Pollaro told us, "Though each woman's story is slightly different and wholly their own, there are many common threads that trafficking survivors share. Most, if not all, survivors have their trust violated by a family member or friend who sold them into a life of exploitation. They endured years of mental and physical suffering. Many of the young women we serve are still coming to terms with what happened to them. We hope that as they heal, they reach the ability to stand on the other side of trauma and look back in triumph, but this may take a lifetime."
It may take a lifetime, but iSanctuary is doing its part today. The organization provides medical and dental care, education, micro-loans (and teaches the financial skills to pay them back), counseling, life-skills training, one-on-one mentoring, and—our favorite—job opportunities. For many of these women, there is no life to "return" to once rescued, and employment opportunities are scarce; they would most likely be exploited for cheap labor, cleaning houses, or married off. So iSanctuary went to the market, creating an on-trend jewelry brand to provide income for its survivors.
iSanctuary now employs forty-two women to create its gorgeous PURPOSE pieces by hand. These strong women are building new lives—and a close family of survivors. These are women such as Sabita, 21, who says that her favorite part of working for iSanctuary is having fun with her coworkers, or Avat, 22, who says that working at iSanctuary feels like family. PURPOSE is fueling dreams for their futures, too. Avat shared that part of what she likes about PURPOSE is that she "really enjoy[s] fashion and hope[s] to one day become a designer." We hope she does, too!
If you're as inspired as we are, PURPOSE jewelry makes a great holiday gift. Plus, for all Verily readers, PURPOSE is extending a special offer of FREE SHIPPING on any online order. Just use the promo code VERILY at checkout (valid for U.S. orders only and expires 12/18/15). Easy win! We picked out a few of our favorite pieces below, or you can peruse the catalog on the PURPOSE Jewelry website.
This article was made possible by PURPOSE Jewelry, but all opinions and editorial are our own. To find out more about our approach to sponsored articles, see our About Us page.