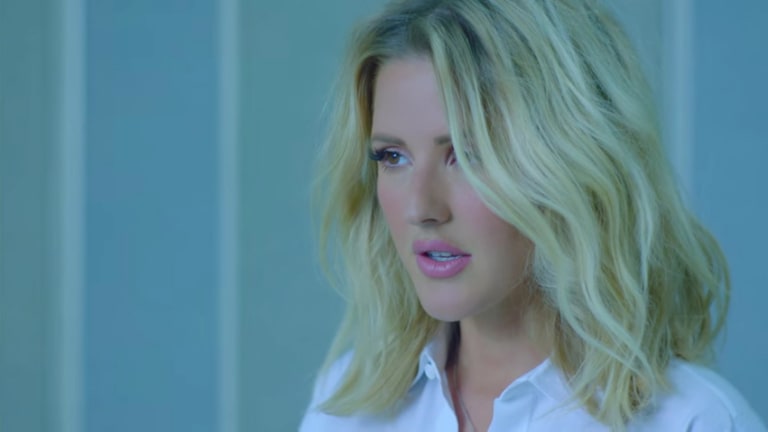 Ed Sheeran's and Ellie Goulding's Songs Reveal Hookup Culture for the Mess It Really Is
'Don't' and 'On My Mind' seem to be trying to tell us something.
Perhaps I was a little late to the bandwagon, but after hearing Ed Sheeran's "Don't" on the radio, I was hooked. From his honest storytelling to his quick, sharp verses and smooth choruses, his music captivated me. The song "Don't" sings of a hookup gone wrong, so of course it had tons of reporters and talk show hosts asking Sheeran exactly which woman inspired the catchy love-gone-wrong tune. Though rumor had it that pop star Ellie Goulding was the culprit, Sheeran refused to name names.
Flash-forward a few months, and we now have Goulding releasing her single "On My Mind"—also curiously about a hookup gone wrong. According to Goulding, her past fling's sin is not in leaving her but in claiming to love her and then painting her in a bad light. "You think you know somebody," her song repeats to infinity.
After Goulding's release, I did like any celebrity-news addict would do and turned into Nancy Drew, trying to piece together the clues that each song provided about either side of the story. But more than discovering the faults of each lover (and who doesn't make mistakes in love?), I gathered that something much bigger was at play. Let's look to the lyrics.
The male protagonist in "Don't" (let's call him Ed) seems like a sympathetic character at the start. An alluring woman meets Ed and invites him to her hotel room. "Baby, bring the lemon and a bottle of gin / We'll be in between the sheets 'til the late a.m." But what started as a fling seems to have grown into something more: "Now she's staying at my place and loves the way I treat her." Their careers keep them apart, but Ed expresses a desire to make this woman happy and to spend more time with her doing something as simple as watching a movie. But still, he keeps things nonexclusive, noting, "I wasn't looking for a promise or commitment."
Things take a turn for the worse when the man learns that the woman spent the night with another man. Sheeran sings heatedly in the chorus: "Don't f*** with my love / That heart is so cold." Sure, it's painful to find out that someone you had feelings for likes someone else, but Ed also makes it very clear that he never even asked to be exclusive with this woman. Most likely he's really upset with himself for not being more clear about what he truly wanted.
Goulding picks up on this thinking in her song "On My Mind," singing, "You don't mess with love, you mess with the truth," and, "You didn't love me, no, not really." By her own admission, Goulding had little regard for his feelings: "You wanted my heart, but I just liked your tattoos." She believes that she has nothing to apologize for because there was no commitment, and you can't cheat in a game with no rules. For Goulding, it wasn't a relationship based on love, so the guy (shall we assume it's Sheeran?) has no right to pretend she did him wrong.
Whether or not Sheeran and Goulding are singing about each other, what they're describing is fairly common today: Their physical relationship developed before any sort of trust or mutual understanding could be established. And when they perhaps did catch feelings for one another, neither had the courage or inclination to ask for more than hooking up.
It's easy from my comfy couch to sit and rip into the mistakes of this hypothetical (or not so hypothetical) brief relationship. I don't want to judge them because, heck, our current dating culture gives few realistic scripts or guidelines to transition from hookup to actual relationship. The simple reason could be that there is no easy transition. Hookups don't generally cultivate ​​real trust​​. Trust can only be built in a committed relationship, through intentionality and a willingness to get to know someone's mind and heart. But for whatever it lacks in creating real trust or​​ commitment, sex makes up for in cultivating emotional attachment—a scientifically proven fact. No wonder Goulding—in hindsight—sings, "Wait, I could have really liked you / I'll bet, I'll bet that's why I keep on thinking 'bout you."
Despite the pain experienced by these two singers, at least we can say the world gained two great pop songs from Sheeran's and Goulding's trial and error. But for those of us who would rather avoid the heartache altogether, going into relationships with honesty and respect for one another is the better way to protect your heart—and just as importantly, theirs.