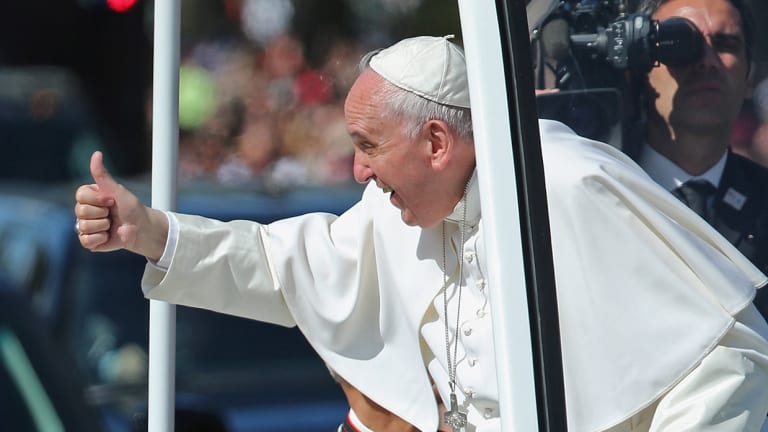 These Are Our Standout Cultural Moments of 2015–What Are Yours?
From the papal visit to the U.S. to Adele dropping a record-breaking album, the return of Harper Lee to T. Swift's epic domination—the past 365 days have been bursting at the seams with cultural happenings. As the year 2015 comes to a close, the Verily editors are sharing some of the moments that stood out most to us. Whether our favorite book or just something that made us stop to think, here's what we'll remember about the year. Chime in with your own favorites in the comments!
'Hello' from Adele
​I've always been an Adele fan, but the release of "Hello" really blew me away (and I'm not just talking about her fabulously windblown hair in the music video).​ Adele once again captured our hearts with her killer voice, tear-jerking lyrics, and all-around amazing presence. And she just announced her North American tour! —Briehn Trumbauer
New York Magazine's July 27–August 9 Issue
In its now-famous issue released in July, New York Magazine strikingly brought to life the heartrending stories of the many women who have accused Bill Cosby of sexual assault. Featuring expertly interviewed stories and portraits of thirty-five women, the cover story grabbed the attention of the nation at about the time it became less and less possible to deny the actions of a serial predator. Most powerful for me were the video narratives shared by a handful of the women at the end of the written piece—putting faces on the women who have found strength through vulnerability and the telling of their stories. —Mary Rose Somarriba
Nothing Beats the Pope's First Visit to the United States
It was a breath of fresh air picking up the Wall Street Journal and other major news outlets to see front pages buzzing about the pope's visit every day for what felt like a solid two months. Pope Francis has what I like to think of as a modest Midas touch—everything he is moved to speak on seems enveloped in warm golden light. From inspiring press coverage of him assigning meaningful homework to students in Harlem and reminding us why we should care about poverty to the importance of addressing climate change and environmental protection, he is a pope for all people and a person after our own hearts. In a world where the sentiment "No news is good news" seems to prevail, Pope Francis has consistently shared a message of authentic faith, generosity, and hope that has left great and lasting effects on intellectuals, politicians, and ordinary people alike in the only way a sincere and humble heart can. —Krizia Liquido
'As' Sung by India Arie, Janelle Monáe, and Jill Scott
In early 2015, the same people who brought you the Grammys broadcast an evening of tribute and thanks to the great Stevie Wonder. Musicians ranging from Beyoncé to Andrea Bocelli were invited to cover iconic songs from the legend who gave us "Superstition," "You Are the Sunshine of My Life," and "Don't You Worry 'Bout a Thing," among others. The evening was full of impressive renditions, but the most powerful was by the unexpected trio of India Arie, Janelle Monáe, and Jill Scott singing "As." Something magical happened that night, and there's nothing else quite like it. —MRS
Mad Max: Fury Road
The film Mad Max: Fury Road might be this past year's most surprising critically acclaimed gem. What in trailers appeared as a wacky thrill ride mix of apocalyptic fantasy delivered in theaters a surprising tale of bravery and sacrifice with feminist undertones throughout. Charlize Theron stars as Furiosa, a decorated soldier revolting against an oppressive government led by a corrupt dictator. The film starts as Furiosa leads a group of sex-trafficked women out of captivity on a journey to return to a homeland of milk and honey from whence she was uprooted long ago. With strength and skill that match or exceed her male opponents in skills ranging from gunfire to racing eighteen-wheelers, Furiosa further epitomizes the feminist heroine in fighting for her fellow women to no longer be treated as objects for others' property. Along the journey, she encounters Max, a disillusioned yet good-hearted man who is plagued by shame for his past mistakes. The result is an unlikely alliance and friendship that will make you wonder in the final scenes: Why are they parting ways? Well, we don't know for sure if they are (sequel, please?), but my theory is: to remind us that true love expects nothing in return. —MRS
Go Set a Watchman by Harper Lee
All of the excitement over the summer about the release of Harper Lee's new novel, Go Set a Watchman, prompted me to reread To Kill a Mockingbird. It was my first time rereading it since I was a teenager at high school more than a decade ago, and I can't believe it took me so long to get back to it as an adult. This time around I appreciated the brilliance of the writing and the profound beauty of the story so much more, and the book has now taken first place in my list of all-time favorite novels. While I didn't think that Go Set a Watchman was as well-crafted as To Kill a Mockingbird (personally, I think that it should have been published as an incomplete first draft after Lee's death rather than being presented to the public as a finished novel during her lifetime), I am grateful for the spotlight it shone on one of the greatest novels of all time. Go Set a Watchman also raised some interesting themes about race relations, empathy, freedom of debate, and tolerance, which are still very relevant to readers everywhere today. —Sophie Caldecott
Brooke Axtell and Katy Perry's Grammy Performance
Also very memorable in 2015 was the part of the Grammy Awards when trafficking and domestic violence survivor Brooke Axtell took the stage to share personal and powerful remarks about her story, immediately before Katy Perry sang a gorgeous version of "By the Grace of God." As for Katy Perry's artistic portrayal of moving shadows behind her, I could take or leave that, but her voice and the stripped-down version of the uplifting song touched my heart. If you're looking for inspiration and a reminder of your ability to overcome challenges, listen to Axtell and Perry back-to-back, and inspired you will be. —MRS
Dead Wake by Eric Larson
Unfortunately, most of the books I read this year were not actually from 2015, so I can't recommend them here. The one new release I read was Dead Wake by Eric Larson. While I wouldn't say that it's his best, it was a good read. I love his historical storytelling, and this book in particular had some very emotional moments. One that really stuck out to me was his account of the Lusitania sinking, specifically how one passenger was said to have been seen giving birth in the ocean. Can you imagine having your labor induced by the stress of being on a sinking ship? He portrays the human stories so well. —Megan Madden
Taylor Swift's 1989
Taylor Swift's career has been really interesting to watch this year. She is definitely one of those people who many people, myself included, sort of love to hate, but there's no denying her influence. Following her on Instagram and day after day, seeing the documentation of her massive 1989 stadium tour, was mind-blowing. The idea that one woman—a young pop star much less—can congregate and motivate such masses of people is a huge testament to our culture today.
Oh, and One Direction losing Zayn and going on break . . . cue teenage girl (and, TBH, twentysomethings like me) meltdown. —MM
Mad Men Series Finale
Mad Men, more specifically the evolution of Peggy, has been such a journey over the seven seasons of this show. Even though the show is set in the sixties/seventies, modern women can still relate to and learn from Peggy (and all the women's) struggles to gain respect at home and at work. The final season was a testament to the show's greatness, and it will be sorely missed. —MM
Justin Bieber's Album Purpose
Out of all the things that happened this year—I would have never thought I would've become a Belieber by the end of it. Never. I mean, did anyone, really? As I listened to "Sorry" for the first time, I began to furiously fight the groovy vibes I was feeling. But when I heard "Love Yourself," I basically gave up and converted to Bieberism right then and there. Let's be real, people—Bieber has had a rough few years, but we have to give him credit for his efforts to change. His music videos for Purpose also show his growth and focus on a more artistic side than his *ahem* previous videos. Plus, Bieber isn't afraid to talk openly about more positive forces in his life, such as his faith, which I find admirable. —Lilly Bozzone
Narcos, Season One
Wagner Moura's portrayal of Colombian drug lord Pablo Escobar is so good—Those hooded eyes! That brazen smile!—that he can almost make you root for a mass murderer. Escobar is still revered in parts of South and Central America as a latter-day Robin Hood, and this series captures the combination of organizational genius, cold-blooded ambition, and operatic showmanship that made him such a captivating figure. The series also excels at portraying the heroic Colombian politicians and soldiers who, allied (sometimes uneasily) with American military and law enforcement agents, were locked in a death struggle with Escobar's narco-terrorists. Season one told the story of Escobar's rise; I can't wait to watch his downfall in season two. —Katherine Torres
The Comeback of The Supermodel
I was really intrigued by the reemergence of "the supermodel" that seemed to happen in 2015. While supermodels used to be a thing, in my lifetime they really weren't . . . until now. Sure, the occasional Kate Moss or Gisele Bündchen caught some attention, but the celebrity that surrounds Kendall Jenner, Gigi Hadid, Karlie Kloss, Cara Delevingne, etc. is insane. And it's interesting to think about why it is that we elevate these women to such a status. They all seem like fairly good role models, so let's hope that in 2016, they continue to channel their status for some social change. On that same note, the Karl Lagerfeld profile in the New York Times this year was a great profile . . . one of my favorites from the year. —MM
Alabama Shakes, Sound and Color
I really cannot get enough of Brittany Howard. Talk about a powerful female lead singer! One listen to this album, and you'll hear why it's no wonder that she received Billboard's Women in Music "Powerhouse" award. —KT
Star Wars: The Force Awakens
My parents went to see the original Star Wars films on their honeymoon back in the seventies, and growing up, George Lucas' iconic fantasy was an essential part of my imaginative landscape. The news that Disney had bought the rights to the franchise and was making a new film, The Force Awakens (released December 18), was big news. Even before I saw it, the stars seemed to be in its favor: J. J. Abrams a great director, and the team behind the special effects reportedly went back to a less-is-more approach, relying more heavily on animatronics and using a lighter touch with the computer-generated special effects to try to recapture a more realistic visual style than the shiny and soulless prequels achieved. One of the scriptwriters from the original trilogy, Lawrence Kasdan, was also back on board, giving Star Wars fans everywhere high hopes that the script would be back on form after the truly terrible prequels. Not only did the film live up to my expectations, with a truly wonderful female lead to boot, but it has also been a lot of fun to have an excuse to watch the original trilogy again and indulge in fan theories about whether Luke has succumbed to the Dark Side. —SC
The Return of Gilmore Girls
Our favorite mother–daughter duo will be gracing us with its small-screen presence for a limited-episode season as part of a trend of Netflix reviving several nostalgic shows. It has also been announced that creator Amy Sherman-Palladino is on board for the project so that she can end the series the way she originally intended. I'll be planted in front of the TV in anticipation, with coffee and Chinese takeout in hand. —BT
Lead Photo Credit: Getty