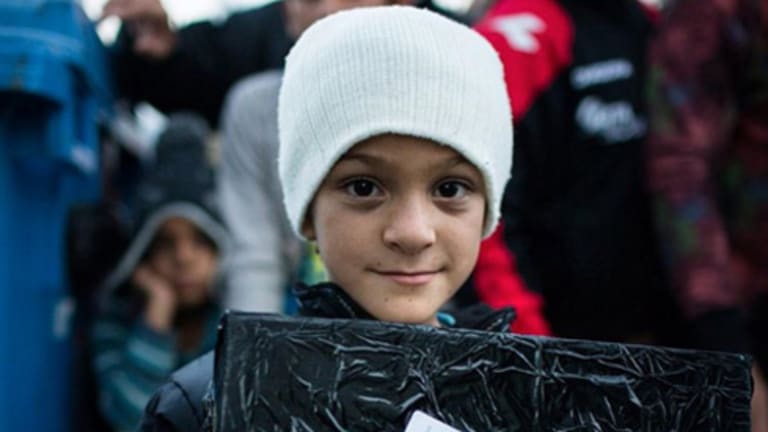 Some Bestselling Authors Just Launched a Unique Initiative to Help Refugees. Intrigued? We Were
'The Compassion Collective' sounds a bit like a league of very kind superheroes, don't you think?
A team of five bestselling authors and public figures launched The Compassion Collective on Monday. The new venture is a nonprofit that seeks to raise $1 million to provide aid for the European refugee crisis and to define a generation of Americans in the process.
According to the organization's home page: "Today's refugee crisis is the worst humanitarian emergency the world has seen since World War II. Just as the Greatest Generation's response to the Holocaust defined them, so will our response define us. We want to be remembered as the generation that chose Love over Fear."
While organizations such as Unicef, Doctors Without Borders, and the United Nations High Commissioner for Refugees have all been accepting donations for some time now, the Compassion Collective brings two unique attributes to the table: star power and a $25 maximum cap on all donations.
The group is composed of Glennon Melton of Momastery; Eat, Pray, Love author Elizabeth Gilbert; Rising Strong author and Ted Talk powerhouse Brene Brown; Wild author Cheryl Strayed; and pastor-cum-Oprah-confidant Rob Bell. Each of the five celebrities share a similar brand of encouraging bravery alongside vulnerability, compassion alongside social justice, and spirituality alongside inclusion. Gilbert, Brown, and Bell have all been featured on Oprah Winfrey's SuperSoul Sessions. All five leaders are using their individual social media platforms as a grassroots marketing strategy for the initiative, reaching a total Facebook audience of nearly 2.8 million followers.
While all that star power might make the nonprofit seem particularly high-profile, the group has made a point to make its solicitation strategy decidedly low-profile. All donations are capped at $25, a parameter that highlights the mission of, to borrow words from Mother Teresa, "doing small things with great love." Supporters who wish to donate more than $25 can certainly find a work-around, though. One Facebook commenter reported that she had donated the maximum amount and was "going back to do it again in the name of each of my children, whom I couldn't imagine having to choose to put in a rickety rowboat on a cold and dark sea because it was the only choice I saw for them to have a life."
With the $1 million it hopes to raise, the Collective hopes to help refugees in transit by providing floodlights and increased aid to shore-based volunteers, as well as refugees still stuck in stateless nations by providing food, shelter, baby strollers, and wearable child carriers.
The collective is using Melton's existing nonprofit, Together Rising, to distribute all donations and vows that 100 percent of all funds collected will go directly to support refugees. People wishing to donate can do so here.
Bravo to the Compassion Collective's initiative. This is the kind of insight and vision I aspire to live up to myself. May we all be so generous.
Photo Credit: Help Refugees / Compassion Collective