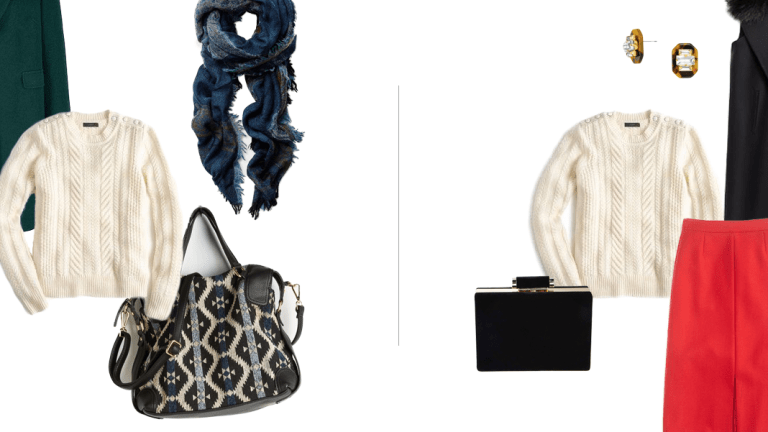 Transform Your Favorite Sweater from Day to Night with These Easy Tips
With some clever styling, this winter piece works whatever the occasion.
Sweaters are back in heavy rotation, and while it's natural to gravitate toward these soft and simple tops, they're not always the first choice for a night out. We've all had that conversation with ourselves: "How am I going to trick everyone into thinking I tried when really I just want to be comfortable?"
First and foremost, choose a sweater that is versatile and classic. For example, a more fitted cut that hits at your hips or just below your waist is ideal; you can wear it with a flared skirt or easily tuck it into high-waisted pants. A neutral shade, such as cream or black, will offer literally a hundred styling options (such as these four ideas for a black sweater). For a little character, a cable knit with button details, like on the sweater below, helps add a bit of texture to your ensemble.
How to Style for Day //
A cream cable-knit sweater and medium-wash denim make for a classic canvas. Use this as an opportunity to rock all sorts of bold pieces, such as this green wool boyfriend coat and Aztec blanket scarf. Slip on some suede tan ankle booties; for your ears, a modern set of studs. Top it off with a woven day bag to add some pattern (this helps tie all those solid colors together) and ensure that you have enough space to stash all your necessities. If you're heading in to the office, switch out the denim for a pair of slacks for a more professional and streamlined look.
How to Style for Night //
Have no fear, ladies, it is possible to be both warm and glamorous. To transition your cable knit from daytime to party-ready, you just have to add a little sparkle. This cream crewneck is well complemented by a round, chunky statement necklace and a light-catching pair of gemstone studs. To balance out the soft knit, choose rich fabrics, such as this taffeta skirt and luxurious faux-fur-collar coat. A glittery pair of pumps will add the final glamorous touch to your nighttime sweater look.