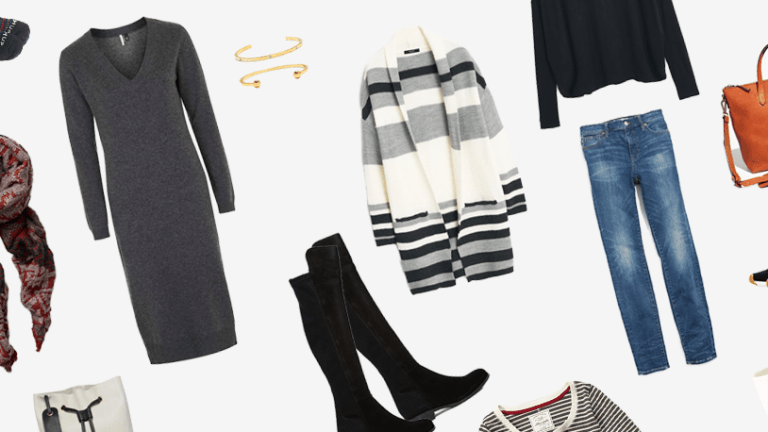 A Christmas Week Style Guide for All Your Holiday Activities
Look great all week long.
The days leading up to Christmas are full of festive activities, family traditions, and a little bit of chaos—and naturally, we want to look our best (especially if photos are being taken). No matter what the event or occasion, prepare yourself for the days ahead by incorporating some Christmas spirit into your daily outfits.
Monday: Traveling
There's nothing like coming home or traveling to a loved one during the holidays. Christmas carols playing over the airport sound system, wreaths hanging from the bus terminal doorways. But even with the holiday cheer, traveling right now is stressful. At the airport or on the road, it's all about being comfortable yet stylish (of course). Opt for your favorite pair of stretchy skinny jeans or a pair of soft boyfriend jeans. Neutral colors are always chic and especially when dressing more casually, so keep that in mind for your top. If you're running to catch a plane, stick to breathable cotton shirts and sports luxe sneakers. Nothing is worse than being cramped in a seat next to three other people with a giant puffer coat on; we suggest you layer up with a cozy oversize cardigan so that you can take your outerwear off.
Tuesday: Last-Minute Present Shopping
If you're still in shock that Christmas is only a couple days away, you probably haven't finished your gift shopping yet. Preparing for Christmas shopping is like preparing for battle. You must make sure your outfit will withstand hours of walking in cramped department stores and boulevards. The most important thing is to wear comfortable flats that will not give you blisters. A simple lightweight sweater dress is flattering yet comfortable and breathable. To jazz up your outfit, wear a colorful scarf, and accessorize with gold jewelry.
Wednesday: Christmas Movie Marathon
This is what we've all been waiting for. Home Alone, Elf, It's a Wonderful Life, Miracle on 34th Street—these movies + steaming hot mugs of cocoa = Christmas bliss. To perfect this scene, all you need are your Christmas jammies and knit socks. Take advantage of this opportunity to stay in your pajamas all day long, and kick back and relax.
Thursday: Baking and Cooking
This is when the chaos usually begins. For many, Christmas Eve is usually spent in the kitchen baking, doing some last-minute present wrapping, or cleaning around the house. Despite all of your pre–Christmas Day labor, keep your holiday cheer by incorporating elements of plaid, chunky knits, metallic accents, and jewelry into your outfit. And if things get really messy, make an apron your newest accessory.
Friday: Christmas Dinner
It's the day we've all been waiting for, and it's finally time to pull out our most White Christmas–appropriate outfits. White faux furs, figure-flattering A-line dresses, diamonds, and gold—who's really going to say that you overdressed? It's Christmas! Pull out all the stops, and be a little extravagant. Whether you're spending Christmas dinner at home with your family or traveling to your friends, you'll be dazzling all night long with Christmas cheer.