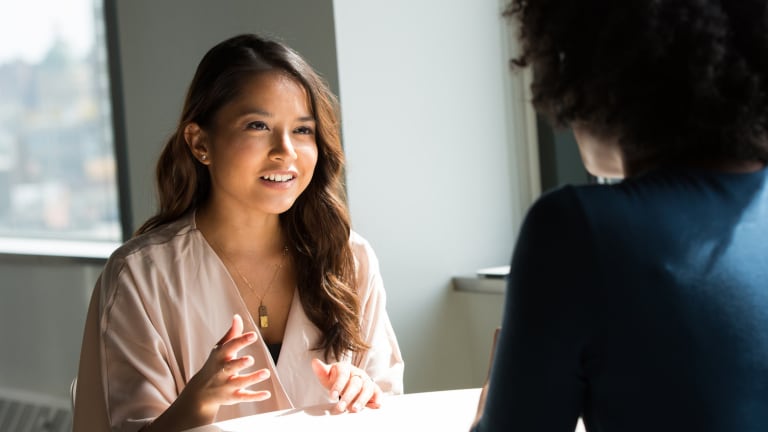 10 Tips I Wish I'd Known Before Entering the Workforce
Professional women look back on their lives and share the things they would have done differently.
It's an exciting time for young women entering the professional sphere. More and more of us are attending college (and elite ones at that). With inspiration from empowering women such as Sheryl Sandberg and Malala Yousafzai, today's women are chasing successful careers with confidence and ambition. But there's no ignoring that it's still a scary world to approach. The jump from school to work can be faster than we're ready for, and it can be downright terrifying. So we've rounded up some advice from six accomplished career women to help make the transition a bit easier.
Their time in the workforce spans from less than a year to more than thirty, and they have worked in industries ranging from nursing to banking. They're here to share advice that they wish someone had shared with them before their first day on the job.
01. Don't be a passenger to your career.
Anne*, 46, started her first job in 1991. She currently works at a Canadian bank in New York City, but she didn't get there by sitting back and letting her career take her wherever it pleased. After graduating from college, Anne worked at a professional services firm for five years before deciding that she wanted a career change. "Be proactive about your career," she advises. "Don't get preoccupied on what everyone else is doing. Do what is right for you." For Anne, this meant moving from Montreal to New York City, which is no small feat. She adds that even if you don't succeed, you shouldn't fear failure: "Take chances while you're young; failure makes you a little stronger and a little less afraid for the next challenge."
02. Be overprepared.
This advice applies to every sort of situation. Nina, 52, has been working since two weeks after she graduated from college in May 1985. Her first job was an internship at a multinational consumer goods company where she worked in the communications department.
She emphasizes that it's important to "know what's going on at your company, in the world, in your industry." It can never hurt to be overprepared because if someone else falls short, you have the opportunity to fill in. Preparation benefits your entire team and shows your ability and willingness to put in the extra effort.
03. Find a good mentor early, and start networking now.
The word "mentor" means something different in every job, but it's simply someone in your industry from whose career you can learn. "Someone who is respected, knowledgeable, who can help guide you, as well as act as your champion," Anne describes. This person has already jumped over the hurdles you might come across. And because they already have connections in your field of interest, networking can be an added benefit.
"It's never too early to connect with people who can serve as mentors and to create a network of contacts," Nina says. Of course, you can find a great opportunity without "knowing someone," but it's much easier to find one when you do. Even if a connection doesn't lead to a job, you can learn from her career path or reach out to someone who can be the route to your next job. "The same is true for developing new business; you can develop new business from your network of contacts so much more easily than if you are cold calling. Meet them for coffee, send them an email, have lunch," Nina says. These small acts are all it might take to make an important connection.
04. Build authentic friendships at work.
People are likely to separate work from their social life, but Katie has "found that most people are friendly, and the workplace can actually bring about true friendships, not just ones that are nine to five." Of course you want to have friends outside of the office, but combining the two spheres can make work more enjoyable and comfortable. Plus, those friends will understand the work struggles you are going through and can better help you work them out.
05. Solicit regular feedback.
Asking what someone else thinks of you and your work is nerve-racking. "When it's great, get it in writing. When it's less than great, use it to learn from early on," Nina suggests. Getting comments and criticism from both peers and supervisors has many important uses. If you're thinking about a future job, you'll know who to ask for references. On the other hand, negative feedback will let you correct a mistake before it becomes a bigger problem, allowing you to improve your work overall.
06. Be positive in the face of adversity.
No career path will be entirely smooth sailing. Difficult people and experiences will come no matter where you work. But Catie, 38, who has been in the workforce for fourteen years and is currently in corporate banking, believes that "there is something to be learned from every experience, regardless of whether it is a bad or good experience overall." View the not-so-good moments as learning experiences, and you will come out stronger and more prepared to tackle your next feat. "I think [staying positive] helped me to become more aware of my strengths and weaknesses and grow as a person and as a professional," Catie says.
07. It's OK if your job isn't satisfying 100 percent of the time.
Many jobs include inevitable administrative work and tedious tasks. Katie, 22, has worked in political internships in Washington, D.C., for six months. She advises that you should "make sure to be cheerful in small things and look for ways to improve them. Make sure that you are constantly trying to learn and trying to challenge yourself." Those tasks that feel like chores might be necessary stepping stones to your ideal career. "If you're struggling to get the hang of it or don't like your job at first, don't get too discouraged. It might take several weeks, or even a few months, before you get really acclimated," she says. Even then, it's wise to remind yourself that there's always room to learn. Catie advises, "Don't be afraid to say no to an opportunity if you don't think it is the right one for you. On the flip side, be open to opportunities that might not check all the boxes but that you think will be challenging, interesting, and beneficial in the long run."
It is rare that you love your first job right out of college, or the one after that, or the one after that. Even though your job might not be the perfect one for you, "hopefully it involves the industry or general type of work that you think you would like to do," Catie says. No matter what your first job might be, there is always something to learn from it. If anything, it will teach you to know what you don't want to do.
08. If you don't ask, you won't receive.
Making a brave suggestion in a work meeting is one thing, but asking for better pay or more vacation time is another. Don't expect that just because someone sees you working hard and putting in your best effort that they will reward you for it. "I had the philosophy that one day they would give me a raise because they saw how much extra work I was doing. Instead, they continued to pile on the work because they became accustomed to me doing it so willingly," Megan, 31, says.
After working for eight years in finance, Megan learned that it may take a while to prove yourself, but you have to take initiative to ask for what you deserve. Exercise prudence when making an ask. Verily's tips on how to ask for a raise could apply to asking for anything from a promotion to time off. Remember that these conversations are about valuing yourself and managing expectations.
09. Sleep on it.
Whether it's a big meeting coming up or an important email you have to send, think about it in the evening, and decide in the morning. Talk about possible options and repercussions with a colleague or your boss if you need another perspective. "We are more impulsive when we are younger," Megan says. "Awareness and clarity come after a good night's rest." Making big decisions is exciting, and often you don't want to wait, but patience and thoughtfulness can easily prevent regret. So before you attempt to make any important decisions on the fly, take a deep breath and a step back.
10. Own up to your mistakes.
"Take full responsibility. Don't stutter over excuses," Megan advises. Mistakes are rough, there's no denying that, but skirting around the issue or being defensive only complicates a situation. Displacing the blame or lying are not the way to go. Be clear that you understand the gravity of your mistake, the potential impact, and how serious the situation is. Briefly explain where you went wrong, that you're mortified it happened, and what steps you're taking to avoid it ever happening again. When handled well, a mistake can do more to impress colleagues and superiors with your honesty and dedication than it would taint their view of your work.
We're thankful to women such as these who share their own mistakes so that we can learn from them. Even just a few small changes can make your professional transitions smoother. So if you see the opportunity, take it. It's a lot easier said than done, but getting outside your comfort zone with these tips will pay off immensely in the future of your career.
*Name has been changed.
Photo Credit: WOCinTech