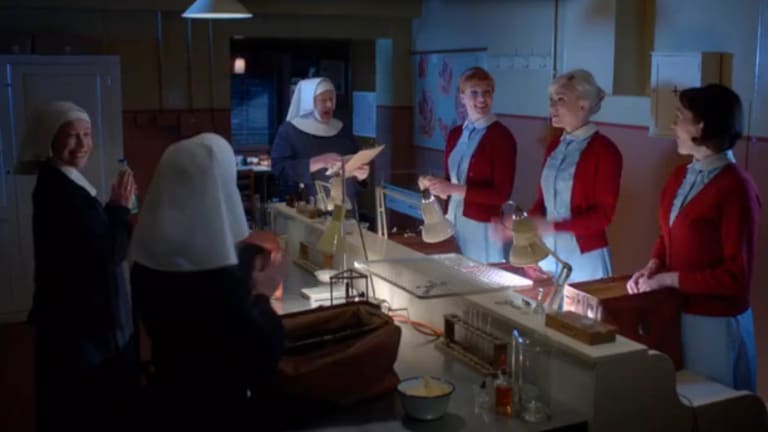 2 More Seasons of Call the Midwife and a Christmas Special? I'll Drink to That
This surprise hit show reminds us of some great virtues.
BBC lovers, rejoice! Call the Midwife has been renewed for its fifth and sixth seasons, and a Christmas special will air this Christmas day. What better way for our televisions to celebrate?
For the uninitiated, Call the Midwife is a period drama set in the 1950s and 1960s in the East End London district of Poplar. The show centers on Nonnatus House, a nursing convent run by Anglican nuns, and the lives of the midwives working there. The first three seasons follow the bestselling memoirs of former nurse Jennifer Worth, and the following seasons have been adapted from Worth's portraits of the Poplar community. With the series narrated by an older nurse Jenny Lee, each episode contains a little gem of wisdom, the kind that comes with years well lived.
For these reasons we celebrate the renewal of Call the Midwife—the surprise hit show that reminds us that, yes, even stories about nurses, nuns, and expectant moms are worth watching and remarkably refreshing. In addition to the characters being charming and endearingly funny, Call the Midwife has loads of something that's become a rare commodity on TV these days: heart. This Christmas is a great time to celebrate a series that has become famous for its wealth of love and lessons. How happy are we that it's been renewed for two more seasons? Let me count the ways.
01. Women Are Strong
Call the Midwife is a show that women of all life stages and vocations can relate to—whether married, mothers, single, dating, or even in religious life. The show represents working women, full-time mothers, and those who balance both. Moreover, the show treats each woman's vocation as praiseworthy; each has its joys and struggles, and each brings out a woman's unique strengths.
The strength of women, especially mothers, shines through every episode, but such strength often comes as a surprise, a hidden virtue. The midwives help mothers realize their own fortitude. For example, a midwife tells a new mother, "You are magnificent,"  and the mother replies, "I wasn't then, but I'm a mother now." The mothers pressing through arduous labor, as well as the midwives who aid and encourage them, are fighters. As in Call the Midwife, our most trying times can muster incredible resilience.
Outside of the delivery room, we see female strength in the ways the midwives build each other up, serve their community, grieve losses, and learn to love.
02. We're Not Alone
Strong ties of friendship and community make Call the Midwife a heartwarming, and sometimes heartrending, series. The community surrounding Nonnatus House can teach us something about the value of community in our own lives. Communities are where we foster relationships, where we realize that we are never alone. The midwives know this. They make every effort to foster a sense of solidarity with the women and men they help, and they welcome those who are outliers.
But Nonnatus House isn't simply a community; it's like a family. In Call the Midwife, as in reality, family members need not be our blood relatives; we build our families. As Nurse Camilla "Chummy" Browne says to a woman adopting a child, "Love doesn't always come in the package one expects."
03. Understanding Trumps Judgment
Call the Midwife affirms that all people have dignity, and all deserve to be properly cared for. When faced with sensitive cases—such as teenage pregnancy or abortion—Nurse Jenny believes that caring should precede questioning; compassion should precede condemnation.
Call the Midwife stands against the oppression of women and children no matter what form. The midwives can't rescue women from every oppressive situation. They can, however, offer love, encouragement, and hope.
"Hope is a thing of extraordinary power. It feeds the soul, and yet it can torment it. It can be dashed, yet it can show the way," Jenny says. "We learned all this and more in Poplar. We learned about justice and forbearance. And friendship. And what it meant to help somebody move from darkness into light."
04. Love and Joy Make Life Worthwhile
In one episode, older Jenny muses, "What is joy if it's not recorded? And what is love if it's not shared?" It's hard to think of words that could better sum up the series. Life has moments of joy and tragedy, love and loss. The midwives' work may be draining, but it's also rewarding. "Love cannot ease every anguish in the world," Jenny says. "But tenderly applied, it can transfigure fortunes, light up faces. Turn the tide."
Call the Midwife gives us several examples of love—motherly love, romantic love, and love between friends—all of which make life worthwhile. This also serves as a refreshing reminder that we need not be in a romantic relationship to give and receive love. Take the nuns at Nonnatus House. They live out vows of chastity and celibacy, but they are some of the most loving characters on the show. Likewise, Jenny decidedly gives herself to work over a relationship, but her life does not lack love. She cares for her friends and knows how to lovingly listen. Her compassion for others has no limits, as she invests in her patients' lives even beyond work hours. And when the right man comes around, she lets love in.
05. Follow Your Calling
The women of Call the Midwife pursue their callings with courage, something easier said than done. At different times, these women must choose whether to uproot their lives—perhaps moving, taking a new job, leaving a relationship—or stay as they are. Decisions such as these often take a leap of faith. Fear doesn't stop the women of this series from going where they feel called. "Sometimes in life, one has to take a chance," Jenny says. "Without risk, there's no possibility. Without potential loss, no prize."
Change can break us if we let it, or it can make us "blessed and stronger than before," as Jenny says in retrospect. "Our lives were not severed but woven anew. And our joy not halved but doubled."
On the other hand, staying where we are can take as much strength, as our present circumstances sometimes seem more trying than anything ahead. As nurse Cynthia Miller puts it, "We have a duty to live every moment the best we can. I mean really live it. Even if it means getting hurt. Otherwise, what's the point? We mustn't let fear stop us." Navigating life, the midwives choose faith over fear—faith that the paths they choose will lead them where they need to be.
06. Life Is Precious
This last lesson may be the most powerful; it's a lesson of fragility. Call the Midwife reminds us that life is precious, a gift not to be taken for granted. From birth scenes and birthday parties to weddings, this series celebrates life in every episode. Even with its tear-jerking moments, Call the Midwife offers us ways of dealing with loss and heartache—namely, that we learn to love and live again.
"Humanity is fragile," Jenny says. "But love has the power to strengthen and protect and guide us to a place where we feel sheltered and fulfilled, where it doesn't matter if it rains, for we are home and dry."
Amen to that. And Merry Christmas!
Photo Credit: PBS