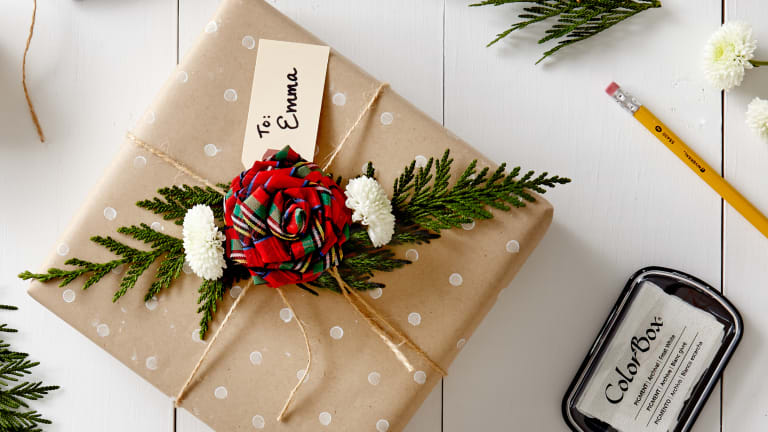 These 12 Tips Can Help You Save Big on Holiday Shopping
Because on the twelfth day of Christmas, your true love won't say, "I wish you spent more on me."
Now that Thanksgiving has come and gone, it's time to start thinking about holiday gifts. And while picking them out is half the fun, you're probably thinking about the hit your bank account is about to take. We feel you, lady.
Fortunately, this doesn't mean that you need to skip the gifts altogether. It all comes down to forming an action plan and thinking outside the box. With these twelve easy tips, you'll be able to form a budget—and stick to it. Playing Santa has never felt this good.
01. START EARLY.
Save yourself the headache by shopping as soon as possible. And because we're well into the holiday season, no time is better than now. Literally. Start now.
Think of it this way: The earlier you start, the more time you have to be picky. You can compare prices, options, and alternatives. Not only will this make you a wise shopper—and awesome gifter—but you'll also be more aware of what you're spending.
Shopping earlier also prevents last-minute panic purchases. You know the drill: When it's close to crunch time, people tend to snag whatever is left. As a result, price tags are ignored, at least until the credit card statement arrives.
02. MAKE A LIST. CHECK IT A FEW TIMES.
Santa doesn't have to be the only one making a list and checking it twice. Instead of blindly diving into a shopping spree, map out your plan with a shopping list. It doubles as a roll call, ensuring that no one is forgotten. A list also minimizes the chances of last-minute or unnecessary purchases. Basically, it's the go-to tool for any smart shopper.
When you're armed with a list, you can also hash out potential opportunities for group gifts. For example, an entire family can be gifted something shareable—a chocolate gift basket or tea assortment, for example. Young siblings can share a set of art supplies, while newlyweds can benefit from a matching set of classy mugs. By group gifting, you'll skip the hunt for individual items, saving you time and money.
03. GO PAPERLESS.
Thanks to today's digital age, you can send monetary gifts and greeting cards with a click. Because you can do it from anywhere, you can skip the trip to the store. It's a foolproof way to save on gas money during the holiday frenzy. And while it's a little less personal, people do actually like gift cards.
Websites such as Cardpool, Gift Card Lab, and E-Gift Cards offer discounted electronic gift cards for a variety of retailers. This is an excellent option if you're buying gift cards for several people. It's also useful if you want to buy different gift cards all at once.
Going digital doesn't stop there. Thanks to websites such as Blue Mountain, 123 Greetings, and American Greetings, you can instantly personalize and send holiday greeting cards. You'll save money on the card and postage while doing Mother Nature a favor.
04. USE SOCIAL MEDIA.
These days, almost every retailer is on social media. This makes it easy to keep tabs on upcoming promotions and deals. You don't need to be a social media maven to take advantage of this. Platforms such as Twitter and Instagram offer the option to receive notifications whenever a particular account posts something, so you can be on top of the announcements as soon as they pop up. Remember, even something as simple as free shipping will curb costs. Every little bit helps.
This technique is ideal if you have your heart set on a specific item. Check back often—your hard work will pay off.
05. SIGN UP FOR NEWSLETTERS.
To go the extra savings mile, sign up for a retailer's newsletter. Often, companies will send a coupon code just for signing up. If you're lucky, you might even be able to stack a "welcome" code on top of other promotions or sale items. Newsletters are especially useful if you're not the social media type. If you're loathe to give your email out to yet another company, create a separate email address just for subscription lists.
06. THINK SIMPLE.
Gifts don't have to be elaborate. It's the thought that counts. Think of small, inexpensive gifts such as notebooks, pens, and bookmarks. When purchased in bulk, these thoughtful and useful items are cost-effective and easy to divvy up. They're excellent for curating a gift bag full of personalized presents.
If you're the crafty type, consider making batches of gifts. Opt for items that only require a few materials, such as basic beauty products or infused sea salts. Basic supplies can be purchased in bulk, stretching your dollar even further. The best part is that these types of gifts can be individually customized depending on the recipient.
Alternatively, check your local thrift store. You'll be surprised by the amazing "giftable" finds out there. Vintage jewelry, used books, and interesting housewares are all wonderful ideas.
07. ACQUIRE A BUDGETING APP.
Along with a shopping list, consider arming yourself with a budget app. This useful sidekick can play an enormous role in your holiday budget planning. Apps such as BudgetTracker, Fudget, and Totalist are free and easy to use.
Remember, a budget app doesn't have to be intricate in order to be effective. All it has to do is create a visual of your spending. By looking at it, you'll get to know exactly how much you're spending and where your hard-earned money is heading.
08. ARM YOURSELF WITH CASH.
Like apps, using cash creates a visual for your holiday spending—the old-school way. Ditching the plastic for crisp bills will show you exactly what is leaving your bank account. There's also a better chance that you'll pay closer attention to your purchases, lessening the opportunity for impulse buys.
Psychology Today says that people subconsciously forget the concept of limits when using credit cards. Consumers are willing to spend twice as much on something when using plastic over cash. While it's a scary thought, this further emphasizes the importance of a trip to the ATM. Ultimately, cash will save the day—and your budget.
09. SHOP ALONE.
Like eating, shopping becomes a social activity the moment someone else enters the picture. And while the company is appreciated, a shopping buddy might actually do more harm than good.
When you're with someone else, you're likely to do more browsing as you chat. And as your friend does her own holiday shopping, you'll probably wander through stores you normally wouldn't have. This can throw anyone off course.
For the most budget-friendly approach, shop by yourself. This will also give you space to focus on the task at hand. Need to give yourself an extra nudge? Schedule a dinner date or non-shopping activity later in the day. Knowing that your presence will soon be expected will help you get in and out instead of shopping the hours away.
10. USE REBATES.
For prime budget-planning arsenal, check out rebate websites before you even start shopping. These sites will give you cash back based on a certain percentage of your purchase. You can even plan your purchases accordingly based on the retailers and items listed. Popular ones include Ebates, CashbackHolic, and Mr. Rebates. Some platforms require you to use a specific link, and others require proof of your receipt. Because rebate companies are separate entities from retailers, you can still use retailers' current promotions and coupons on top of these rebates. How's that for spending wisely?
11. GIFT A VOLUNTEER EFFORT.
Help your loved ones help others by leading a group volunteer effort. While we totally encourage volunteering during any time of the year, the holidays open up the perfect opportunity to reach out to others who need it most.
Luckily, organizing a community service event doesn't have to be stressful. Keep it simple and local. Contact nearby clothing drives, shelters, and soup kitchens to inquire about group opportunities. Typically, these programs will be more than thrilled to have a solid group of volunteers come in at once.
This type of gift is both inexpensive and productive. It's the epitome of "a gift that keeps on giving." Group volunteering is especially ideal for children and young people who are still learning the importance of community and relationships. It will double as the ultimate bonding experience for your loved ones, providing something a tangible item could never offer.
12. SKIP WRAPPING PAPER.
Going paperless doesn't stop at greeting or gift cards. Instead of splurging on fancy wrapping paper and ribbons, consider using resources that you have on hand. Again, the key is to think simply. Newspaper is accessible, inexpensive, and gives off an edgy vibe. Brown paper bags can be cut into sheets and decorated by hand for an artsy touch. Have some old maps or damaged books whose pages you can tear out? Those can work, too. They'll be a hit with travel-lovers and bookworms, respectively. Or opt for fabric, from old clothes to inexpensive thrift store finds. Use shimmery garments for something quintessentially festive. For a cozier touch, turn to our graphic designer and photographer's brilliant sweater gift wrapping.
These options offer the perfect canvas for customization. To add cheap and easy holiday flair, bring on the paint, glitter, and stamps. If you have children, let them decorate and draw on the makeshift wrapping paper. Relatives adore this stuff.
Now that you're armed with twelve budget-saving tips, you'll be able to spend that hard-earned cash wisely. Remember, gifts don't have to cost much to be awesome. Take the time to think carefully about each recipient and what you love about them. After all, this is what the holidays are all about.
Photo Credit: ProFlowers