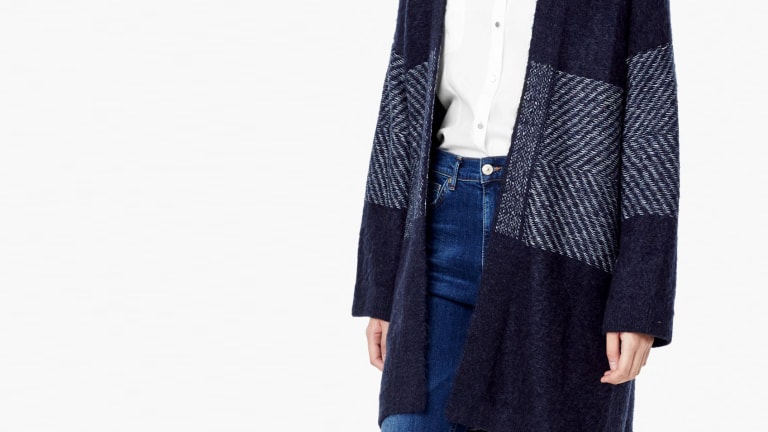 The Best Sweaters to Flatter Your Body Shape
Make the most of this wardrobe staple with the right style for your figure.
Lovers of comfy, cozy clothes—rejoice! It's officially sweater weather. If you're thinking sweaters are unflattering because of your hips, your chest, or even your shorter frame, think again. There's a warm knit for everyone—regardless of your body type.
Keep these basic principles in mind next time you're sweater shopping. Once you know what to look for, finding the perfect cold-weather top will no longer be a source of stress.
Pear //
If you are a pear shape, you want to stay away from long, clingy sweaters that hit right across your hips—a line going across your widest point will make your hips appear wider. To flatter your shape, go for shorter sweaters that hit just at your hip bones. A shorter sweater in a chunkier fabric or a loose fit will create volume on your torso and balance out your hips. Loose, long sweaters that hit mid-thighs are also flattering for pears. In terms of prints and patterns, try horizontal stripes that create the illusion of having more width in the right places.
Hourglass //
It's all about that waist for hourglass shapes. Your shape is already very proportionate, so the goal is to maintain that proportionality and to not lose it in excessive fabric. A classic lightweight, form-fitting sweater looks great on you, especially because it highlights your curves. Lightweight fabrics will complement your shape by contouring your silhouette. If you really want to amp up the curvy factor, try a peplum.
Rectangle //
If you're a rectangle shape, have fun with bold fabrics and patterns. To achieve a more shapely figure, pick sweaters that are longer and chunkier and have varying stripes. The thicker fabrics and longer silhouettes will give an extra curve to your shape—plus, they're the coziest of sweaters. Variegated horizontal stripes will also create the illusion of varying proportions, so remember to go bold with your sweater choices this winter.
Heart //
If you're a heart shape, you're probably already narrowing your eyes in skepticism. And you have good reason! Heart shapes have the hardest time with sweaters because sweaters already naturally enhance every curve with their thick fabric. Because heart shapes are the curviest on top, a classic sweater may seem like a no-no, but sweaters are not off limits. The best way to flatter your shape is to go for open cardigans in draped fits, which allows for a non-clingy fit. The cut of a long, open cardigan creates elegant vertical lines, which will give the illusion of a more balanced silhouette by elongating your torso.
Petite //
When you're petite, finding a sweater that doesn't drown your body is the biggest battle. If you're unsuccessfully wandering the petite section, try regular-size sweaters in shorter cropped fits (as they will hit you at the hips or so), lightweight fabrics, small prints, and fitted silhouettes. Lightweight fabrics will prevent your frame from being overwhelmed in heavy material, while a fitted silhouette will keep your petite shape. Avoid unfitted sweaters with big prints on them; they'll make you appear smaller than you actually are.