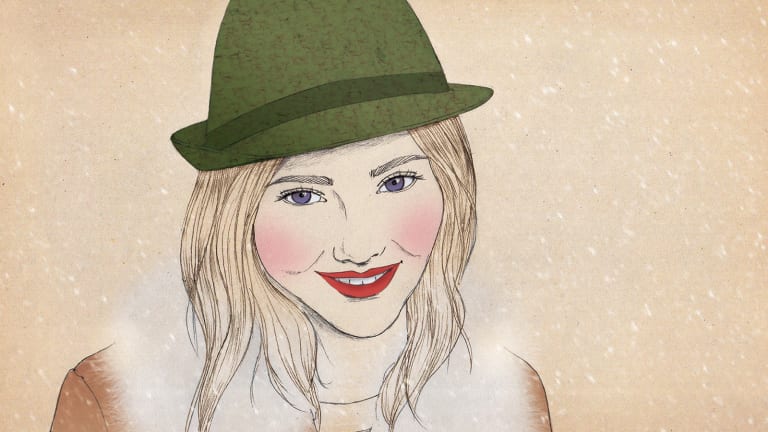 Ever Wondered Which Hats Suit Your Face Shape? Here's the Answer
Verily's essential guide to the most flattering hats for your face shape
Finding a flattering hat is sometimes just as complicated as finding a pair of flattering jeans. Many women have written off particular styles of hats as definitive "noes," never to be worn in public. But if you've ever wondered why a fedora looks so good on your friend yet horribly awkward on you, we're here to help. There is a science behind finding the best hat for your face shape, just the same as finding a pair of flattering jeans for your body shape—you need to know what to look for.
If you have an oval face shape, you're in luck—you can try any of these hats. For the rest of us, read on to find the best hats for your face shape.
Long Face //
Wear: hats with fitted crowns, hats that cut across the forehead, and hats with wide brims

Avoid: beanies, hats with short brims, hats with shallow crowns, and wearing hats farther back on your head
If you have a long face, you might have already discovered that a beanie positioned at the top of your hairline is not very flattering. Why? Because it exposes your entire face and elongates it—the opposite of the balance you need. Instead, opt for hats that create width rather than length. For example, a floppy hat with a deep crown will create a horizontal angle to your face, making it look less elongated. Hats that hit across your forehead, such as a beret, also reduce the length of your face. For those especially freezing days, try a trapper hat. The volume on the sides will create more width (and of course keep you cozy).
Square Face //
Wear: circular-style hats, round brims, cloche hats, slouchy berets, and beanies
Avoid: fedoras and hats with angles
For a square face shape, the goal is to wear hats that soften your angles. Angular hats, such as fedoras, clash with your strong jaw game. To balance the angular width of your jaw, forehead, and cheekbones, go for a floppy hat with a long, soft brim. Beanies and berets also soften your angular features, especially the slouchy fits that show your hair toward the front of your face. The retro and ever-classy cloche hat of the 1940s is also particularly flattering to your bone structure, as it can support the bold style, while the rounded shape adds some softness to your look.
Heart Face //
Wear: fedoras, short brims, thin-knit sock hats, and jockey caps
Avoid: wide brims, floppy hats, and thick-knit beanies
Wide-brimmed, circular floppy hats unfortunately do no favors for a heart shape. The wide brim enhances the wideness of your forehead and cheekbones and the narrowness of your jaw—essentially, it dramatizes your heart-shaped face.
Opt for hats with shorter brims and angles—for example, the fedora. The slanted brim will add the illusion of width to your chin area. Newsboy caps, jockey caps, and baseball caps also support the narrowness of your jaw without highlighting it because the width of the brim does not extend past your cheekbones. For winter weather, wear thinly knit sock hats at your hairline to elongate your face without adding more width to the top of your head.
Round Face //
Wear: hats worn farther back on your head, shallow crowns, fedoras, angular hats, and long sock hats
Avoid: berets, deep crowns, circular brims, and hats that cut across your forehead
If you have a round face, you want to avoid hats of a similar shape. Floppy hats with wide, soft brims will make your face appear fuller and rounder. Beanies will also overemphasize the soft roundness of your face. Go for hats that are meant to be worn high on your hairline or even farther back, Boy George–style. This style of hat with a high crown will create more length, balancing out the roundness.
Hats with interesting angles also look great on you because they add more dimension to your bone structure. Try fedoras or retro ladylike hats with angles. To beat the winter freeze, wear long sock hats at your hairline to create the illusion of a longer face. Fun pom-poms or extra-long slouchy fits are great lengthening embellishments.
Diamond Face //
Wear: hats worn farther back on your head
Avoid: wearing hats across your forehead and floppy hats
If you're a diamond face shape, you have a lot of width around your cheekbones and eyes but have a shorter, more narrow forehead and jaw. The goal when picking out a hat for a diamond is to find a shape that creates more length. This can be accomplished with hats worn farther back into your hairline or just at your hairline. Try styling your beanies farther back and picking out hats that have shallow crowns, which are meant to be worn farther back on your head.