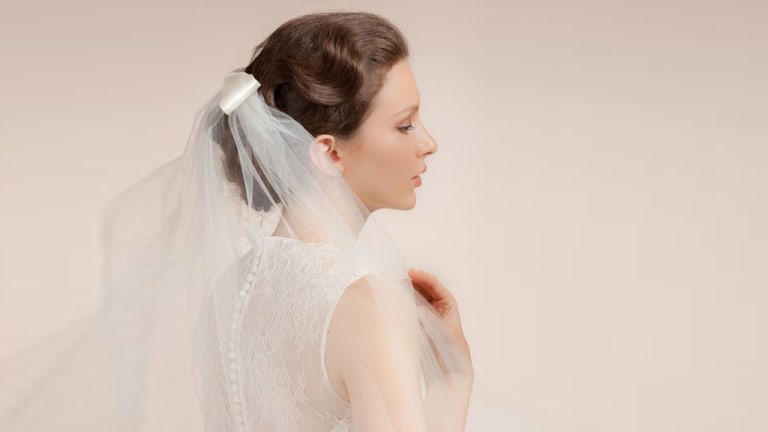 Looking for Wedding Inspiration? These Are the Etsy Shops Every Bride Needs to Know About
Bridal inspiration has never been so easy and fun.
Let's admit it, wedding inspiration is something women look for in every stage of life. Whether you're the newly engaged bride who has begun dreamily envisioning your big day, the soon-to-be bride putting the final touches on your wedding, or someone who just loves looking at pretty things, there are tons of shops on Etsy to fuel your wedding daydreams. We've rounded up a few of our favorites for your big day—real or imagined!
Which Goose //
For the ultimate Pinterest bride, meet Which Goose. Abounding with bridal wreaths, quirky boutonnieres, floral hairpins, and unique bridal keepsakes, Which Goose is perfect for the creative bride with a bohemian flair. Plus, how darling are these photos?
L'Amei //
If planning your wedding ensemble is similar to creating a work of art, you want to make sure every detail completes the picture. L'Amei has mastered this art form, creating dresses, headpieces, and veils that appear to be paintings themselves. With pops of bright color and uniquely designed dresses, L'Amei has turned us all into bridal art enthusiasts.
Agnes Hart //
For the bride who swoons over vintage wedding photos from the early 1900s, the designs of Agnes Hart will fulfill your dreams of a classy retro wedding. Lace cap veils, mesh birdcage veils, pearl headband crowns, art deco combs—the previous century most certainly did wedding attire right.
Wanlu Bridal //
Calling all blushing brides! The delicate laces and dainty hairpieces of Wanlu Bridal are ideal for the ultimate feminine bride. These whimsical and innocently romantic pieces recall the dream wedding dresses of girlhood—how could we not be in love?
Erica Elizabeth Design //
If you weren't going to wear anything in your hair on your wedding day, surely Erica Elizabeth Designs will have you considering otherwise. With photos that capture the ethereal essence of every girl's dream wedding day, Erica Elizabeth's headpieces are delicately exquisite and never over the top.
Ivory Silk //
If you're attracted to whimsy, delicate laces, and billowing chiffons, the dresses and veils of Ivory Silk are perfect for you. These fairy tale–worthy pieces also have a Victorian elegance, making them romantic in every way.
Marisol Aparicio //
If you prefer your romantic wedding ensemble to have an air of sophisticated maturity, look no further than the stunning designs of Marisol Aparicio. The intricate lace of Aparicio's designs hark back to the regal queens of yesteryear. We especially love the finger lace cathedral veils—they'll have everyone sighing as you walk down the aisle.
Mimetik //
For the modern bride who loves loose, flowing fabrics and elements of romance without being full-on whimsical, Mimetik is the one-stop boho bridal shop for you. Mimetik's comfortable yet flattering silhouettes are perfect for dancing all night, and who doesn't feel like dancing on their wedding day?