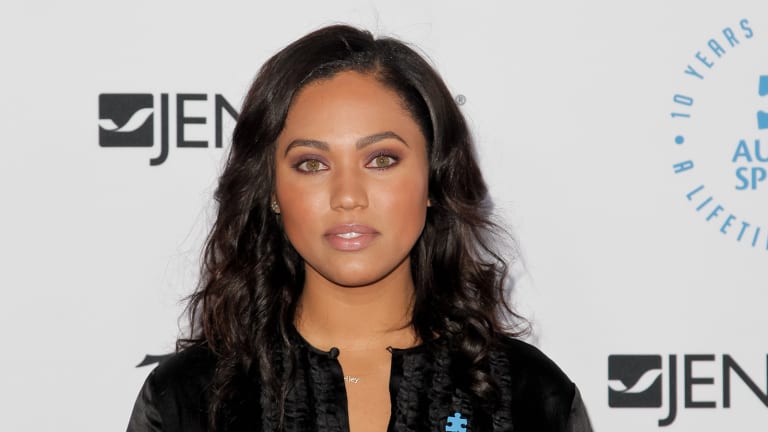 Ayesha Curry Wasn't Slut Shaming When She Said She Prefers to Dress 'Classy'
Clothing has the power to communicate, and that's a good thing.
Ayesha Curry, wife of NBA MVP Stephen Curry, sparked a debate on Twitter this past weekend by saying, "Everyone's into barely wearing clothes these days, huh? Not my style. I like to keep the good stuff covered up for the one who matters." She followed up her original tweet a few minutes later with the assertion that she'd "take classy over trendy any day of the week." Later, she pleaded with others to "not tear women down and degrade them," but not before somewhat of a controversy had erupted. Some accused her of "slut shaming"; others defended the tweet as merely an assertion of her personal taste.
To be completely honest, I do not think this is news—not in and of itself. But it is the most recent of several incidents in which someone's apparent judgment about how people ought to dress has drawn criticism. Just last week, Buzzfeed published a listicle cataloguing all the items of clothing women have been told not to wear in 2015. With Amber Rose's "slut walk" last month and the ongoing #FreetheNipple campaign, there is a palpable resistance to present expectations of how women ought to dress.
In light of all this, I think it is worth asking ourselves what specifically about "slut shaming" or talk of "classy" clothing offends us. Is it something about society's current expectations of how people ought to dress that is oppressive? Or is any expectation of how we ought to dress, any notion of proper public attire, oppressive?
The reason I ask this is that there seems to be a common opinion that any offense taken or distraction that results from "inappropriate" or "immodest" dress is the fault of no one but those offended. And that in an ideal world, it would not matter how we dress. Men would not find cleavage distracting, employers would not find ripped jeans disrespectful, and it would be as acceptable to show up in a court of law in a bikini as a three-piece suit.
As appealing as it sounds, this ideal is bizarre for a number of reasons, not the least of which is the fact that it seeks to deny or destroy the communicative power of clothing. Whether it is a statement necklace or our desire to "express ourselves" through our personal style, the language of fashion is one with which our society is very familiar. But in a world in which we are desensitized to the nuances of fashion, the "statement" in the statement necklace no longer exists.
From where I stand, insisting that our clothes ought not matter is as absurd as insisting that words ought not matter. Clothes, like words, are powerful. Clothes, like words, can distract, offend, or disconcert. Allowing the fact that others might see you to influence how you dress is no more absurd than allowing the fact that others might hear you to influence how you speak.
This may seem like an absurd comparison, but I entreat you to consider it. There is nothing inherently offensive about the combination of letters or sounds that make up four-letter words. And yet, as the English language exists and is used today, there are some terms and words that are highly offensive or inappropriate. Sure, what is offensive or inappropriate varies over time, circumstance, and dialect, but they nonetheless exist and impact people.
If my coworker sat at his desk repeating racist and sexist slurs while he worked, I would likely be both distracted and offended—not because the sounds are inherently distracting or offensive but because in this day and age the meaning of those sounds are distracting and offensive. Likewise, if a coworker insisted upon coming into work naked, I would likely be distracted and offended, not because his nude body is inherently offensive or distracting but because in the modern workplace in 2015 in America, nudity is inappropriate and distracting. Expecting our words to carry no meaning, to have no impact on those around us, is silly. Expecting such of our clothing is silly as well.
You may point out, and rightly so, that it doesn't have to be this way. In another world, the "f word" would not shock, and nudity might not turn heads. But the reality is that as long as clothing and language have the power to dazzle, to impress, to touch or move, to "say something," they will have the power to offend and distract. And I'm not sure that eliminating the latter is worth losing the former. Who hasn't felt the rush of telling the world that you won't be messed with today by going out in head-to-toe black? Who hasn't pulled out a sundress on a second date to set a flirty vibe? No, wearing all black doesn't necessarily mean you've given up on life, and wearing a sundress doesn't necessarily mean you are feeling flirty. The communicative power of clothing is not as direct or easily interpreted as the spoken word. And it certainly isn't a language that anyone should pretend to know fluently. But it is still powerful and still rather delightful.
You may say that current standards of dress may be classist or sexist or simply too rigid, and I might agree with you. But I would think twice about arguing that how we dress ought not matter at all because the fact that it does is a really wonderful thing.
Photo Credit: Getty Images