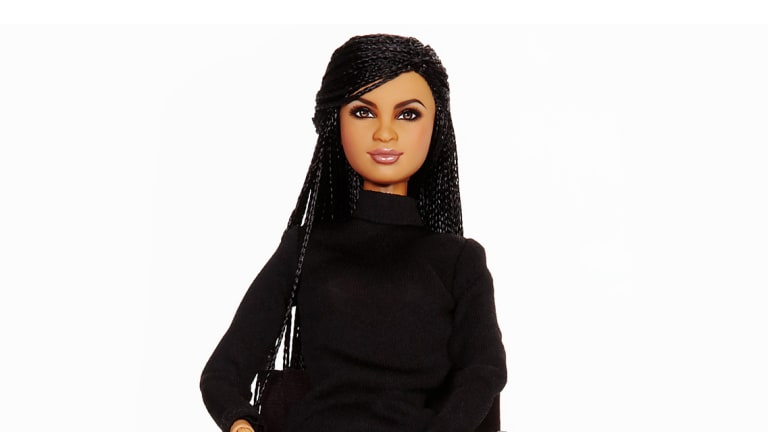 Meet the Barbie Doll That Sold Out Within Hours of Being Released
Amid declining Barbie sales, Mattel has finally struck a chord.
When I was a little girl, I spent hours alone in my room with my Barbies, creating elaborate stories and love lives and adventures for my cast of dolls. Each doll was a blank slate on which I could project imaginary worlds, changing the rules and circumstances and characters in those worlds day by day. When I got a little older, I was lucky enough to receive not one but two American Girl dolls, Samantha and Addy, each representing a historical, fictional character with built-in contexts to invent new stories around—Samantha, a wealthy Victorian orphan, and Addy, a slave on a plantation. My storytelling skills (and, in hindsight, capacity for empathy) grew with the addition of these dolls to my collection of playmates, as they anchored my fantasy world in something real.
Perhaps this childhood affection for playing with dolls factored into my delight when I read that the limited-edition Barbie inspired by Ava DuVernay sold out within an hour of its release this past week. DuVernay directed the powerful movie Selma that was released last year, becoming one of the handful of women who has directed movies nominated for the Best Picture Oscar and the first African-American woman to do so. Her Barbie doll likeness was originally part of a capsule collection of "Sheroes" created by Mattel earlier this year to raise money for charity. "Embodying the empowerment message the brand stands behind, Barbie is honoring these Sheroes who, like Barbie, have broken boundaries, challenged gender norms, and proven girls can be anything they want to be," the company said in a statement in April. After a successful Twitter campaign, Mattel agreed to release a limited-edition Ava doll to the public.
Mattel is not a company that is known for highlighting diversity or attainable body standards, and its sales have suffered in recent years because of it, as mothers seek out toys that convey healthier and more realistic images to their daughters. To be fair, I don't think my hours of playing with ridiculously proportioned Barbie dolls gravely injured my self-esteem; I mostly remember laughing at how tiny the feet were and how she would fall over if she were real, once I was old enough to notice such things. But I was also quite sheltered in regard to what I read and watched, so Barbie, with her tiny waist and large chest and thin limbs, was just a drop in the bucket of all the other girl characters that were shaping my perception of what it means to be a woman—girls with spunk and flaws and big feet to boot.
Since the first Ava doll sold out, Mattel has re-released doll (alongside a smart new ad campaign). This is a good sign that the company is beginning to understand that its future lies in showcasing REAL women—women who inspire with their accomplishments—and that these inspiring women come in many colors, shapes, and sizes. It makes me very happy to think about the little girls who were lucky enough to snag one of the coveted dolls playing make-believe and shaping their own stories of a successful, artistic woman of color. Maybe the easier it becomes for kids to have opportunities to create imaginary worlds that feature both dolls that look like them and dolls that look different from them, the easier it will be to accept and celebrate that diversity of beauty in real life.
Photo Credit: Mattel