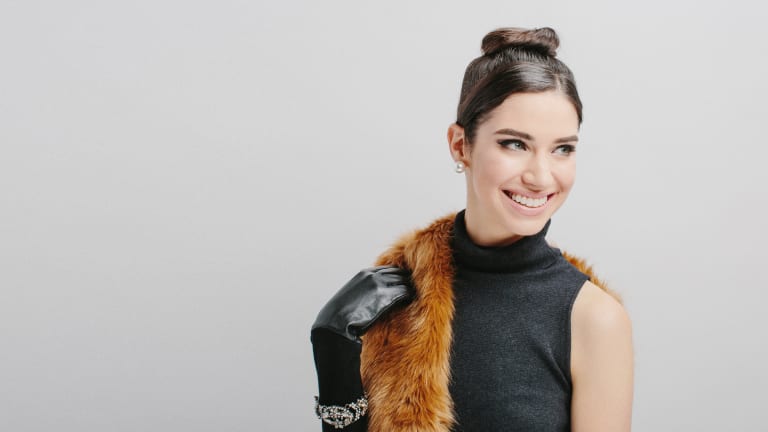 6 Easy Steps to Recreating Audrey Hepburn's Beauty
Add a little Breakfast at Tiffany's magic to your makeup routine.
When it comes to getting all dolled up for a party or a Friday night out, who's better inspiration than Audrey Hepburn? Famous for her bold yet feminine brows and fearless cat eye, Hepburn's iconic beauty has been coveted by millions of women everywhere since the release of Sabrina in 1954.
Luckily for us, Hepburn's trademark features are easy to recreate. We asked Jas Lee from Jump Management to help us break down the classic Breakfast at Tiffany's beauty formula with a modern twist.
01. Bold Brows
Having bold brows (whether natural or filled-in) is quite possibly the most important part of transforming into Audrey Hepburn. Lee filled in Maggie's brows with a powder and brush to create a more natural look with soft edges. Filling in your brows first will look intense without the rest of the makeup, but don't worry, it'll all come together for an authentic Hepburn look.
02. Cut Crease Eye Shadow
Some of Hepburn's most iconic looks come from the 1960s, when cut crease eye shadow was all the rage. Cut creasing is the overall application of a lighter shadow on the lid and brow bone coupled with the application of a darker shadow in the crease of the eye, just below the brow bone. This creates the appearance of having large, defined eyes. Lee then applied the darker shadow in her palette into Maggie's crease, starting at the edges of the eye and creating a sideways triangle. She then blended along the crease for a more natural look.
03. The Cat Eye
A Hepburn look wouldn't be complete without a fabulous cat eye. Lee used a gel pot and liner brush to create a thick, sweeping line. She began the cat eye at the inner corner of the eye and then slowly widened the line to gradually create the bold winged tip at the outer edge. The result? The playfully glamorous cat eye that Hepburn is so famous for.
04. False Lashes
To create the illusion of Hepburn's especially wide eyes, Lee used false eyelashes. False lashes also complement the bold liner and crease shadow look.
05. Pink Lip
To make this look more modern, Lee applied a natural pink lip rather than a red one. The subtle hue allows all of the attention to go toward Maggie's stunning eyes while also keeping the look fresh and youthful.
06. Topknot
To bring the Breakfast at Tiffany's inspiration full circle, Lee created a stylish topknot, complete with Hepburn's trademark bangs. We added a few classic Audrey Hepburn accessories to complete Maggie's look.