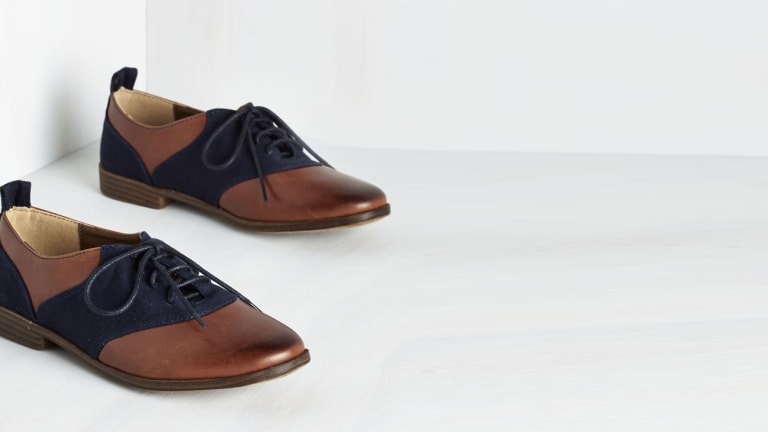 Faux-Leather Pieces Less Than $50 That Don't Look Cheap
Love leather without breaking the bank this season.
Want to get the leather look without shelling out the dollar, dollar bills? While we believe in investment pieces, we also believe in having fun with trends. If you know you'll wear that nice leather jacket for years to come, it might be worth hundreds of dollars, but for some pieces, going faux is just fine.
The key to finding faux leather that still looks high quality is choosing durable and textured materials. A thin synthetic material is going to look like it was made in the same factory as your shower curtain—not exactly stylin'.
From bags to accessories, leather isn't just for tough girls. Yes, it will get you to biker-chic, but also to bohemian, minimalist, and feminine fashionista. Here's how we're loving leather without going broke this season.
Bags //
When buying a non-leather bag, you want to look for a well-made product. Look for strong structure and a proper lining so that it will last. Need some flair? Try fringe accents, a braided strap, or gold details.
Clothes //
Feminine and refined meet definite edge in this faux-leather pencil skirt. And leather pants don't have to be left in the eighties; they just need a bit of an update. For leather clothing, aim for modern and sleek because a professional cut will take you from your 9 a.m. meeting to cocktails with coworkers. These "I tried a bold trend" pieces might just make their way on to your list of no-fail favorites.
Shoes //
For cute flats, little loafers, or one-time wear-in-a-wedding heels, synthetic leather shoes will, ahem, walk the line. That is, the line between style and savings. Sometimes they're even a little more weatherproof and don't require as much care.
Accessories //
When you just want a touch of leather, try a tassel necklace, ladylike gloves, or posy earrings. And, in case you're tired of black, these pieces come in lots of lovely colors because faux leather has a soft side, too. Because these pieces are smaller, it's usually harder to tell that the leather is actually pleather. Still, keep an eye out for quality construction. You don't want fraying edges or poorly stitched seams.