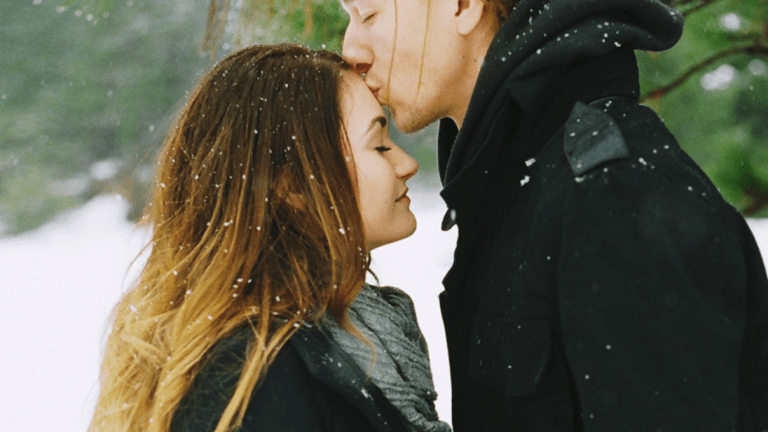 Affordable Date Ideas That Make the Most of the Festive Season's Romance
It's time to embrace all things merry and bright.
When I think of the holidays, I think of cozy nights around a fire, wafts of pine, twinkling lights, and lots of togetherness. In reality, things always end up being quite a bit more harried. Instead, togetherness becomes bumping into hundreds of people's shoulders at the mall while buying gifts. Or chitchatting with all my friends (and some strangers) at copious ugly sweater parties. Or even me "alone together" with my computer, trying to get work done ahead of schedule so that I can enjoy a few days off for the holidays.
Sadly, the togetherness I really crave isn't always so easy to come by this time of year.
But I'm resolute to change that. I refuse to let the holiday bustle get the better of my relationship with my S.O. this year. I will have dates with my fiancé, Joe, and they won't all be multitasking present-buying dates. These dates will be inexpensive and oh-so cozy, merry, and bright. Here are some ideas for inexpensive and easy dates to do before the new year.
01. Christmas Tree Choppin'
This was all Joe's idea, and it was so incredibly charming and fun. If you celebrate Christmas, make a date of fetching a tree. Rather than picking up a pre-chopped tree, seek out a more rural spot to chop down your own. Joe and I found a farm not far from the city that allowed us to cut down our own tree for $20 less than a pre-cut tree. The farm was a romantic backdrop for our date. I got to tease him about his manly muscles, and we daydreamed about making this outing a family tradition when we are married.
02. Christmas Tree Decorating
This idea is the perfect sequel to the Christmas tree chopping date. The holiday season is busy enough, so you don't have to rush to get the tree and decorate it on the same day. Go ahead and squeeze this Christmas tree for every activity you can (tossing it out can even be a date, amirite?). Prepare some festive snacks, and break out your box of ornaments. This date doesn't even have to be your own tree. Joe and I decorated my parents' tree, and they were more than happy to relinquish the job of stringing the twinkle lights. After the tree is done, turn off the rest of the lights in the room, and enjoy curling up on the couch to bask in the soft glow of your handiwork.
03. Holiday Lights Tour
Break away from the holiday bustle, and escape into a world of festive lights. Pick up hot cider to go, and drive slowly through that neighborhood that has a reputation for going all out during the holiday season. You can also opt to bundle up and stroll through main street—no shopping—just soaking in the lights and decorative storefronts. When I lived in New York City, I used to love walking down Fifth Avenue at night or through the little winding streets in Soho. This doesn't take a lot of time, but it's a great way to disconnect from technology, soak in the charm of the holidays, and get in some quality togetherness.
04. Cookie Making
Don't let your guy sit by as you do the baking; this a team project. Trust me, if you go with sugar cookies, he will have fun rolling out the dough and decorating them. Erica once mentioned that the best date she had was making cookies with a guy. It gave them a project and helped the conversation stay fun and flirty.
05. Volunteer
Don't hoard all the holiday cheer for yourself. Grab your guy, and serve at a local soup kitchen, or call a local nursing home and arrange a time to stop by. It's so easy to think of other things you can be doing, but the sacrifice is worth it. It will warm your hearts to see those in need being cared for by complete strangers, and the elderly folk will be overjoyed to have your company. Set some time aside after to have a coffee and talk about the experience and what it meant to you.
Photo Credit: Taylor McCutchan