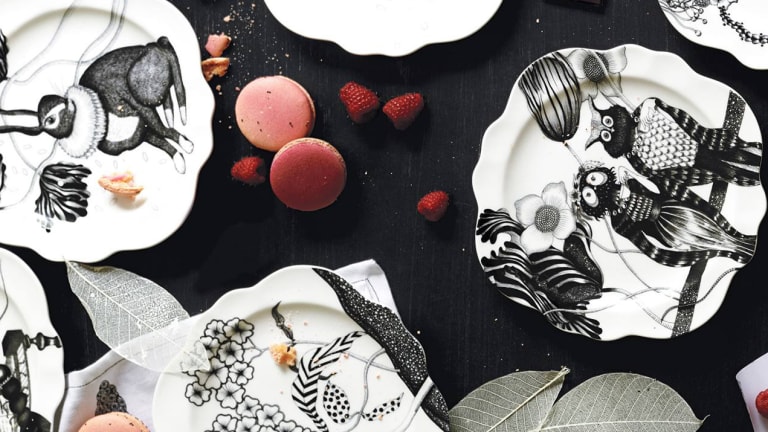 The Verily Editors' Last-Minute Gift Guide
We set ourselves the task of finding each other great personal gifts under $50 each.
Every year the Verily editors do a Secret Santa gift exchange. This year we decided to really think about the personality type of our giftee and share some of our thoughts for last-minute gifting. Here are some ideas we've come up with that just might suit the ladies in your life, too.
For a little eleventh-hour Christmas shopping, these items are affordable and beautiful!
The Nesting Thirtysomething / to Kara from Haruka
Kara is a woman with a great home who loves to entertain friends. She's a traveler, a constant learner, and definitely someone who is curating a great life for herself. These are ideas for the woman in your life who's sure of herself and likes unique treasures that reflect exactly what she loves in life.
01. Jack Rudy Cocktail Co. Aromatic Bitters: Kara already has a handsome bar setup, so I knew that I needed to think outside the box. That was when I discovered Jack Rudy Cocktail Co., a small-batch cocktail company based in Charleston, South Carolina, and Lexington, Kentucky. This particular bitter is infused with citrus and winter spices—a perfect companion for quiet nights in.
02. Iona Cheese Board (similar here): Kara's East Village apartment is an eclectic mix of wooden details and geometric lines. This cheese board would be a trusty centerpiece when hosting friends.
03. Sunday Suppers: Kara is a big fan of Karen Mordechai's work and has been eyeing some of her workshop lineups. In the meantime, I hope she finds this cookbook a useful way to delve into Mordechai's culinary and photographic creations.
04. Cordito Cord Organizer (similar here): Practicality meets style in this handmade leather cord organizer. Available in Verily teal, this handy wrap would be perfect to bring along on Kara's many business trips and adventures abroad.
05. Vertical Stripe Oversize Blanket Scarf: After having Kara model for us in this shoot, we have been thoroughly impressed by her ability to pull off oversize blanket scarves. This number would be an airy spring alternative to the dark plaid scarf pictured here.
The Inspiration Seeker / to Mary Rose from Briehn
Mary Rose looks for inspiration everywhere. She's always in the know about what's happening and what's new. These are ideas to keep the creativity and curiosity alive in your culture-loving friend.
01. Enchanted Forest: An Inky Quest & Coloring Book: Inspired by the recent coloring books for adults craze, this will indulge Mary Rose's inner artist and let her escape to a fairy-tale world. Add a set of colored pencils to complete the gift.
02. "But First, Coffee" Polka-Dot Mug: This is the perfect little gift to get Mary Rose's creative juices flowing in the morning.
03. Codify Pencil Holder: She'll always have a writing tool at the ready!
04. Q&A a Day 5-Year Journal (similar here): Here Mary Rose can record her thoughts, dreams, ideas, and feelings—this journal provides questions to prompt her.
05. The Museum of Arts & Design Out-of-Town Membership: This is a thoughtful gift that will endlessly inspire her, whenever she visits NYC.
The Healthy Home Cook / to Monica from Krizia
Monica truly embodies a healthy woman in both mind and spirit. She sticks to a paleo diet and loves to exercise. Whether she's cooking with her fiancé or feasting with friends, Monica always wants good food and good company by her side.
01. Against All Grain: Meals Made Simple: Monica eats paleo, a diet that focuses on eating whole foods such as meats and vegetables. The recipes in this book are so tasty that her new husband won't even notice they're gluten- and dairy-free.
02. Culinary Herb Garden Maker: Everyone knows that food tastes better when you grow it yourself. With Monica's budding affinity for gardening, I know she'll put this DIY herb garden to good use in her new apartment come springtime.
03. Bien Fait Tote (similar here): Monica's favorite clothing brand of all time is Madewell, and there's going to be a store right below her new apartment (gulp!). I thought I'd help her rep her new roots (she's getting married in February) while hauling her farmers market finds and gardening bounty in this cute canvas carryall sporting the words "made well" en français. Chic and functional? But of course!
04. Raised Bloom Muffin Pan: Because she's allergic, Monica's on a quest to add gluten- and dairy-free bread and pastry recipes to her repertoire. With this stylish muffin pan, her treats will be as pretty as they are delectable.
05. Table Topics Conversation Starters: Monica is one of the cheeriest people-persons I know. I can totally see her using these cards to spark lively chitchat when she hosts people for dinner parties.
The Slow-Life Connoisseur / to Krizia from Megan
Krizia is several women in one. She's a foodie, a culture lover, and a world traveler, not to mention a devoted wife, mother, and excellent friend to many. She's a woman who appreciates unusual finds and quality things that will enhance her home and life. To keep her culture curiosity piqued, here are some gift ideas.
01. Museum Tickets: A culture lover wants to explore, so buy her a pair of tickets (either for you to enjoy together or for her to take a guest of her choosing) for a day at a museum. Any gift that is experience-based is a great idea.
02. Tocca Wanderlust Gift Set: Beautiful, a little indulgent, and extra-relaxing—this set with a silk sleeping mask, candle, and eau de parfum is a perfect gift.
03. Stationery or Journal: This gal loves to be connected, whether journaling for herself or reaching out to a loved one with a simple note. The gift of a journal or personalized note cards will definitely please her.
04. Quality Kitchen Wares: A dish towel is not just a rag to a lifestyle guru. She appreciates quality, and her kitchen is one of her havens. Buy her a nice apron or high-quality kitchen linens (dish towels, pot holders, etc.). This is something she'll love but wouldn't necessarily buy for herself.
05. Terrariums: These modern mini gardens are fun ways to bring a little beauty and trendiness into your home. They're simple and unique but also slightly obscure—the culture lover in your life will love them for their aesthetic value and the fact that they're a conversation piece.
The Beauty Seeker / to Lilly from Sophie
For Lilly is a lady of style and substance. She appreciates simple beauty and loves a good name-brand product just as much as a one-of-a-kind vintage find. Here are some gift ideas that will help any woman lead a beautiful life.
01. 2016 Birch Floral Planner: This is the perfect gift for someone like Lilly who has a complicated schedule that involves running from photo shoot to photo shoot. No one beats Rifle Paper Co. for fresh patterns and rich jewel colors.
02. BKR Water Bottle: Ideal for someone who is often on the go and needs to rehydrate in style, this lovely pastel bottle makes a great accessory for most outfits.
03. One Love Organics Dry Shampoo: This stuff is legendary, strengthening and nourishing hair between washes so that you don't get that 'off-day' hair look.
04. Mason Jar Candle: With scents of blue spruce, pine, and camphor essential oils and made with American-grown soy, these candles are the perfect relaxation gift.
05. Bangle: Lilly is a big fan of elegant accent jewelry, and this lovely little bracelet has a wonderful story, too; every bangle sold by Refuge helps support the education of young refugees in camps.
The Quintessential Millennial / to Megan from Kara
Megan, by her own admission, is your quintessential millennial: a little bit of Instagram loving, a dash of wanderlust, and a heaping dose of social time with friends. Here are a few options to keep the dreaming going.
01. Lip Tease Mug + Marshmallows: Who doesn't need a good mug for nights in catching up on articles and books? Add these decadent marshmallows on top of a cup of hot cocoa, and you won't even mind the chill outside.
02. places to go, people to see: As part of the generation that values experiences over things, Megan seems to have caught the wanderlust spark. Why not put a little fuel on the fire?
03. iPhone Case: Because obviously you need your most important accessory to be worthy of a friend's Insta shot, too.
04. Ultra-Portable Balloon Speaker: for impromptu dance parties with the #squad.

05. Elephant Bottle Stopper: I know Megan loves a good Cabernet, so this will come in handy in case her friends don't finish that (second) bottle of wine on girls' night.
The Classy Hostess / to Katherine from Monica
If there is anyone who knows how to put a room of people at ease, it's Katherine. Full of stories, humor, and fun, Katherine can work a room in the best sense of the word. And her yearly Mardi Gras party is not to be missed! Here are fun ideas for the "hostess with the mostest."
01. Gilded Rim Stemless Glass: I covet these glasses myself, and I can definitely see the lightly colored glass adding both spunk and charm to a night of wining and dining at Katherine's home.
02. Antique Bar Place Card Holders: After talking to Katherine, I am sold on the importance of thoughtfully assigned seating at a dinner party. These antique card holders add understated elegance to a table that can work for a casual brunch or a fancy dinner party.
03. Mid-Century Cocktail Shaker: Katherine once admitted to me that her husband was the one who usually muddled up something special for happy hours, but Katherine's Dark & Stormy that day was pretty darn good. Here's to trying out new recipes and wowing her guests with her bartender savvy.
04. Wild Masquerade Canape Plate: This quirky little owl dish jumped out at me as the perfect addition to her annual Mardi Gras bash while also being tasteful enough for a tea or tamer affair.
05. Woodfire Mercury Glass Candle: Every hostess worth her salt needs ambiance, and I thought this three-wick candle would do the job. Two for the table or one in the foyer will add soft light and a lovely scent to welcome guests.
The Artistic Soul / to Haruka from Lilly
Haruka is an eclectic soul. She's very much a modern woman; all of these gifts for her reflect her edgy minimalist taste, thirst for adventure, and dry sense of humor. Here's to exploration!
01. Black Notes Journal: Haruka and I first bonded over spontaneously deep conversations. She is the most empathetic person I will ever meet—she cares deeply about others and expresses her feelings with such sincerity and passion. This vegan-leather journal is the perfect outlet for that.
02. Black Ruffle Blouse: Ever an artist, Haruka religiously sticks to her minimalist black-on-black-on-black wardrobe. Why not add to it?
03. NYC Subway Map: Haruka is a world traveler—but she is a Brooklynite through and through. For a little reminder of the beauty of home, a vintage map of New York City, with an emphasis on Brooklyn and Queens, is just the thing.
04. Don'ts for Wives: Admittedly, this is a gag gift. Haruka is all about being a strong woman in the city, so I thought this old-school book on how to be a good housewife would bring some laughs.
05. Tom Hardy Biography: Even the world's edgiest graphic designer with chic bangs and a monochromatic wardrobe has a celebrity crush . . .
The Old Soul / to Sophie from Mary Rose
Sophie is an old-fashioned soul. Gifts for her should be extra-meaningful and unique. Here are some feminine, thoughtful items that will warm her spirit year-round.
01. Rifle Paper Co. Botanical Card Set: Sophie is a lover of letter writing as well as nature, so these cards from Rifle Paper Co. would capture two parts of her personality in one gift.
02. Anthropologie Entwined Collection Two Large Tapers: Sophie's romantic appreciation for a day at the farm in her native England made me want to brainstorm ways to bring it into the home. These wildflower-like candle holders would do just the trick for bringing some outdoor beauty inside to accompany her family meals.
03. Lindt Excellence Chocolate: Everyone loves chocolate, but I've recently learned that Sophie has a particular taste for dark chocolate, so I'd choose a tried-and-true classic bar with caramel and sea salt by Lindt and add some of my local favorites from Cleveland, dark-chocolate-covered pretzels.
04. Moleskine Daily Planner: I heard that in Sophie's recent travels to the United States, she lost her pocket address book filled with friends' addresses for letter writing. This Moleskine planner for 2016 is not only the perfect pocket size for being on the go, but it also contains an address book insert that can be transferred to new Moleskine agendas each year.
05. Cereal Magazine: One thing Sophie and I share in common is a love for print magazines, so it'd be my pleasure to give her a subscription to a treat like Cereal magazine—gorgeous travel and lifestyle content that's just special enough for a gift but, I find, hard to splurge on for yourself.
The Animal-Lover / to Briehn from Katherine
Briehn has a taste for the exotic. She loves to travel to distant locales and is a passionate advocate for the welfare of all animals, especially big cats. The next stamp she's hoping to get in her passport: South Africa. Here are some gifts that will help keep her wanderlust spirit alive at home—until the next adventure!
01. Faux-Fur Infinity Scarf: What better way to keep warm and look fashionable? Imagine her sporting big-cat style for her latest trip.
02. Wooden Cookbook Stand: This cookbook holder not only looks good but also has measurement conversions on the back.
03. Leopard Ballet Flats: ​Briehn loves animal print, so I thought these were just the solution to spice up a black outfit (her favorite style).
04. ​Dueling Shot Glasses​: ​Who could resist these?! From one of Briehn's favorite shops​.
05. Lion Around Print by Katrin Coetzer​: ​A beautiful print would complement her diverse international home decor.