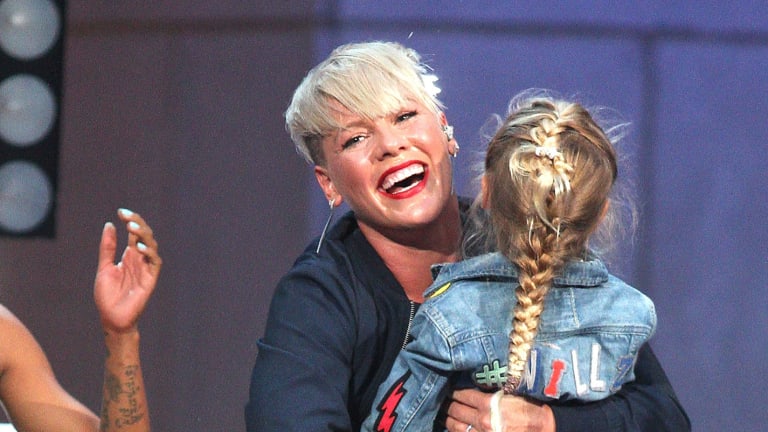 We Love What Adele and Pink Had to Say About Motherhood
It's harder to feel 'sad,' and it's easier to overcome 'heartache.'
At first listen, Adele's new song "Hello" might sound like a post-breakup ballad, but it turns out that it's about working through the adjustment of life as a working mom, reconnecting, and emerging on the other side.
Working mothers face myriad challenges, from navigating maternity leave to choosing (and affording) child care to the ever-present threat of "mom guilt."
How is it different for moms with the occupation of singing Grammy-winning songs?
Speaking with Matt Lauer earlier this week, Adele admitted that she "found [songwriting] impossible for a while" after her son Angelo was born three years ago. For a singer who exploded into fame with an album devoted almost entirely to breakup ballads based on her own real-life heartbreak, the fulfillment that she found in motherhood served as a bit of an occupational hazard. "I didn't know what I wanted to write about," she explained. "What's wrong is I wasn't sad."
Fellow singer Pink stated this week that motherhood has been a healing experience for her as well. "When you watch this bundle full of love and light that's untarnished and untainted by heartache and any of the numerous things that change you, it's very healing. It's a miracle," she said. Pink is mother to 4-year-old daughter Willow.
Both singers have maintained their positions as two of the most acclaimed female songwriters and vocalists of their generation while adjusting to motherhood. Pink's most recent album, 2012's The Truth About Love, sold more than seven million copies worldwide, making it the second bestselling album of her six studio releases. She even let Willow play bells and bass on a couple of the tracks. How's that for leaning in?
And Adele's doing pretty well for herself, too, for those who haven't noticed. "I've never been happier. And I've never been healthier. So I'm good," she told Lauer. Her song "Hello" has become so popular that Saturday Night Live even spoofed its unifying appeal.
"'Hello' is just about reconnecting with everyone else and myself. I couldn't get over my guilt of leaving my kid to go and write a record and stuff like that. So [it's] getting over that—getting on the other side of that. It was just . . . in general . . . hello to everyone."
It's a lovely reminder, and not just about how work–life balance issues and mommy guilt are real even for those who seem blessed with millions. More than that, it's a reminder that even though motherhood will always come with challenges, it also has an untouchable mystery of lightness attached. For Adele, it makes it hard to feel sad; for Pink, it brings emotional healing. It's these priceless aspects of motherhood that you don't hear much about, and it's nice to be reminded of them.
Photo Credit: Getty