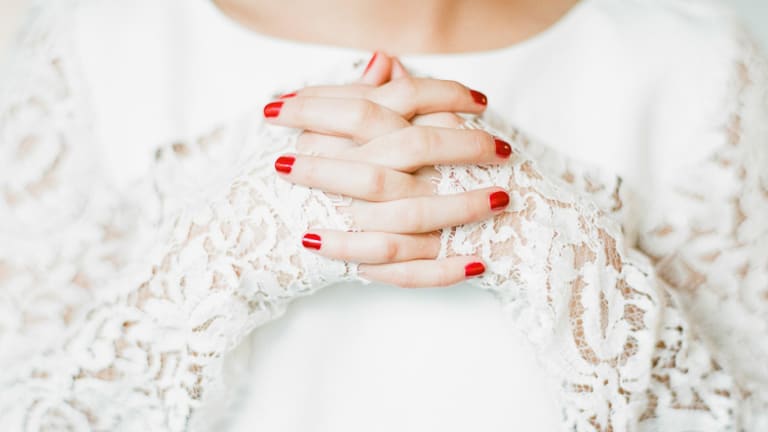 Beauty Inspiration for the Winter Bride
The festive season is a beautiful time to get married.
Winter, while slightly less popular than the sunny summer season, is still a gorgeous time to tie the knot. For you beautiful Christmas and New Year brides, your wedding is a perfect opportunity to revel in the festive season. Need a little makeup and beauty inspiration for your big day? This winter, flushed cheeks, rosy lips, bright nails, and rich florals are the icing on the cake.
Flushed Cheeks //
Ah, yes, the blushing bride. Flushed cheeks come naturally with the cold weather, but why lose that lovely color when indoors? Imitate the natural rouge in your cheeks by finding a rosy blush that suits your skin tone. The lively color pop will create a dreamy, youthful, and fresh appearance in your wedding photos and will enhance your natural glow.
Red Lips //
When it comes to winter beauty, it doesn't get much better than a bold red lip. And if there is ever a time to confidently rock red lipstick like an old Hollywood star, why not on your wedding day? Bright red is festive and glamorous, creating a striking contrast against your white dress. You can even try an equally festive cranberry or burgundy lip hue that suits your skin tone.
Red Nails //
A far cry from the natural manicure that most brides opt for, bold red nails look oh-so-bright for a winter wedding. Paired with a red lip, your nails will catch the eye of every guest and add a punch of color to close-up photos of you holding your bouquet or flashing your new wedding band.
Festive Wreath //
Taking a cue from the summer bohemian floral crown trend, a seasonal hairpiece with touches of holly, berries, green sprigs, and deep red roses creates an otherworldly beauty. Not so much a fan of wearing a wreath? Pretty hair combs or sprigs of greenery and berries in your hair will have the same ethereal bridal effect. Etsy carries a few of our faves.