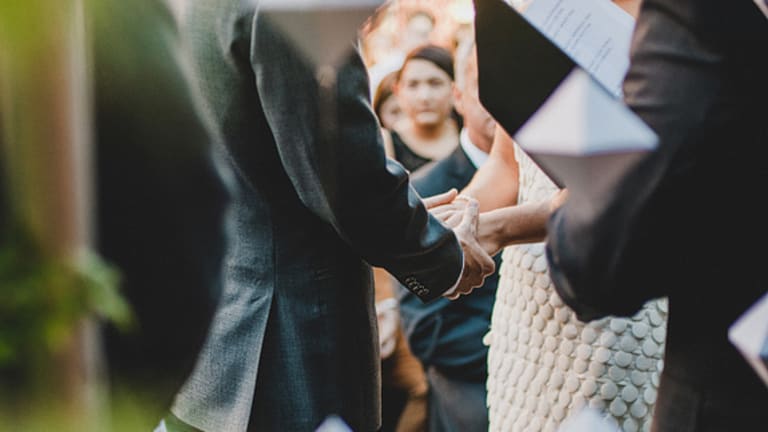 5 Groups of Friends You Need to Help Your Marriage Flourish
No couple is an island.
A note from the author: This is part of my new column for Verily called Tools for an Intentional Marriage. It's a collection of best practices for moving through your marriage on purpose. I'll share the best tips, tricks, and ideas that I've discovered over my years as a marriage therapist and also as a husband. I hope you'll collect, use, and even enjoy these tools as you seek to build your own Intentional Marriage.
A new couple came in to my office last week. Their complaint: They were spending too much time together. They had just moved to Seattle, and their entire social network, including their families, is in another state. They had both chased exciting new job opportunities and had agreed on the move, but they didn't realize the cost of leaving their friends and family behind.
I told them that their struggle was understandable in this situation. Life takes a village. If you're interested in an intentional marriage, you'll need the help and support of your community.
A recent study suggests a correlation between the size of your wedding and the likelihood of divorce. Couples who had two hundred or more guests at their wedding were reported to be 92 percent less likely to divorce than the reference point. On the surface, I think that's ridiculous. Some of the most beautiful weddings I have ever attended have had fewer than ten people in attendance. And the reason is that the couple is absolutely convinced of who they are and who is in their corner. They've eschewed the trappings of commercial wedding industry and concentrated on what's most important—their vows and their closest relationship bonds.
But I can also appreciate what those two hundred wedding guests represent. Presumably, the people at your wedding are your advocates, your cheerleaders, and your mentors. But they are also your drunk uncle, your obnoxious college roommate, and your future disaffected babysitter (aka your sister's six-year-old). They're all "your people." We need our people. Our people make up our community. Our community holds us accountable, celebrates with us, carries us through hard times. It invites us to Thanksgiving dinner and misses us when we don't show up at church. It tells us we're not alone.
An intentional marriage cannot exist in a vacuum. Sure, you could be a couple in and unto yourselves, but I think marriage is designed to participate in and contribute to the greater good. If not, why bother getting married at all? The decision to get married is a decision to band with a broader cultural notion that necessarily includes community. So, as you craft your own intentional marriage, you should be intentional about having some people to back you up.
01. The Book Club
These are the people you think out loud with. The ones who ask questions and explore ideas. They think creatively about themes and characters. They are interesting and interested. They read people. It might be an actual book club, a church small group, or a neighborhood meal swap. Whatever the context, it's the place where you work out your curiosities. You wonder and wander. Early in our marriage, our "book club" had five people in it. We had no idea what we were doing, but we still enjoy a certain permission to inquire into each other's lives and dig for deeper understanding.
02. The Best-Kept Secret
This is the friend who just plain gets it. You can tell this friend anything. Ideally this friend is the same sex as you . . . at the very least, he or she isn't a possible alternative to your spouse. The "secret" is that this person will always, always be on your side. He's in your corner no matter what. She's the wind at your back. In the best-case scenario, this friend is a friend of the marriage so that when things get tough, you know you can count on this person to protect both you and your relationship.
03. The Band
This is where you blow off steam—something each person needs. Get loud. Play. My "band" is an over-40 soccer team. We're terrible, but we run around each week forgetting for an hour that we're mortal. My wife's "band" is totally different. It almost doesn't matter what it is; you just need a place strictly to enjoy and be enjoyed. Relationships are hard. Period. Add the stress and strain of the daily grind, and a little release becomes imperative. The Band is a critical outlet for couples seeking to reduce stress and build enjoyment in one another.
04. The Family
I hope it goes without saying that your family is an essential part of your community. Whether or not you enjoy your family is irrelevant. They're going to be around in some form or another for the duration. Even if you're estranged from your family, they, or at least the idea of them, will still linger. But most of us will spend weekends, holidays, and vacations with our families. These are the people and experiences that shape us the most. The key is to remember that when you got married, you became a new family. Your larger family informs but doesn't define that new family.
Still, including family in your overall community reminds you where you come from, deepens your cultural roots, and shapes your codes and mores. Ideally it provides you with the kind of unconditional love and consistency that will sustain you through hard times and give you a context to celebrate as your immediate family continues to grow and evolve.
05. The Joneses
These are your neighbors. They live near you. When you're on vacation, they get your mail and water your plants. Some of them are better off than you; some of them aren't. It doesn't really matter. Your neighborhood is, simultaneously, the easiest and most difficult place to build community because you don't know what you're getting. But whatever you've got is what you've got.
Neighboring is a lost art, especially in the social media age, but to intentionally inhabit and contribute to your neighborhood is to strengthen actual bonds with the people. It makes your community safer. Your neighbors will be the first people to help when your car gets broken in to. Or the first people you'll call when you need someone to lend you some sugar. Getting to know the Joneses is a great way to build something great together and will enhance and enrich your marriage story.

These are just a few of the people you should have in your village. But all of them can help you achieve an intentional marriage as you commit to being a part of the larger whole. I hope you now have a better awareness of the role that your community plays in protecting you from complacency and the cost of spending too much time together. No doubt there are dozens of other categories I've not thought of. I'd love to hear of the communities that support and shape your relationship. Let me know what you think on Twitter @kzbrittle or Facebook.
Photo Credit: Manchik Photography