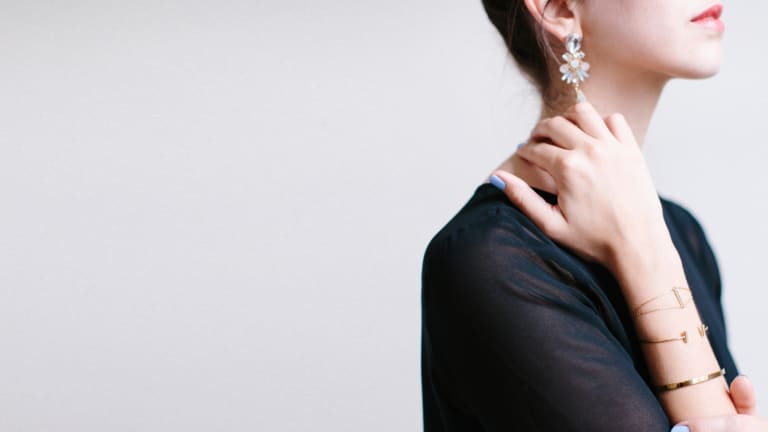 6 Rules for Pulling Off Statement Earrings with Elegance
How you style your statement earrings can be the difference between tacky and classy.
Statement earrings are, well, a statement for any outfit, which may be the reason many women shy away from the bold jewelry choice. Whether they are silver chandeliers, oversize pearl studs, or a cluster of giant faux diamonds, styling around statement earrings can be a challenge. When the focus of your outfit is on the giant jewels hanging from your ears, it's easy to cross over into "tacky" territory.
So, how do you create a tasteful look with such a bold accessory? The key is to maintain balance in your style choices. Here are a few tips:
01. A Plain Top
A statement earring is like the icing on top of a vanilla or chocolate cake—or, a white or black blouse. Though the earrings are the star of the show, it's equally important to create a clean canvas with your blouse for balance. Statement earrings speak for themselves, so choose a top that has no patterns or embellishments that will compete for attention.
02. No Other Statement Pieces
Refrain from adding any other bejeweled statement pieces to your ensemble. You may be tempted to match with a statement necklace, but steer clear of wearing too many bold jewels. In fact, avoid necklaces altogether, as drawing the focus to your earrings is the goal.
03. Swept-Up Hair
Keep the look fashion-forward and elegant by tying your hair up in a clean bun or a sleek ponytail. Big hair plus big earrings screams 1980s, and some things are better left in the past; a simple updo is more modern.
04. Delicate Supporting Jewelry
Although it's good to stay away from competing statement necklaces, you should not be afraid of incorporating supporting jewelry pieces—for example, delicate chain bracelets, thin bangles, and rings. If your statement earrings have gold or silver in them, choose bracelets and rings of the same metal.
05. Bold Lip and Refined Cat Eye
Because your styling is more subtle, go bold and ladylike with your makeup. A strong bright red or berry lip will support the strength of the statement earrings while also suiting the overall fancy look. A nude lip just wouldn't do your bold earrings justice! For the eyes, try a retro cat eye—it's bold yet refined and perfect for this classy look.
06. Simple Accessories
Can you imagine this look with an oversize purse? Neither can we. That is why we styled this look with a subtle pastel clutch that doesn't draw too much attention to itself but is still complementary.